As a lifelong West Ham United supporter, nobody was prouder to experience the Hammers' record-breaking 2020/21 season than Mark Noble.
He may have started fewer games than he has in any of the previous 13 seasons, and the fewest since he broke into the first team as a teenager in the spring of 2007, but the 34-year-old was not complaining.
Instead, he was doing what he has done for years, leading, inspiring and giving his teammates an environment in which they could relax, concentrate on their football during a season full of off-field challenges, and thrive.
The result was a record Premier League points tally, goal difference and away wins, a sixth-place finish and qualification for next season's UEFA Europa League group stage.
Noble announced in March this year that next season will be his 18th and last as a Hammer, and he told West Ham TV he is delighted that his Club, and his squad, will go into it on the back of one of the best league seasons in its 126-year history
We're going on a European tour, skipper!
"Yeah! It's exciting, obviously. We've had an incredible season and I'm looking forward to it."
To finish above Tottenham, Arsenal, Everton and other clubs who have spent a lot of money, this was about togetherness, spirit and resilience…
"One hundred per cent. With the players we've got, team spirit goes a long way in football and I've always said that. When you bring the likes of big Tom in, Vlad, Jarrod, Saïd, everyone has stuck together. Jesse has come in on loan and big Daws has come in and it's just gelled. It just shows you that, if you work as a team and as a collective, you can really do well."
We've got some good players in this squad, too…
"Yes, we've got some top players but they all work for each other. You saw that on Sunday, when we didn't start so well and the players were a bit nervous because the fans were back, but once got that first goal we settled down and controlled it from there."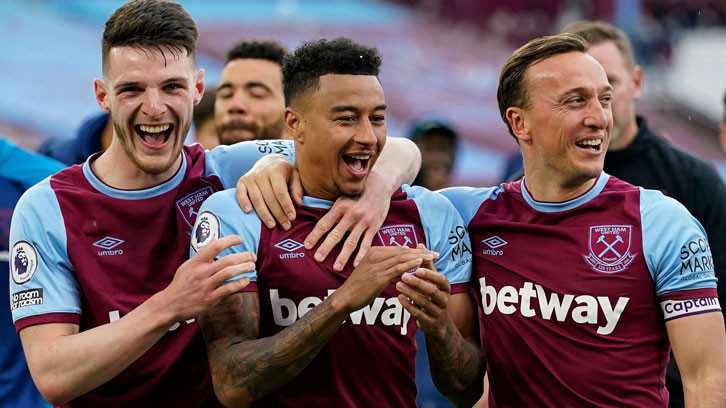 It was fitting that Pablo Fornals got two goals, as he is so heavily involved in so much of what we do, but he doesn't get the headlines…
"Yeah, and that's why he plays, because he works so hard for the team and does all the stuff that you don't really see. He's got a lot of quality as well. I said to him in the dressing room after 'you should have had 12 goals this season', but I was buzzing he got the two. His missus has got a little baby on the way too, so what a day for him!"
And perhaps even more fitting that Declan Rice signed off the season with a goal?
"To be honest, as soon as I saw him in the position he was in, with the pace and legs he has got and his finishing in training, I knew he was going to score. I'm absolutely buzzing for him. He deserves it, he's been fantastic this year and it'll give him massive confidence going into the Euros."
You personally have not played as much as you'd have liked this season, but you still set the tone for this squad, so how much pride do you take?
"Do you know what? For me now, it was my birthday this month and I'm 34, and you know when you get to my age that you're not like you were when you're 21 or 22. I've played the number of games I have because I've managed to stay fit and look after myself and churn the games out. In fact, it's been really nice to sit up there and watch the boys play and play when I've needed to play like Wolves away and Leicester at home, when we got some fantastic results. I think that'll be my role again next year and with a European tour it'll be fantastic for us and I'm really excited. We're obviously going to need some more players because of the amount of games we're going to have, but the boys have done a fantastic job."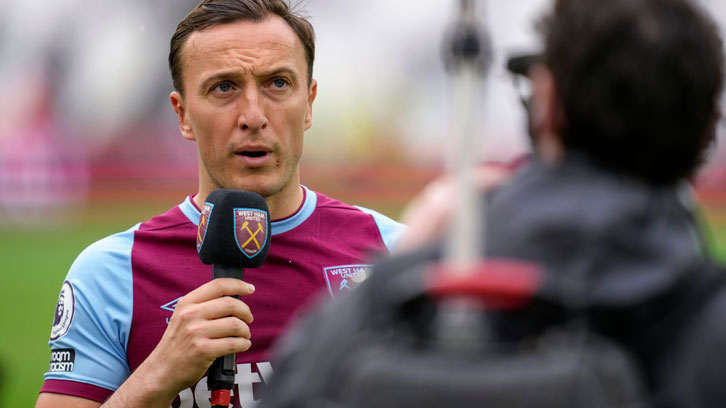 After some false dawns for the team during your West Ham career, we need to back this season up next year and hit the same standards again, don't we?
"Yes, I think we need to. You've seen what Europa League football does for teams and it really does make it hard for you, and that's why you need a squad. Getting back at four o'clock on a Friday morning and playing on a Sunday, then playing another cup game in midweek is tough, but we're looking forward to it. Another season like this would be phenomenal. We've worked hard this season and we're going to try and enjoy it."
Finally, your family and the fans were back on Sunday, including your eleven-year-old son Lenny, who is in the Academy, which was great?
"It was lovely to have the fans here and especially the new players' families so their kids could see them play. It was fantastic to hear the atmosphere. It was only 10,000 so they haven't felt the full atmosphere yet, but hopefully when we come back next year they can hear that and all our fans and their families can come and see the games."