It is almost impossible to underestimate the role Vladimír Coufal and Tomáš Souček played in driving West Ham United to the best Premier League season in the Club's history.
The Czech mates are not just fantastic footballers and top professionals, but their work ethic, desire and winning mentality have spread through the dressing room and inspired their teammates.
Coufal marked his first season in English football with 34 Premier League appearances, seven assists and countless rampaging runs, brick wall tackles and blocks and as a firm favourite with the Claret and Blue Army.
And in his first full campaign in east London, Souček has established himself as one of the Premier League's very best midfielders, scoring ten goals and winning more aerial challenges than any other player.
To make matters even better, the pair are among the most friendly and likeable men you could ever wish to meet, devoted to their Club and to their young families, who joined them in England in the middle of the global COVID pandemic.
On Sunday, both enjoyed playing in front of 10,000 West Ham supporters for the first time together and helped their team collect the win needed to secure a place in next season's UEFA Europa League – a competition they thrived in with previous club Slavia Prague.
At the final whistle, both were embraced by a manager who knows their value to the Irons squad in David Moyes, before exchanging warm applause with their adoring fans in the stands during a lap of appreciation.
Draped in Czech Republic flags, the duo then spent five happy minutes talking and joking with West Ham TV about a truly unique and truly memorable 2020/21 season, before Coufal revealed he would like to join the Club's media team next season!
What a season, lads!
Tomáš Souček: "I'll start! Yes, it's a great season because what I remember since I came is that we won a fight against relegation and now we are in the Europa League. It is great and I am so happy that we played our last game in front of our beautiful fans and we can celebrate our incredible season together, so I'm really happy."
Vlad, you joined us in October. Can you believe we have finished in the top six?
Vladimír Coufal: "Yes! It's real because we worked for it very hard every day and this is our achievement. The most important thing is we broke a Club record and we now the best West Ham team in Premier League history due to our points, so I am happy. What do you think, Tomáš?"
TS: "I am so happy I can't even speak! I enjoyed all the training every day and all the games and now I'm playing in the Premier League in front of this crowd, so it's a dream and we are living our dreams."
What can we expect in Europe? A lot of hard work!?
VC: "It will be very tough because we will be playing Thursday and Sunday again in the Premier League, but we wanted to play in the Europa League so we are really grateful we are in this competition. It will be tough but I think we are able to play both competitions and we will see next year."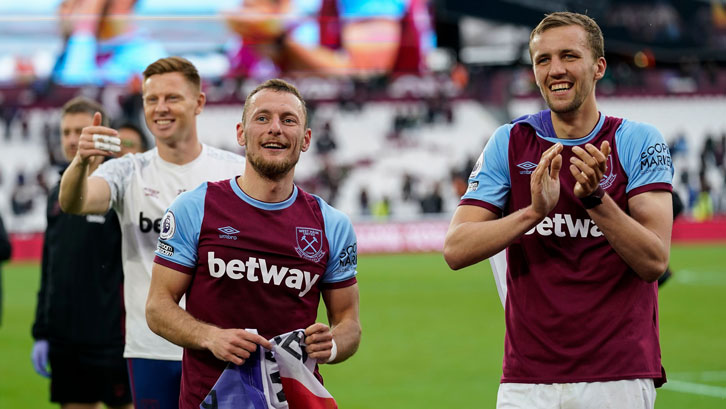 We want to keep this special group together and we will also need some new players…
TS: "We spoke with the gaffer after the game and he said 'it's not a new competition for you because you know how to play in it', so we just wanted to play in the Premier League and we did it. We know we can play in the same squad because we have an incredible squad and I believe we are very strong and we can succeed in this competition."
Which one of you two is the Hammer of the Year?!
VC: "I think this award should be split into 30 pieces or however many players we have and every player should get one piece of this award, as should our staff and our medical team. They have worked for the whole squad, as have you, so we have to split this award. It was unbelievable."
TC: "It's really nice because we don't only have individual players. We are one team, so it doesn't matter who scores or who assists or who defends. It's great that we have this team as I don't like individual players who play for themselves."
Last question, your families and the fans were there to see us get into Europe, so how do you feel?
TC: "Incredible, but it's not just one word. I am happy that my family supported me from the first day I am here and I could show my appreciation for them as well. We look forward for the Euros."
VC: "For me it was very important that my family could be here to support me because it was very difficult season for them, for my wife my son and my new-born baby. Everyone loves football and it was lovely that they could see my live on the pitch at London Stadium and I appreciate their support all year and I'm really glad they could be here."