The vast majority of West Ham United supporters know all the top-level numbers from our record-breaking 2020/21 season by now!
The Hammers ended the campaign with a record-high number of points (65), a record goal difference (+15), a record number of wins (19) and a record number of away wins (nine).
West Ham got close to matching their most goals in a Premier League season, finishing three short of the record on 62. One reason is that the Irons ranked second in the number of times their players hit the woodwork (23), with Michail Antonio leading the way individually with six!
This season also marked the first time since 2001/02 that two players reached double figures in Premier League goals, with Antonio and Tomáš Souček emulating the achievements of Jermain Defoe and Frédéric Kanouté nearly two decades ago.
Premier League-wide, West Ham players also shone overall, with Souček attempting (395) and winning (234) more aerial battles than any other player, while Aaron Cresswell registered more assists than any other defender (eight).
Souček was one of just seven players who played all 3,420 minutes of the Premier League season, with Southampton's James Ward-Prowse being the only outfield player among the other six.
Indeed, Souček's outstanding all-round contribution saw him ranked fifth of 291 eligible players in the football analytics website WhoScored's seasonal rankings, with a score of 7.36. Only Harry Kane, Kevin De Bruyne, Jack Grealish and Bruno Fernandes were judged to have had better seasons than the Czech Republic midfielder. Antonio ranked 19th with a score of 7.17.
West Ham's success was based on teamwork, togetherness and resilience, but of course there has to be a leader in every statistical category so, in association with Paul Robinson Solicitors, we looked into the numbers to see who our standout performers were in each one – starting today with Goals, Assists and Passes!
Goals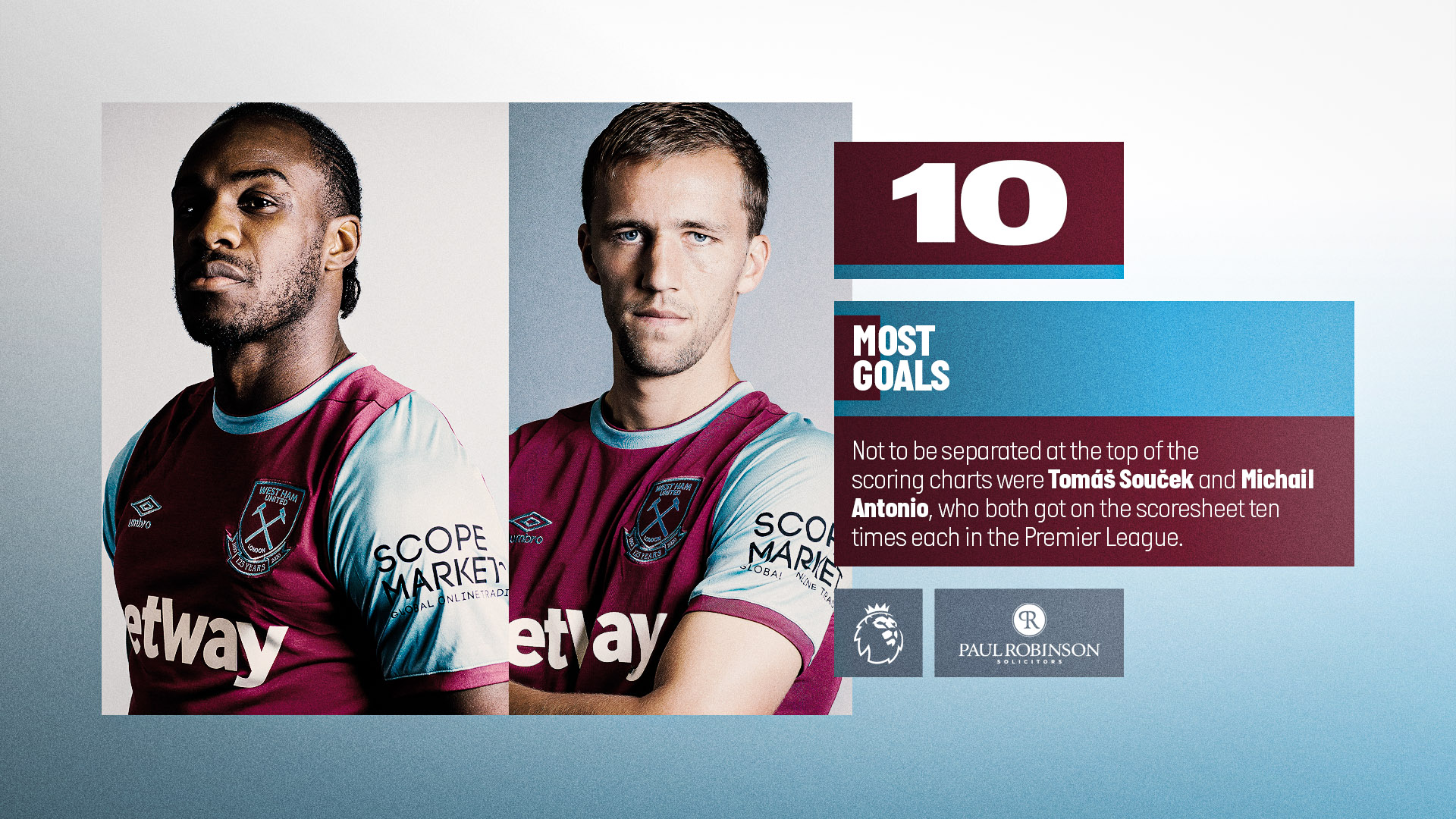 As mentioned in our preamble, Antonio and Souček led the way with ten Premier League goals each.
Historically, Antonio had scored the majority of his goals for West Ham with his head, but that has changed in the last two seasons, with just three of his 20 Premier League goals in that time coming from headers. In 2020/21, Antonio scored with two headers, six right-foot shots and two left-foot shots.
You might also think the towering Souček scored most of his goals with his head, but you'd be wrong! Instead, six came from his right foot, three were headers and one – his close-range finish at West Bromwich Albion – with his left.
Both men's goals were split evenly, with five scored in the first half of the season and five in the second.
Just behind them, of course, Jesse Lingard scored all nine of his goals during the second half of the campaign, including two on his debut at Aston Villa in February, following his loan move from Manchester United, while Jarrod Bowen netted eight and Pablo Fornals' final-day brace against Southampton took him up to five.
In all, 15 different West Ham players scored in the Premier League this season – Antonio, Souček, Lingard, Bowen, Fornals, Angelo Ogbonna, Craig Dawson, the since departed Sébastien Haller, Declan Rice, Issa Diop, Ben Johnson, Fabián Balbuena, Manuel Lanzini, Ryan Fredericks and Saïd Benrahma.
Ogbonna's header in the 2-1 home win over Aston Villa on 30 November was our earliest goal in a game, coming inside two minutes, while Fredericks' strike in the 3-0 victory over Sheffield United at London Stadium on 15 February was the latest, coming in the sixth minute of added time. For the record, Lanzini's late leveller at Tottenham Hotspur on 18 October was scored in the fourth minute of added time.
As a team, we scored 36 of our 62 goals from open play, 16 from set pieces, six from counter attacks and two from penalties, while the other two came from own-goals scored by Wolverhampton Wanderers' Raúl Jiménez and Tottenham's Davinson Sánchez.
Our 16 set piece goals were the highest of any Premier League team, one ahead of Southampton and two ahead of Everton, but we also scored the joint-highest number of own-goals, four, with Arsenal, as the unfortunate Dawson (two), Souček and Diop put the ball in their own net!
Assists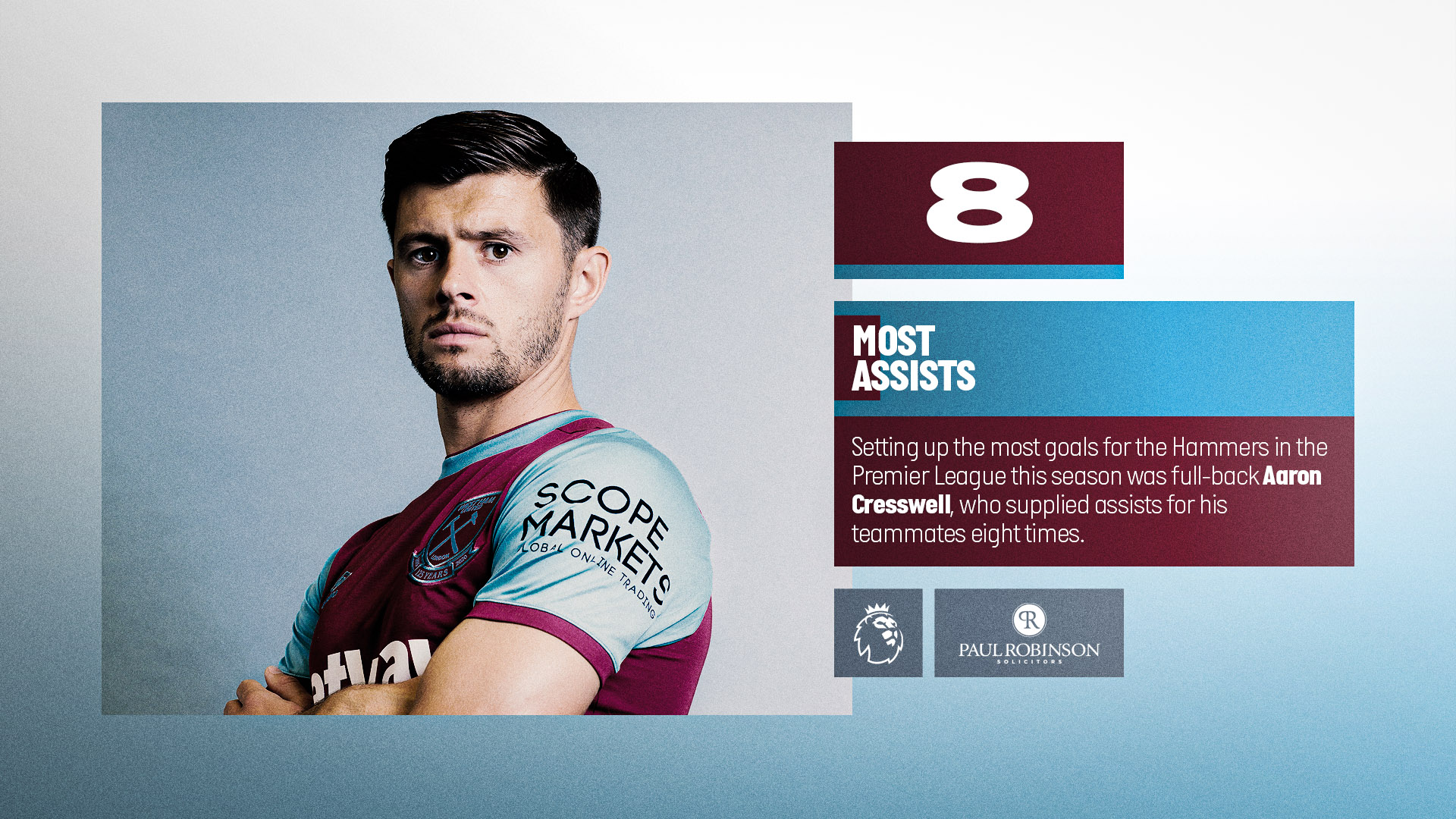 Aaron Cresswell enjoyed the finest season of his Premier League career assist-wise, setting up eight goals to take his overall top-flight tally to 26.
The versatile defender, who played as a left-back and left centre-back during arguably his best season in Claret and Blue since winning the Hammer of the Year award in 2014/15, repeatedly delivered top quality into the opposition penalty area from both open play and set plays.
Four of Cresswell's assists came in games he played at left-back, and the other four in games he started at left centre-back.
He managed two in a game once, setting up Antonio and Fornals with open play passes in the 3-0 win at Leicester City on 4 October, before providing the free-kicks for Balbuena's header at Tottenham late the same month and Ogbonna's winner at Leeds United on 11 December.
An open play cross found Souček to score at Crystal Palace on 26 January, while it was the No3's corners which picked out Diop in the home win over Sheffield United in February, Dawson in the 2-0 home victory over Leeds on 8 March and Ogbonna at West Bromwich Albion on 19 May.
Second to Cresswell in the assist table was another defender, Vladimír Coufal, with seven.
All seven of the Czech Republic international's assists came from open play including two for Antonio's acrobatic volley against Manchester City on 24 October and Haller's stunning overhead against Crystal Palace on 16 December.
He was later credited with an assist for Lingard's individual run and finish at Wolves on 5 April, before setting up the same player to score with a first-time finish against Leicester the following weekend, and then crossing for Fornals' second in the final-day win over Southampton.
Third on the assist list was Benrahma, who managed six in just 1,392 minutes of Premier League football.
The Algerian's contributions were important, too, as he set up Souček's late winner at home to Fulham on 7 November, Antonio's winning goal at Burnley on 3 May and Souček's vital equaliser at West Brom on 19 May.
In all, 13 different players provided assists for our 62 Premier League goals – Cresswell, Coufal, Benrahma, Bowen, Antonio, Lingard, Fornals, Rice, Lanzini, Fredericks, Souček, Arthur Masuaku and Andriy Yarmolenko.
Passes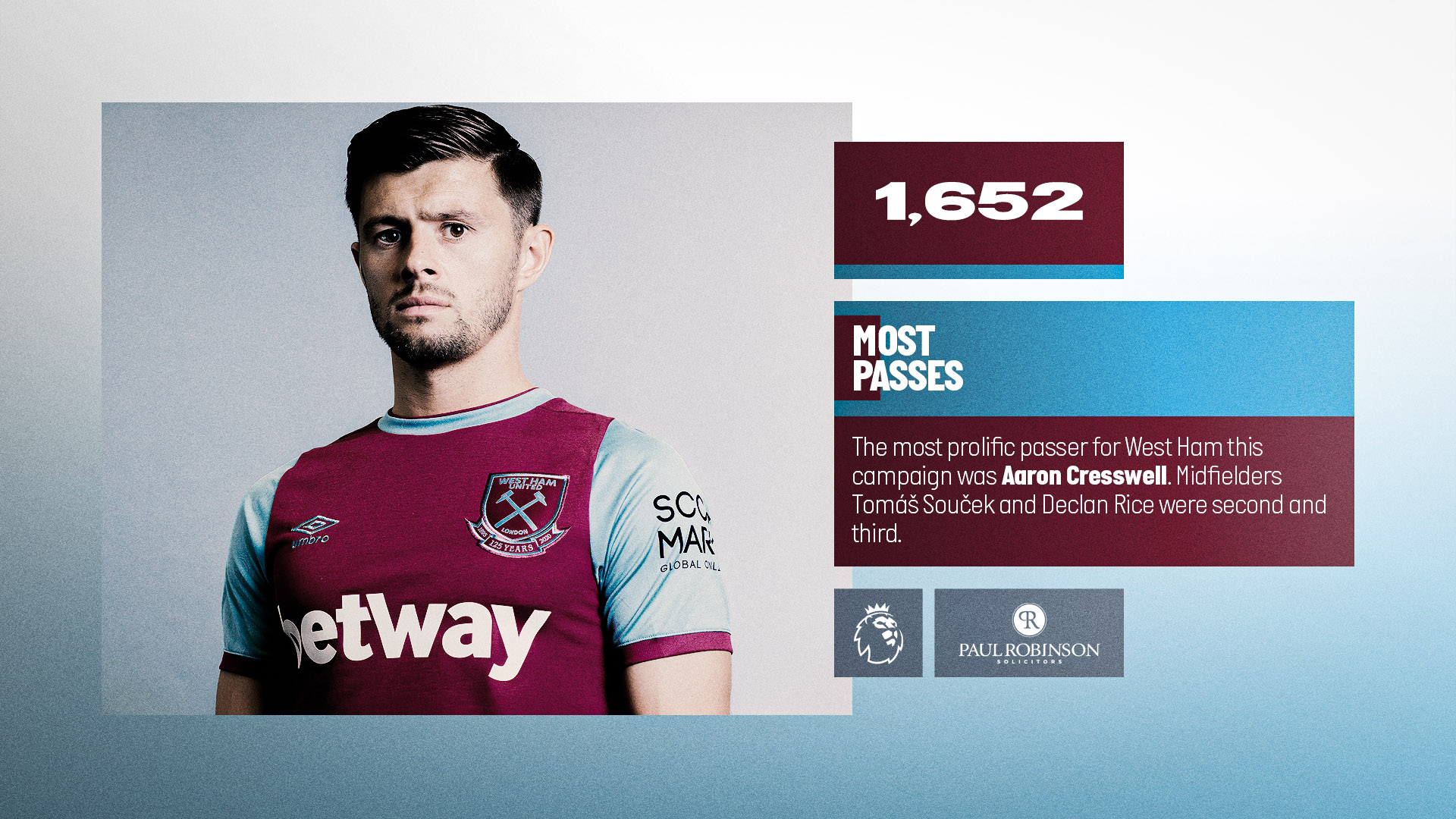 It says everything about Aaron Cresswell's creative ability that he led West Ham United in both passes and key passes made during the 2020/21 Premier League season.
The 31-year-old passed the ball 1,652 times in his 36 Premier League appearances at an average of 45.9 passes per game.
Rice actually averaged more passes per game with 47.7 but, having made just 32 appearances, his total of 1,526 was lower. In between, Souček ranked second in total passes with 1,607, while Coufal, Fornals and Ogbonna also passed the 1,000 mark.
Of Cresswell's 1,652 passes, 58 were categorised as key passes, meaning they led to a goal attempt being taken that did not end in a goal. Coufal ranked second with 45, with Fornals third on 31.
Impressively, Benrahma made 27 key passes, and Lingard 18, despite their relatively short time on the pitch compared to some of their teammates.
Accuracy-wise, it will come as little surprise to anyone that, of the regular starters, Rice completed the highest proportion of his passes, with 1,343 of his 1,526 reaching their target for an 88% success rate. Overall, Lanzini led the way with a 90.5% success rate, followed by Noble with 88.6%.
Cresswell also delivered 59 accurate crosses, which was nearly double the next best Coufal with 34, and also registered a superb success rate with his free-kicks, with 57 of the 73 he attempted finding a fellow West Ham player.
As a team, our favoured counter attacking style and ability to manage matches meant we enjoyed 44.5% of possession and completed 77.8% of our passes overall, which were both the 15th-highest percentage in the Premier League.
*That's your lot for the first of our three-part look back at our 2020/21 season in numbers. Don't miss our analysis of Tomáš Souček's phenomenal campaign in part two of The Numbers!