It is four years to the week since a tall, pale and skinny 18-year-old named Declan Rice jogged onto the pitch at Turf Moor for his West Ham United debut.
While those who had coached him as a schoolboy and followed the Hammers' Academy sides knew the Club had a good young player on their hands, surely none of them could have predicted just how good.
Four years on from that brief bow at Burnley, Rice is now a tall, tanned and muscular 22-year-old and a vitally important player for Club and country.
Rice's story, from being rejected by Chelsea at the age of 13 to captaining West Ham at the age of 19 to bossing the midfield for England at the age of 21, has been told many times over, but this past year has arguably tested Rice more than at any time in his relatively short but eventful career.
West Ham emerged from the three-month shutdown due to the onset of the COVID-19 pandemic outside the Premier League's bottom three only on goal difference, with the very real threat of relegation hanging over them.
Manager David Moyes needed big players and big characters to step up – and they did.
With Mark Noble nursing a hamstring injury, Moyes needed to appoint a captain to lead West Ham into their vital Premier League fixture with Chelsea at London Stadium last July. He picked Rice. West Ham won 3-2.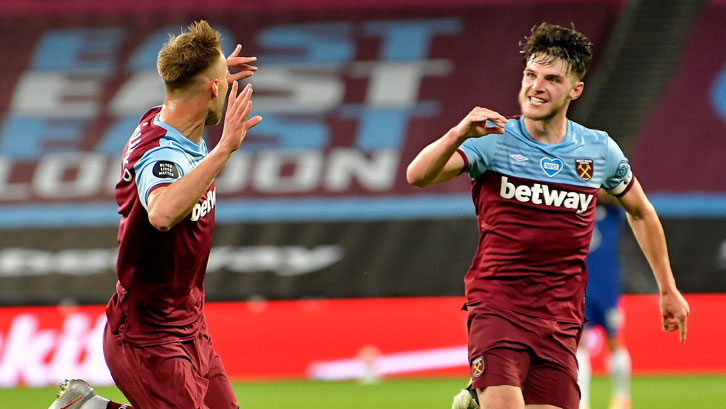 Three weeks later, Noble was back in the team and Rice was back in the ranks, but he proved he did not need to wear an armband to take on responsibility, smashing home an unstoppable 25-yard shot as the Hammers beat Watford 3-1 to all but secure their Premier League safety.
The short close season saw Rice continue his burgeoning England career by starting UEFA Nations League ties with Iceland and Denmark in September, before he returned to Club duty for the 2020/21 campaign.
Going into the new season, Rice hoped the Hammers could make big strides forward but, when they lost their opening two games of the Premier League season to Newcastle United and Arsenal, doubts will undoubtedly have surfaced in his mind, but those hopes have turned into reality over the course of the last nine months.
With Rice captaining the side in 21 of the 31 Premier League matches he has featured in, the Irons have enjoyed their best league season in a generation and go into Sunday's final game with Southampton hoping to celebrate the return of 10,000 supporters to London Stadium by qualifying for Europe.
The reigning Hammer of the Year spoke to the Official Programme to reflect on it all...
It's been an incredible year and I think there is so much to look back on that we've achieved as a team.
Comparing where we were at this stage last season to where we're at now, it's a different level, so credit to the players and credit to the manager and the staff.
I think you've seen this season that every time we've gone out on to the pitch, even if we've been beaten, it's not because we've been beaten by the better team, but because it's gone against us on the day.
You can see that we've given everything this year and that's shown in our performances and I think our togetherness and our unity have got us to where we are.
I am so proud to have captained this team regularly at the age of 21 or 22 and I feel like I've grown up this year – and I've had to.
I've had to step up and I've had to go to new levels, and I think the lads respect me, which has made it easier for me to captain this team when Mark Noble has not been playing.
We all get on so well, everyone listens, and we all trust each other.
I think anyone in this team could wear the armband and everyone could do the same job, but for the manager to give me the opportunity to be captain has been really special.
As a footballer, you can feel if the other players respect you as a good player and as a person and I feel that here at West Ham.
Considering the age I am and the amount of games I've played, I think the lads respect what I'm doing.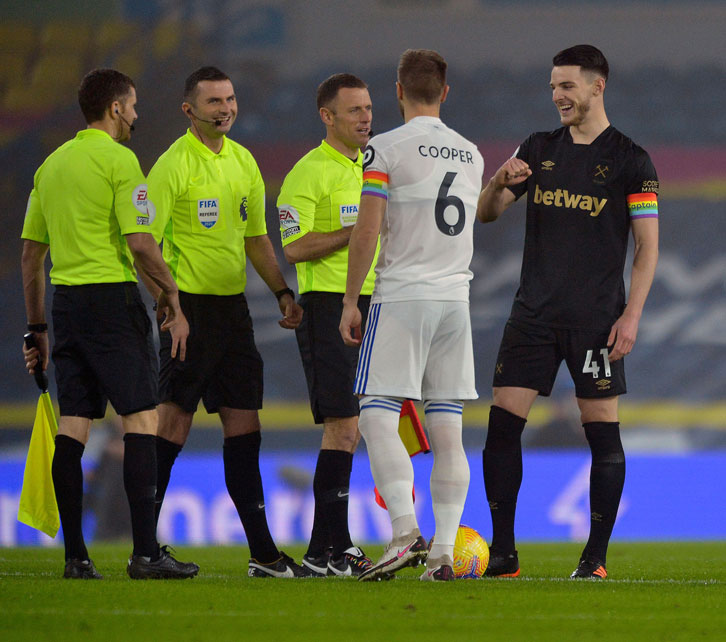 A couple of years ago, I know people were questioning me as a player and asking what I brought to the team – that's true.
I just think that every season I got into it with the mentality that I need to go up another level from the last and I know I've got another two or three levels in me.
I'm only 22, so I just need to keep improving, keep getting better and keep listening and I'm sure that all that will come.
I didn't grow up as a West Ham fan when I was very young, but I've been here for nearly nine years now and I know what this Club means – and my family do as well.
It's like a crazy West Ham house in my house now. Honestly, my parents, my nephews and everyone in my family is so into it.
This is a funny story… Last week, my nephew Blake, who is seven, came to visit and my Mum was asking him to eat his pizza and he said 'I'm not eating my pizza'. I said 'Blake, eat your pizza' and he said 'Alright, I'll eat my pizza if we can Facetime Mark Noble!'.
We Facetimed Nobes once before and he was ecstatic so every time we see him now he's like 'Can we Facetime Mark Noble?'.
Honestly, my whole house is literally West Ham mad. We love it. The fans and their passion and the energy they give to me, to have them back on the last day of the season is going to be amazing.
The mood in our house definitely changes depending on how West Ham are doing.
Obviously, I've been injured for the last few weeks and I've had to sit with my Mum and Dad to watch the away games at home and it's painful as they're like two fans!
They're shouting and screaming at the TV and it puts me on edge!
If we win then I'm buzzing, but if we lose then I'm in a bad mood because no-one wants to lose games.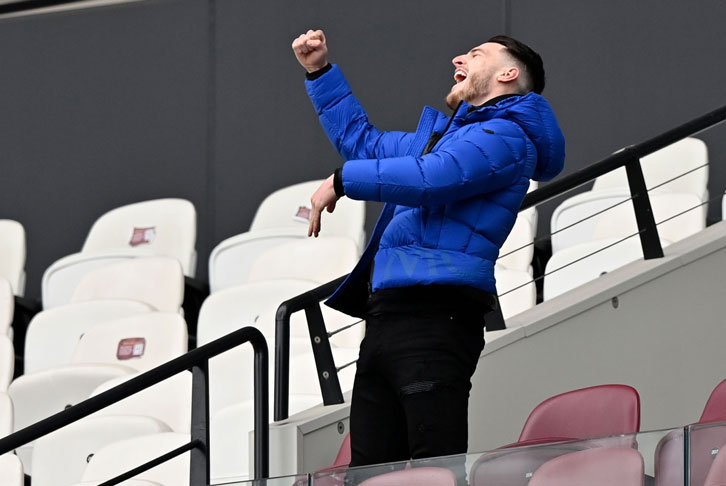 We had this season we're having in us, of course, but what we've learnt in the past year or so is how to win ugly.
We've not always played our best, but we've found a way, dug in and won and we'd not been like that before.
It was always going to come with the players we've got and with the manager coming in and what he gives, something like this was always going to happen.
You can see on the pitch what Jesse Lingard has given us since we signed him on loan at the end of January.
He is brave, he takes the ball, gives us energy, runs, scores and assists – everything you want from a player in his position.
I'm happy for him because he was written off by a lot of people and he's come here and he's shown why he's one of the best and I'm buzzing for him.
Jesse is a legend. He's quiet and doesn't really show his cards too much but, once you are close with him, he's like a big kid which is what I'm like, so we get on really well!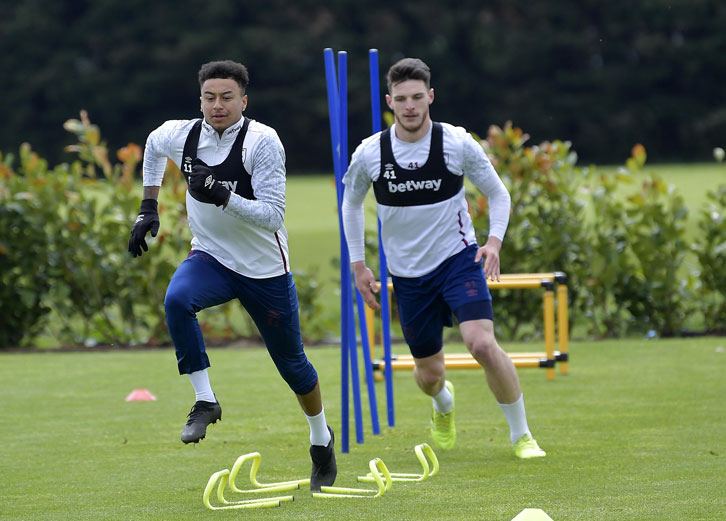 This last game of the season is so important - we know we need a point to get into the UEFA Europa League, but we want all three and to finish with a win!
We need to go at Southampton full-throttle, give absolutely everything and push and have one of West Ham's best-ever Premier League seasons.
While we'd have loved to have qualified for the Champions League, Europa League football is still a massive step forward for this Club.
People have seen West Ham battling relegation, so to be in the Europa League with some of the teams who will be playing in that... we'll have some massive games home and away and it'll be great to test ourselves at that level.
It's over a year since we last played in front of a crowd, other than the Manchester United game in December when we had 2,000 fans here, so today's game is really special.
That Man United game was quite emotional as running out of the tunnel to warm up and seeing the supporters clapping and singing and giving them a clap back took me back a bit.
I think we'd taken the fans for granted, so to have them back in for the last day of the season is special, as we'll have the chance to thank them when we do our little lap of the pitch after the game, so that'll be good.
It's going to be Jesse's first game in front of our fans, so I'm sure they'll give him a big ovation for what he's done, too.
It's a massive step forward and we're finally coming out of this, so hopefully we can play well and win and after the game they can really enjoy what we've done this season.