Some 449 days ago, nearly 60,000 West Ham United supporters departed London Stadium in gleeful spirits, a 3-1 Premier League win over Southampton accompanied by a typically effervescent backing from the Claret and Blue Army.
Few would have countenanced just how much the world would change soon, and that it would take some 449 days for a similar occasion to return to East London.
When it did on Sunday afternoon – another three goals scored against the Saints in a 3-0 win – 10,000 Hammers in attendance made it count.
It was in December's defeat to Manchester United at London Stadium when 2,000 West Ham fans were allowed to attend, but with David Moyes' men going on to challenge at the top end of the Premier League table, Sunday was arguably an even more special and emotional day for its significance.
With the players on the pitch needing just a point against Southampton to secure a top-six finish, UEFA Europa League football and the Club's all-time Premier League points record, they duly received vociferous backing from the outset from all in attendance.
The players reciprocated, Pablo Fornals' brace and Declan Rice's late goal seeing them deliver on the pitch.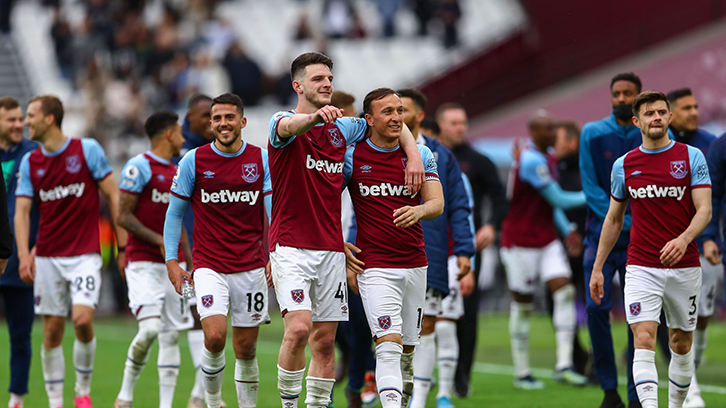 The West Ham fans' support also encapsulated an air of celebration of a season which will live fond in many Irons' memories, with West Ham's 2020/21 squad setting the Club's all-time Premier League points record, finishing on 65.
For players such as Craig Dawson - who earned one particularly fervent burst of applause for a fine interception on the edge of the area - Vladimir Coufal and Jesse Lingard - involved in Fornals' second goal - and substitute Said Benrahma, it was a first taste of playing in front of a large supporter base who had been cheering their efforts on from home all season.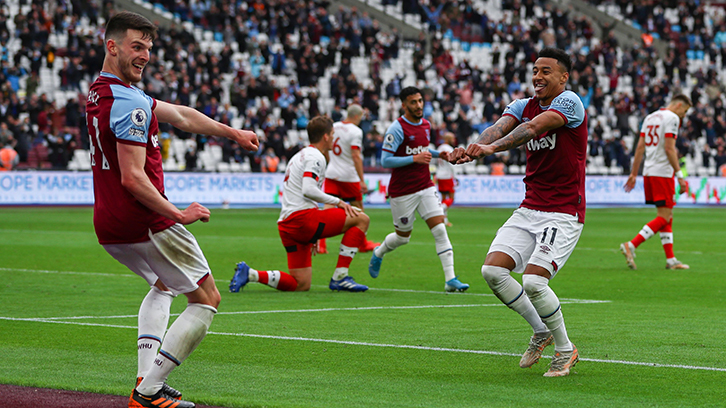 When the players emerged from the tunnel beforehand, back was the passionate buzz in and around the London Stadium as the minutes counted down towards a Premier League matchday.
Back were the vociferous roars of anticipation as the team line-ups were announced, and an even bigger roar when the match kicked off.
Back were the familiar chants of 'Come On You Irons', 'East, East, East London!' - and, of course, a rousing rendition of 'I'm Forever Blowing Bubbles.'
In those ways – although only a portion of our wider fanbase could be present on Sunday afternoon – It was an occasion on which to celebrate the West Ham United family.
Those celebrations were reciprocated by players and staff who, as they emerged from the tunnel, received warm ripples of applause for their efforts – and duly reciprocated them, acknowledging the backing they have received from home all season long.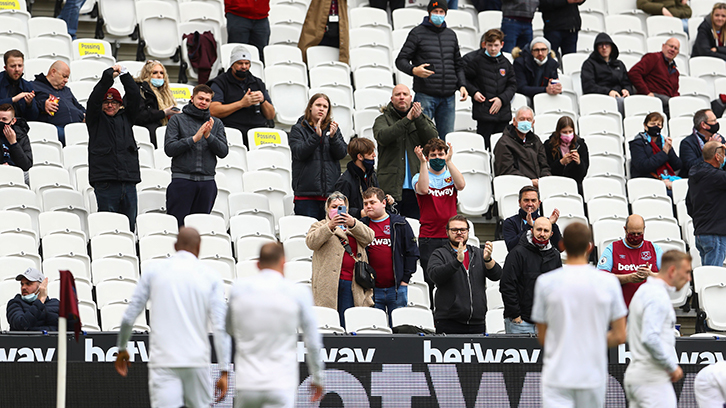 Tributes were paid prior to kick-off to the National Health Service workers who, in the uniquely challenging circumstances of a global pandemic, have worked harder than ever for their neighbours and communities.
NHS workers acted as the afternoon's flag-bearers and received due acclaim from supporters, while tributes were also paid to the Hammers we have so sadly said goodbye to over the last year, with all four sides of London Stadium rising to applaud during a moment's reflection.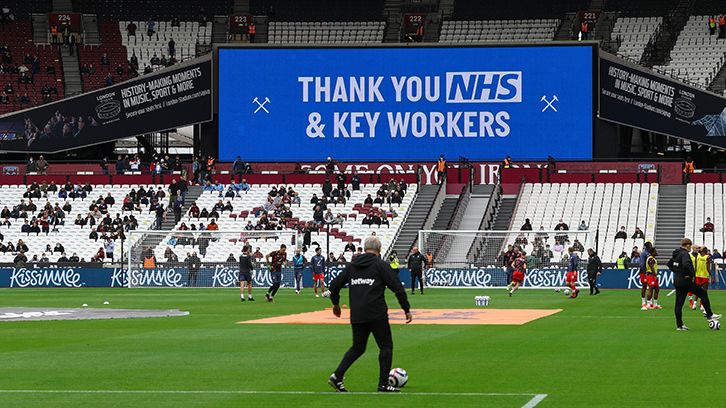 Elsewhere, to ensure every supporter's safety, the Club worked in conjunction with all relevant stakeholders, including continuing consultation with the Independent Supporters Committee throughout, to put an efficient and effective plan in place, with the main aim of giving supporters a safe and enjoyable matchday experience at London Stadium.
Supporters were briefed with a Code of Conduct and guidelines that were in place for their own safety and wellbeing, including wearing a face covering at all times, respecting a distance of at least two metres from fellow supporters where possible, and regularly using hand sanitiser.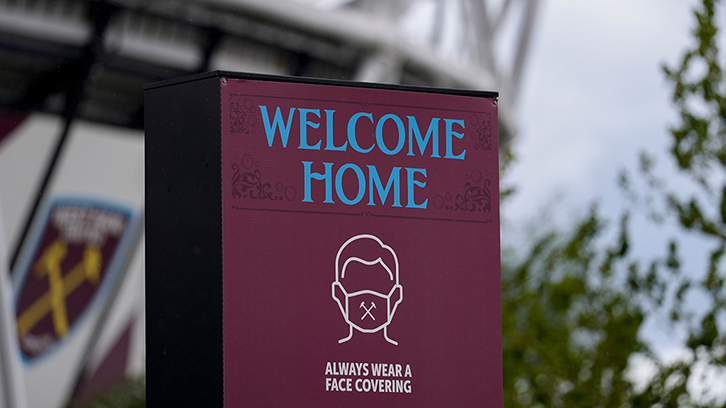 Our thoughts continue to be with all of those whose lives have been directly affected by the pandemic, particularly those who have lost loved ones and friends.
We hope the opportunity to watch the Hammers live again will have given our supporters a welcome boost, and that we can all look forward to an exciting season playing continental football in 2021/22.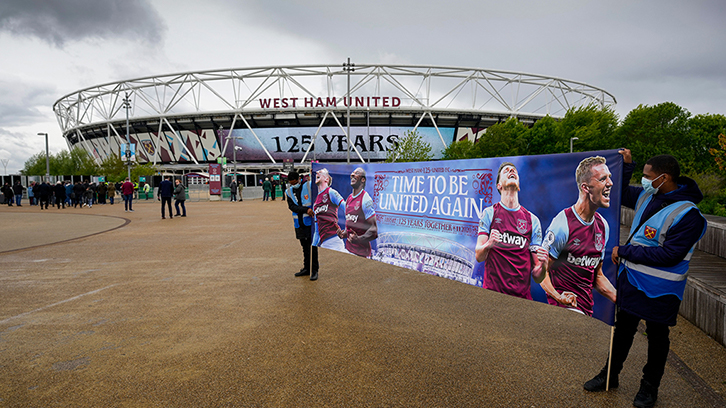 Fans are the beating heart of every football club and nowhere is that more the case than here at West Ham United – a Club that has been embedded deep in the community for more than 125 years. It means everything to have you with us again, giving your fantastic backing to the team.
Thank you again for your patience, co-operation and, most of all, your loyal and passionate support for West Ham United.
It simply hasn't been the same without you.
COME ON YOU IRONS!