Not even the most optimistic of West Ham United supporters expected Jesse Lingard to make such a hugely positive impact during his loan spell in Claret and Blue.
The 28-year-old may have helped England reach the last four of both the 2018 FIFA World Cup and 2019 UEFA Nations League, scored the winning goal in an FA Cup final and also won the UEFA Europa League and EFL Cup with Manchester United, but he had played just 179 minutes of first-team football in the six months prior to his move to east London.
However, determined to prove he could still produce the goods at the highest level, Lingard has been brilliant for the Hammers, scoring nine goals and assisting five more in just 15 appearances, leading to an England recall and a Premier League Player and Goal of the Season award double in April.
Put simply, without Lingard's influential contribution, the Irons would likely not be on the cusp of securing a place in Europe for next season.
Now, as he prepares to play in front of 10,000 West Ham supporters in the final game of a memorable 2020/21 campaign against Southampton on Sunday, the No11 sat down to reflect on four unforgettable months down West Ham way…
So, Jesse, just why has your loan spell with us gone so well?
"I think just obviously playing week-in week-out, the lads have been brilliant, the staff have been brilliant and they've put confidence in me to play and do well. I was already ready to play from many months ago so to play the first game at Villa seems a lifetime ago now that we're near the end of the season, but it's been a brilliant experience and I'll take away so many memories."
Presumably you've exceeded any targets you set yourself before you joined us?
"Yeah, it's just about consistency and performing at a high level week-in, week-out, which I've been trying to do and which I've been doing over these past few months and hopefully now it's a big push towards the end of the season. We'll take confidence and we're going to treat it like a cup final."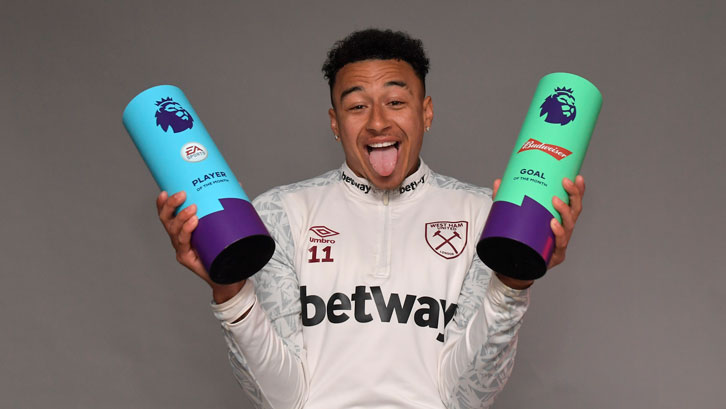 Has it helped that you came into a confident team that was already used to playing well and winning matches?
"Yes, definitely. In some games we've had to bite the bullet and take the pressure and counter-attack on teams, which is how we've scored many of my goals especially. It's helped in some ways but like you say we're good with the ball as well and we can keep the ball, while set pieces have also been a big part of our season."
It looks like the manager has told you to go out and express yourself, which is always a boost to any player's confidence?
"Like I say, it's the confidence factor and when you play week-in and week-out you gain confidence and you can get in full flow. Obviously when you're scoring goals and getting assists as well, you're taking confidence into each game."
The fact you egged and floured the captain Mark Noble three months after joining suggests you've fitted in superbly in the dressing room, too?!
"Haha! Yes, Nobes was one of the first to put his arm around me and make me feel welcome and he's been amazing with me. It rubs off on all the lads and I just wanted to bring that energy and help the team as much as I can."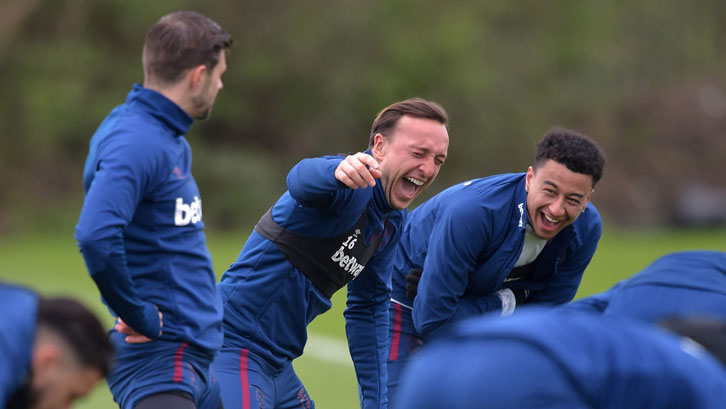 What is it about this group of lads that makes them so special?
"Everyone is all as one and together and I think the team spirit is amazing. There is banter flying about week-in and week-out and day-in and day-out which is always good for team morale. When we're training or on matchdays, we work and we're always pushing towards the three points and everyone has the same ambition and goals."
You have spoken about the positive experience of living in east London in a nice apartment that overlooks London Stadium, so are you loving London life?
"It's been a different experience and I think a new environment is always good. A change can always be good for your mind and it's been like a refresh and a fresh start for me. I've obviously on some occasions visited London on my days off but when you're living here there are lots of things you can do and lots of places you can go and there are a lot more people, which is a lot different to Manchester! There are only two teams in Manchester and a lot more in London, so for me it's been a great experience and moving to a new environment has been good for me."
Mark Noble was on That Peter Crouch Podcast recently and he said you've been sucking up to the manager as you live in the same apartment block, delivering him bottles of wine…
"He's lying! He's lying! I knew he would stitch me up like that! He's lying! It's not true!"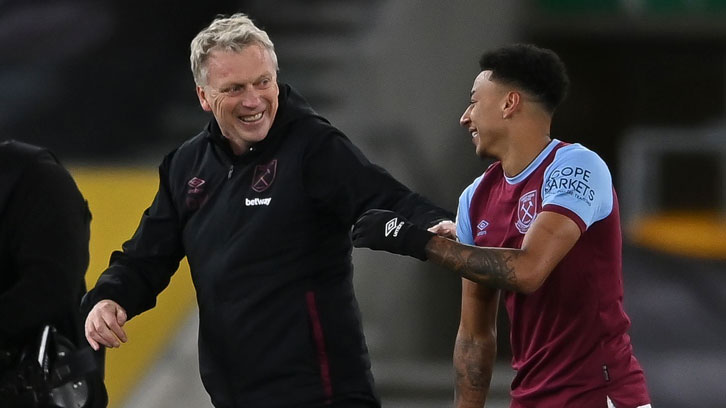 On a more serious note, though, you have a great relationship with the manager and that's very important at any level of football, isn't it?
"Yes, once you have that connection it's always useful and it's always helpful. I've said in previous interviews that he obviously let me go on loan to Birmingham [from Manchester United] and that was a decision for me and my family and the manager understood I needed to get games and go out and play. It's kind of the same this time because he wanted me here and he wanted to put me out there and showcase what I can do."
We're going to have 10,000 fans back at London Stadium on Sunday and you'll get the chance to play in front of West Ham United supporters for the first time!
"I can't wait! It's been a long time coming and I know the fans have been eagerly waiting and being patient and it has been hard during the lockdown for everyone, so [it's good] to finally be back in the stadiums and putting on a show. We want to get the three points and win. A lot could be riding on the last game, but we'll take the pressure and we don't mind playing under pressure as long as we deliver on the day. To welcome the fans back will be amazing."
After playing against us so many times for Manchester United, it'll be nice to have the West Ham fans on your side, won't it?!
"The crowd can play as a 12th man, especially when you're at home. The support is massive and can motivate and push you to go on and win the game so they're always helpful."
Whatever happens in the future, you'll look back on this time positively, won't you?
"Yes, 100 per cent. It's been great, I've made a lot of new people and made a countless number of friends, so to take on this challenge has been amazing and to take away the memories will be special."