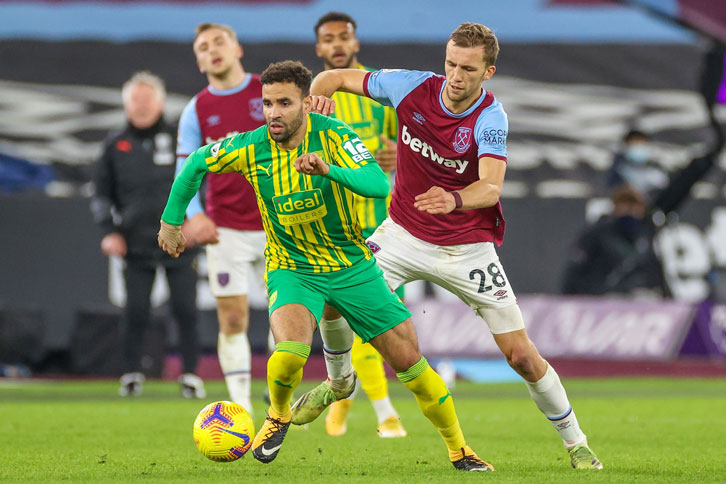 Having been with West Ham United for nearly 15 months, you may be staggered to learn that Tomáš Souček has played just TWO home matches with supporters present at London Stadium!
What's more, one of those games was played in front of just 2,000 fans due to the COVID pandemic, at home to Manchester United in December, when he scored in a 3-1 defeat.
The other was Souček's Hammers debut, which came in a 3-3 Premier League draw with Brighton & Hove Albion way back on 1 February last year, just three days after the Czech Republic international had joined on an initial loan deal from Slavia Prague.
On Sunday afternoon, however, the midfielder will run out in front of a 10,000-strong Claret and Blue Army for West Ham's final game of a memorable 2020/21 season – a game which will decide the Club's European destiny.
It is an experience the 26-year-old is looking forward to immensely but, before that, the Irons have the considerable matter of a midweek trip to relegated West Bromwich Albion to take care of.
A win at The Hawthorns, where 5,500 Baggies fans will be in the stands, would put West Ham within touching distance of European qualification, but Souček is taking nothing for granted against a team who pushed Liverpool all the way last weekend.
Tomáš, you're part of this thrilling race for European football this season with West Ham, how to you see it with two games to play?
"We want to prepare for both of the games. We started to think about European football a few months ago, and now our dream is still alive, so we want to prepare for West Brom, and the need three points because we need to know our schedule and our position at the table, so I ask our team that we beat them."
How positive are you feeling about qualifying for Europe?
"It's really great, it's positive for us because I remember last season, when we fought off relegation to the last round (game) and now we are in clear position, a good with position. We know now that we have a chance, so we are a little bit under pressure, but I like this pressure that we can get success and this great result."
What has changed from when you arrived in January 2020?
"I think that from the lockdown we had really hard training, made a really good squad, a nice spirit and we show it on the pitch because we transfer our spirit and our playing from the training ground to games. When I came, we could play against Liverpool or Manchester City and no one knows what's going to happen, but now we are going into these games and we want to beat them and it is positive for us, and we really trust ourselves that we can beat everyone."
You've played every minute in midfield in the Premier League this season, aren't you tired!?
"Haha! No, no, I'm not tired, because this is my dream from my childhood that I wanted to play in the Champions League or Premier League. So, I am here now and enjoying this playing on the field. So I would like, if it's possible, next season to the play in the Europa or Champions League as well as the Premier League and play (even) more games, if this is possible. I don't feel tired, I enjoying my playing."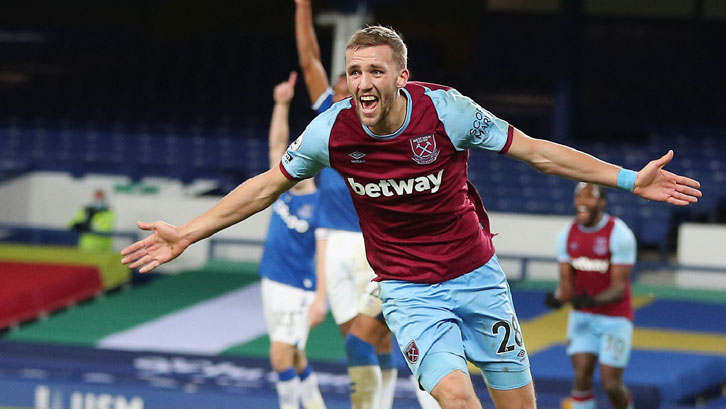 What about the impact you've made personally in your first full season? 
"Thank you, but I think my play is more about to do or make (contribute) to the team, not just about my individual playing, I'm more of a team player, I want to help other guys improve with my speaking (motivation), being positive and showing them the way. I want to be part of a successful squad, that's what I want to do on the pitch."
How excited are you to welcome 10,000 fans back to London Stadium on Sunday?
"I really look forward to that because since I came I'm used to it for only four games, and just one game at home with our fans. It was an unbelievable feeling for me. And now, I am a big part of the team so I really look forward to see them at the stadium. I'm excited and I just hope that we show them our quality and we win, just for the fans because we know that they support us from home all season."
Can the supporters make a difference?
"Yes I think so, I hope that we will still have a chance in the game against Southampton and we will be connected with the fans and they help us to do maximum for the win, because I am sure they will help us and they deserve a win for our team."
Just finally, though, you face West Brom next and they looked really determined against Liverpool on Sunday. Are you expecting something similar when you play them?
"Yes, I watched this game and I saw they had the determination to win because they are still playing in the Premier League. They have fans coming to the stadium as well so I think it will be a hard game, similar as against Liverpool. But we need three points and need to score from the first chance. The last few games we conceded first and it is very hard to win these games when you have conceded first so we need to be prepared for the chances to score."