West Ham United striker Mipo Odubeko has won the Premier League 2 Player of the Month award for April.
The 18-year-old was in inspired form for the Hammers' U23s side last month, scoring all five of their goals as they came from behind to record 3-2 and 2-1 wins away to Manchester United and at home to Everton respectively.
Those strikes contributed to a return of five goals in four Premier League 2 appearances for Odubeko in April, with seven points from the month helping to secure the U23s' Division 1 status in the competition for next season.
The objective of the team was just to stay up. Luckily, I was able to provide goals and help the team do that

Mipo Odubeko
Having missed almost the entirety of the first half of the 2020/21 through injury, Odubeko admitted to relishing playing his part in the U23s' recent success.
"It feels good to win this award," Odubeko said. "The targets that I set helped me get to this award, so I'm thankful for that.
"The U23s went into the month of April knowing what we had to do. We had four tough games – Chelsea, Manchester United, Everton, and Manchester City – and we were fighting relegation. We got a few big results. 
"The objective of the team was just to stay up. Luckily, I was able to provide goals and help the team do that. I'm happy that I could play my part in helping the team."
Odubeko was also quick to praise his Academy coaches for their guidance in his development, saying: "Ever since I signed for West Ham, [Academy Manager] Ricky [Martin] has always been in my ear, just helping me.
"[U23s lead coach] Dmitri [Halajko] has always been positive and [assistant Steve] Pottsy too, supporting me, so it's been good."
An instinctive goal-scorer blessed with natural pace, strength and a love of finding the back of the net, Odubeko's Premier League 2 Player of the Month award arrives at the culmination of his first season regularly playing at that level.
Still by definition a youth team player in terms of age group, the 18-year-old finished the 2020/21 Academy season with 14 goals in 12 games to his name across all development football competitions. 
Training with the West Ham United first team - for whom Odubeko has twice appeared in the FA Cup this season - every day at Rush Green, the Republic of Ireland youth international is continuing to work hard towards the opportunities he has been granted this season.
He reflected: "I went from being injured for five months to training with the U23s for one or two weeks, and then it was 'bang' – straight into the first team squad! It was 'Wow' – everything happened so quickly, but it's been a good experience. 
"I'm around them every day – top players like Dec [Rice], Jesse [Lingard], experienced players like [Mark] Noble – so I'm just taking little bits from them. It's good – I'm learning every day.
"I enjoy being around the lads – obviously we have games in training and stuff like that, and being the youngest I get grilled a couple of times, but that's football!
"I really hope we can get Europe at the end of this season, and then for me going forward, it's just about playing more games and scoring more goals."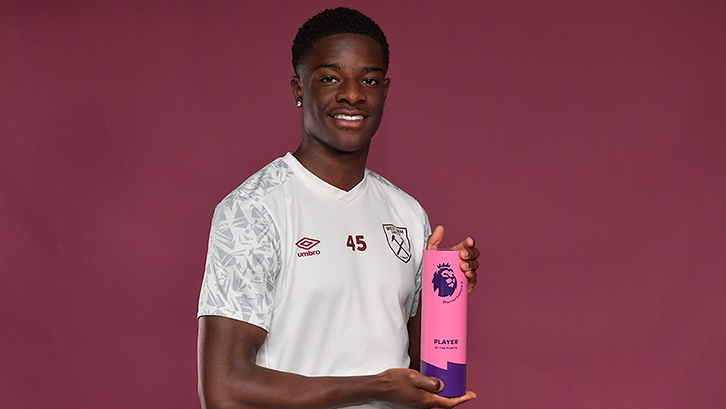 Odubeko was nominated for the Premier League 2 Player of the Month award alongside players from Arsenal, Brighton & Hove Albion, Leeds United, Manchester City, Sunderland and Tottenham Hotspur.
The shortlist was decided by the Premier League Football Development Panel after Premier 2 club coaches nominated the best performance by an opposing player in each of their league matches in the month. The same Panel then selected Odubeko as the winner.
U23s lead coach Halajko said of the achievement: "Mipo's award is much deserved. 
"The amount of goals he scored at the back end of the season was remarkable, and he ended the season with ten goals in nine Premier League 2 games overall. 
"As soon as he came back from injury for the run-in to the season, he really showed what he's all about for us. He's a great goalscorer. 
"His goals have played a massive part in keeping the lads up in Division 1, so he certainly deserves the award."
Assistant coach Potts added: "Mipo turned the game for us up at Manchester United. We went 2-0 down, the game was slipping away from us, but he got a goal back and all of a sudden, the game turned.
"That win was a massive three points for us, and that's what he's got in his game: he can score goals out of nowhere."
Everyone at West Ham United would like to congratulate Mipo on being named Premier League 2 Player of the Month.