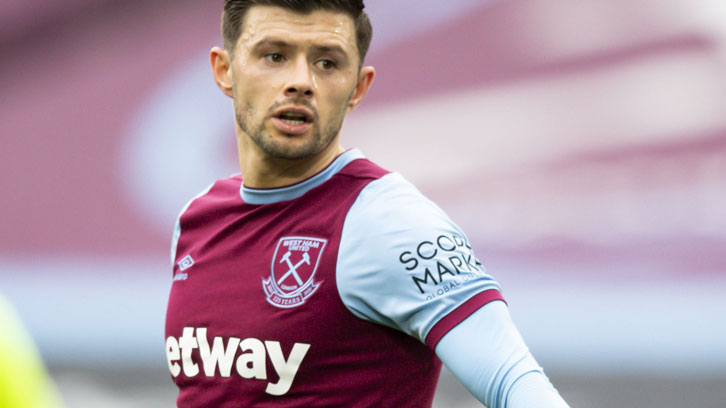 As he comes to the end of his seventh season with West Ham United, Aaron Cresswell has never been happier.
The No3 has experienced plenty of ups and downs and the full range of emotions during his time in east London, from winning the Hammer of the Year award in his debut season and making his England debut to suffering serious injuries, from bidding farewell to the Boleyn Ground to saying hello to London Stadium and from challenging for Europe to fighting relegation battles.
A year on from winning one of those relegation battles amid the added challenge of dealing with the COVID-19 pandemic as a husband and father of two young children, Cresswell and his teammates enter the final week of the 2020/21 season with a very real opportunity of finishing in the Club's highest position this century.
With three games to play – away at Brighton & Hove Albion on Saturday evening and West Bromwich Albion next Wednesday and home to Southampton on Sunday week – the Hammers are sixth in the table and have UEFA Europa League football in their own hands if they can finish positively.
Speaking to talkSPORT, who will be broadcasting the match live on Saturday from 8pm, as the country marks Mental Health Awareness Week, the defender is relishing the challenge of giving everyone associated with West Ham United something to be happy about…
Aaron, West Ham are having a superb season. Why?
"I've been here seven years now and it's not just because we're doing well but this is the best dressing room I've been part of in my time. It always helps when you're winning games, of course, but just the team spirit takes you a long way, for me personally, and that's shown this year.
"If we're being honest, last year was tough and we were in a relegation battle that went right down to the last couple of games.
"Of course, the gaffer has come in and done really well. We had a bad start to the season and we lost the first game to Newcastle and the second game to Arsenal, then we beat Wolves and Leicester and that kind of turned our season around and we haven't looked back.
"It's been a fantastic season and we've got three games to go, so let's see how high we can finish."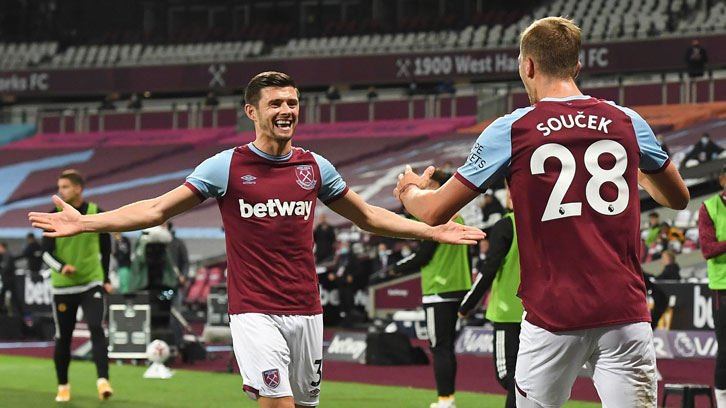 You have three games to play. How many points do you think you'll need to qualify for Europe?
"I was looking at the situation and thinking 'if they win or they lose' and it got too complicated! I know it's an old cliché but we have to take it one game at a time and look forward to it.
"We've got Brighton on Saturday and they're a very, very good team but they've just not been able to score. It's down to us now to look forward to that game and get maximum points.
"We've got to look at all three games as winnable and win them with three games left. We know how tough this part of the season is because one week can define your season, in a way.
"Maximum points is going to be difficult but there is no reason we can't go out there aiming for it. We know what we're aiming for, but there are three or four other teams around us pushing for it as well. It's going to be tough, but let's have a right go at it."
What can you tell us about your two Czech mates Tomáš Souček and Vladimir Coufal?
"They are two of the most humble, honest guys I've ever seen in football. Day-in, day-out, the work ethic they've got, and if you look at the stats from the games, I don't think either of them has missed a game since they came in.
"Tomáš got sent-off against Fulham and those are the only minutes he's missed and that got rescinded so he shouldn't have even been sent-off!
"Just their work ethic and the way they are, they are so keen to do anything they can to help the team, whether that's coming in on their days off or setting the head tennis up on a recovery day. While the lads are inside trying to get massages, they're out there doing more running.
"Honestly, they are refreshing and brilliant around the place."
We have seen Tomáš catch the eye with his goals and aerial ability, but what about Vladimir, who seems to produce an 8/10 performance every week?
"He's that consistent and if I'm honest, I don't think any of us had heard of him before he signed from the Czech League.
"The two of them have been fantastic signings and I think Vlad has been the signing of the season, not just for West Ham but for every club. He's been fantastic."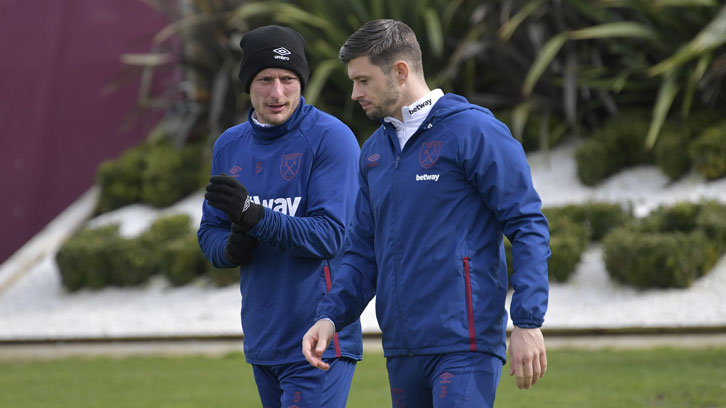 You'll hope to have Declan Rice back before the season ends and he's such an important player to you, isn't he?
"He is. He's had a fantastic season and for someone so young to captain the side obviously when Nobes is not playing, he's got a fantastic future ahead of him.
"It's great to have him as part of our team. Hopefully we've got him back this weekend and he can kick on and go to the Euros as well."
Finally, we are in Mental Health Awareness Week and we all know how important this topic is, not just in football but in society as a whole. What do you do to clear your mind?
"There are two sides to football and once you leave the stadium, if you've had a bad game, once I get home and see my two small children, I try to switch off. Sometimes it's impossible because as much as you don't want to bring it home with you, you can't forget about it, whether you've had a good or bad game or won or lost.
"It's important to have that family time and switch off if you can but everyone deals with things differently and it's important to speak up if you have anything on your mind, find someone to talk to and let it all out."