eSports
Papsity reviews Tomáš Souček's Premier League Team of the Season card!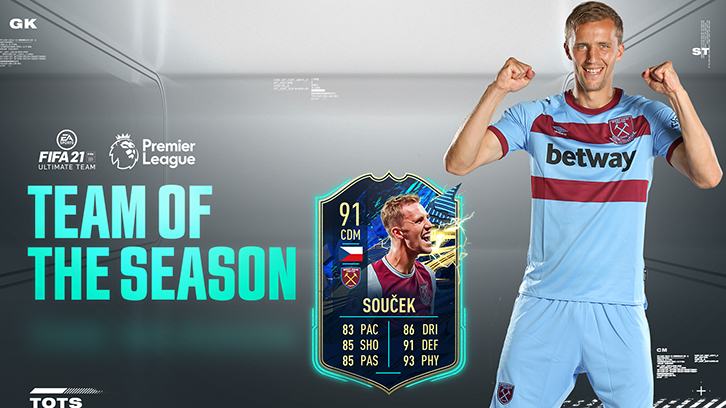 A popular Premier League player card just got a whole lot more popular...
West Ham United midfielder Tomáš Souček has been named in the FIFA 21 Premier League Team of the Season, capping a fine individual campaign from the 26-year-old.
The Czech Republic Footballer of the Year has been a consistently excellent performer over the course of his first full season in English football, recording a hat-trick of Team of the Week inclusions in EA SPORTS' premier football gaming title.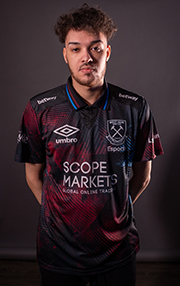 Earning swathes of plaudits in the process, Souček has now been rewarded with a spot in the coveted FIFA 21 Premier League Team of the Season – the first Hammer included since teammate Declan Rice in FIFA 19.
As a result, Souček's heavily-upgraded 'Premier League TOTS' card – included in arguably the most in-demand Team of the Season launch each year – is now available in Ultimate Team packs for lucky players to pick up.
Yet for professional FIFA players such as West Ham Esports' Curtis 'Papsity' Poole, the value of such cards lies in the minor details – the individual attributes for each card, all rated out of 99, which combine to determine a virtual player's individual rating.
With that in mind, we caught up with PlayStation4 pro Papsity for some expert analysis of Souček's Premier League Team of the Season card – and to ask how West Ham fans can use it in-game to bring home the (virtual) potato salad…
 
Position (CDM)
Souček's card is listed as a CDM (Central Defensive Midfielder), making him useful, for example, in defensive variations of 4-4-2, 4-2-3-1 or at the base of a 4-1-2-1-2 diamond.
Papsity's verdict: "If I were creating a Premier League team, I'd definitely put him in at central midfield. I play 4-4-2 with two centre midfielders, and I'd have him as the holding DM in that.
"The stats for his card are really well-balanced. It might be a stretch but comparing the cards side-by-side, and considering his height – six foot four – he's a really good alternative for one of the most expensive cards in the game, [91-rated] Icon Patrick Vieira. 
"It's a decent card, and he can shoot as well!"
 
Skill Rating: 3/5
Weak Foot Rating: 3/5
Papsity: "It's not the best in the game for sure, but in central midfield, you don't really need four or five-star ratings in either. It's obviously useful but it's definitely not necessary. 
"If you're comparing him to the Icon Vieira card, Vieira has the same – three-star skill moves and three-star weak foot – and loads of people still use him."
 
Defensive Work-Rate Rating: High
Offensive Work-Rate Rating: High
Height: 6' 4"
Papsity: "For me, I don't really look at the work-rate of players, but it just depends. As a defensive midfielder, for him to have High/High is pretty good in combination with his stats. 
"Personally, I like to use tall players in midfield, like Vieira, Paul Pogba, or Souček's card as well. It adds a physical presence – a real beast in the centre of the pitch – which for me is really important, but everyone has their own style of play."
 
Pace Rating: 83/100
Stats: Acceleration 78, Sprint Speed 87
Papsity: "His Sprint Speed is 87, but his Acceleration is only 78, which obviously lets Souček down in this category. 
"I still feel like when it comes to catching up with players who are trying to run away with the ball, he won't actually be that slow, but I still think in-game he could feel a bit stiff."
 
Shooting Rating: 85/100
Stats: Positioning 87, Finishing 84, Shot Power 86, Long Shots 86, Volleys 75, Penalties 86
Papsity: "This is a real strength of this card – he can really shoot, which is pretty crazy. 
"You'd be looking to use him strictly as a CDM, but he can actually shoot if he gets into the right area. He's got decent Shot Power, his Finishing's good. Midfielders can score a good number of goals if you use them correctly in FIFA 21."
 
Passing Rating: 85/100
Stats: Vision 83, Crossing 80, Free-Kick Accuracy 62, Short Pass 93, Long Pass 88, Curve 73
Papsity: "What stands out are Souček's short passing (93) and his long passing (88).
"Long Passing is actually a really effective stat in FIFA 21. I don't think that Short Passing tends to be overly important, but Long Passing can change a game because a lot of it is based on long passes or through-balls. He can certainly play those."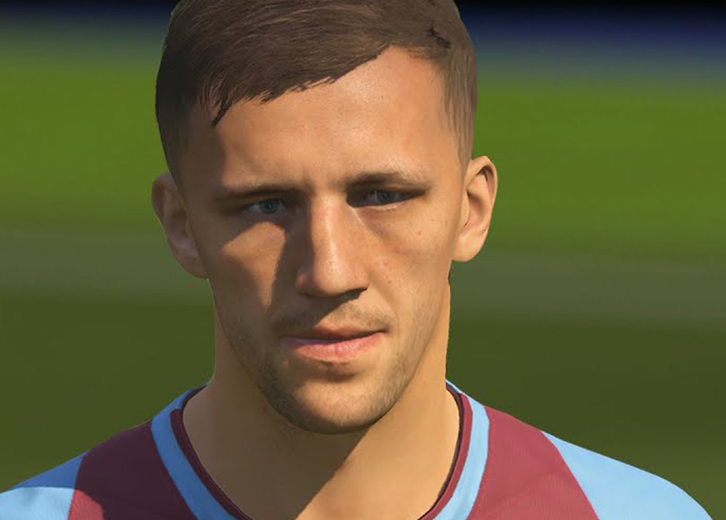 Dribbling Rating: 86/100
Stats: Agility 77, Balance 70, Reactions 92, Ball Control 89, Dribbling 86, Composure 89
Papsity: "As a CDM, to have 86 Dribbling is good. His Agility is 77, which is really good for somebody who's 6'4". He has 92 Reactions, so he should be first to most balls too. 
"His Composure is 89 and I think that's a key stat as well. Lots of people believe Composure is about how players finish in front of goal, but I think it's about playing the ball accurately when you're under pressure from a defender, which Souček can do."
 
Defence Rating: 91/100
Stats: Interceptions 94, Heading Accuracy 90, Defensive Awareness 91, Stand Tackle 91, Slide Tackle 90
Papsity: "This is where Souček's strengths come into play as a CDM. 
"94 Interceptions and 91 Defensive Awareness are brilliant. Those two stats there are the most important for his position, so they're what you want to look at. 
"Standing Tackle [91] and Sliding Tackle [90] are nice, but because they're manually controlled, I don't read too much into them – the others are crucial though."
 
Physical Rating: 93/100
Stats: Jumping 80, Stamina 99, Strength 94, Aggression 84
Papsity: "I think Stamina is another key stat to have; 99 means you'll probably never have to substitute him as he'll never run out of energy. 
"You've got 94 Strength as well which means he should win all of his shoulder-to-shoulder, 50/50 battles. 80 Jumping is nothing crazy, but at that Height already and with that Strength, you wouldn't expect him to lose a header." 
 
Price: ~85,000 coins (Xbox One), ~72,000 coins (PS4)
Papsity: "Considering his card only dropped recently – I'm surprised that he's under 100k coins, to be honest. 
"It's a really good card. There are a lot of defensive midfielders out there, but I think he's really useful, and everyone loves building Premier League-based squads!"

For more exciting FIFA 21 and gaming content, follow the official @WestHamEsports accounts on Twitter and Instagram.
Want to step up your game with West Ham's Esports players? Watch our pros in action every week - subscribe to Twitch to learn when they go live.