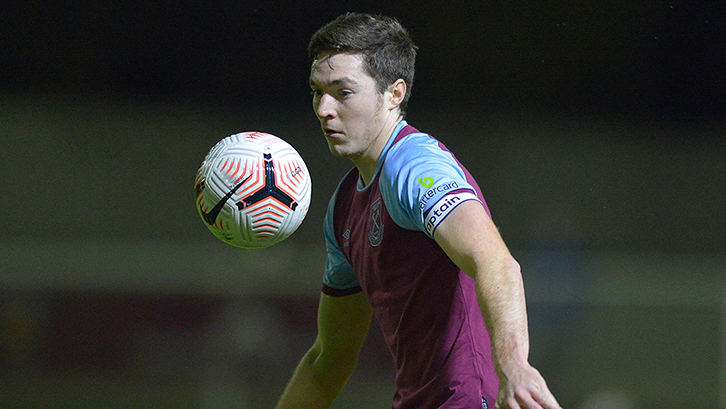 Following Monday's final round of fixtures, West Ham United U23s have finished eleventh in Premier League 2, securing their spot in Division 1 next season.
The development squad played their final game of the season on Friday evening, playing out a 2-2 draw against Arsenal at Rush Green Stadium.
That scoreline meant that Leicester City U23s had the opportunity to overtake the Hammers on Monday, but a 2-0 defeat at home to Liverpool ensured it was the east London team who would finish outside of the Division 1 drop zone.
Having been bottom of the table as recently as mid-March, the U23s can take pride in how they recovered from a difficult start to 2020/21 to earn 15 points out of a possible last 24 in the league and propel themselves up two places.
Captain Conor Coventry was pleased to see his team pick up the points required, particularly after a disrupted first half of the season had put the Academy of Football team on the backfoot.
 "We're very pleased that we've managed to stay up," the 21-year-old told whufc.com. "It's been a tough season for us as a group, with a lot of difficult circumstances relating to COVID and injuries, and we've really overcome a lot of obstacles to stay up. 
"It looked at one time like we might not, so we've done really well to get ourselves in the position where we finished."
 
The whole team have learned a lot from playing at this level this year.  We've had a lot of challenges and challenging games

Conor Coventry
The season was the young Hammers' first in the top tier of Premier League 2, having won Division 2 with an unbeaten record in 2019/20.
While the step up was initially reflected in the U23s' results – albeit not by their performances, which did warrant greater reward – the experience has been fruitful for their development, according to Coventry.
He explained: "The whole team have learned a lot from playing at this level this year.  We've had a lot of challenges and challenging games. 
"Against Manchester City, for example, we were playing against a system that's only really being played by their first team at the moment, and was really tough to play against. 
"You can see, as the season went on, we got a lot stronger and became a much better team ourselves after playing these types of teams.
"Towards the end of the season, we were one of the better sides in the league in terms of form, so I think we learned a lot and really enjoyed the challenges."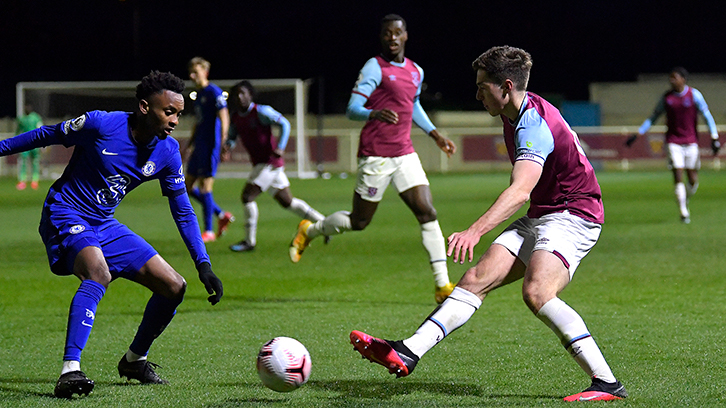 The development squad's early-season form was defined by a number of games where, despite dominating the general play and number of chances, mistakes at both ends of the pitch saw them slip to narrow defeats.
Because of how well they played in those games, however, Coventry and his U23s teammates never lost faith in their ability to turn their season around.
The Republic of Ireland international continued: "I think the whole team had belief in what we were doing, because there were a lot of games early in the season when we did play well and things didn't really go our way.
"We should have finished games off, and we didn't, but we always had a lot of confidence in how we were playing and our ability as a group. 
"Of course, it was tough, and our confidence was sometimes tested, but we stuck together as a group.
 
We really showed our strength and resilience to keep going and believe in ourselves

Conor Coventry

"It's a testament to the character of the group that we've finished the season the way we have, and managed to get ourselves out of a place where a lot of people probably would have said we'd go down. 
"It shows a real strength and resilience, which I'd say are two of the most important qualities in football. 
"We really showed our strength and resilience to keep going and believe in ourselves, and eventually we had enough to get ourselves out of the trouble with a really strong finish to the season."
Having concluded their league season, a number of West Ham United's U23s are continuing to train to support the first team's quest to finish as high as possible in the Premier League table.
Dmitri Halajko's squad will then enjoy a summer break, prior to their 2021/22 pre-season programme kicking-off in the first week of July.
Coventry added: "I think it'll be nice for us all to have a little bit of a break, and then it's all eyes on next season, when we'll all be eager to go again. 
"Both team-wise and individually, everyone will have different things they're wanting to get out of next season, so it'll be nice to have a little break before starting to get ready to have another big season."