Ahead of the Hammers' home game against Everton this Sunday - which is the awareness fixture for the Club's Official Charity, West Ham United Foundation - we look at the story of Newham-born teenager Mo Ali, who has combined his passion for football with learning as a student on a West Ham United Foundation degree course at the University of East London...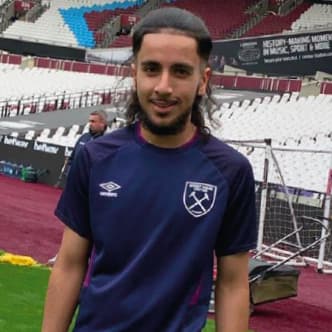 West Ham United supporter, Mo Ali, was born and raised in the Borough of Newham in the heart of east London. At 18, following the death of his father, Ali reached a crossroads and began considering his future aspirations, which eventually led him to one of the West Ham United Foundation's degrees at the University of East London (UEL). The decision combined his two passions – football and education.
"The person who I'd say that got me into football was my Dad," he explained. "He had a passion for football as well so he introduced it to me when I was quite young. As I got older, I just started to adapt to it, I learnt new things and I started to engage much more."
Ali's father had been a strong influence and inspiration to him and having been unwell for ten years before he passed away, his death naturally impacted his son. "It did have a big effect on me, my football, my studies, my mental health in general, and it was a setback," he revealed. "I will say that, it was very hard to go past."
The teenager explained that it was after his father's passing that football became even more important. He would play with friends and family, against a wall by himself, or help others to take part given he had such a love for the game, and for his local club.
"I have been a West Ham United supporter my whole life and although I wasn't at the level of a professional player myself, I knew that I enjoyed helping others to play and improve and so when I was feeling a bit lost or even when I broke my ankle and couldn't take part myself, I still found myself turning to football," he said.
"Then I heard about the West Ham United Foundation Sports Coaching and Performance degree through friends and eventually spoke to some of the tutors involved, who seemed really engaged and welcoming, and it just felt like the perfect next step for me to develop my career."
Now, he is enrolled as a student and enjoying combining his two passions, is in his second year of a three-year degree course and, to date, his experiences have included lectures delivered by an array of experts including those from British Diving, the English Institute of Sport and West Ham United's own Academy, which has involved learning about training programmes from the Head of Athletic Development and Talent Identification from lead scouts.
Ali was also selected to visit Spain and Austria to coach as part of his degree programme, although this was unfortunately halted due to the COVID-19 pandemic. Furthermore, along with other students, he has received one-to-one feedback on elite sport training programmes from first-team players, providing unique insight and guidance to aid his studies.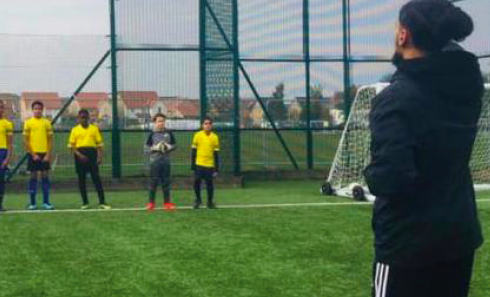 Ricky Martin, West Ham United's Academy Manager and guest lecturer on the BSc (Hons) Sports Coaching and Performance degree, has been impressed by the youngster's commitment to his studies.
"It's like anything in life, it's all about what you put into it to what you get out and I think Mo is really investing in himself and he's really investing in his learning," said Martin.
The Foundation's Higher Education Programme Lead, Dominic Edwards, added: "It's been a pleasure to watch Mo flourish throughout his time with us so far. I think what's great about the West Ham United Foundation degrees in particular is that there's such an array of opportunities; not only being part of a Premier League club but also through other sports and networks that West Ham United and UEL have."
Reflecting on how the course has helped him, Ali himself stated: "Since I've been on this course with University of East London in collaboration with West Ham, I feel like it's opened a lot of doors for me and I feel like it's made me who I am to this day now. I'm finally getting the gist of what I can actually do and what I can actually gain in the future.
"The guidance I'm receiving now and the support that I'm getting from everyone, is the best that I can ask for as a student because I feel like it's giving me a clear mind-set of where I want to go and how I can achieve it."
If you are interested in finding out more about the West Ham United Foundation Sports Coaching and Performance (BSc) degree or Community Sports Management (FdSc) degree, visit www.uel.ac.uk or email [email protected]