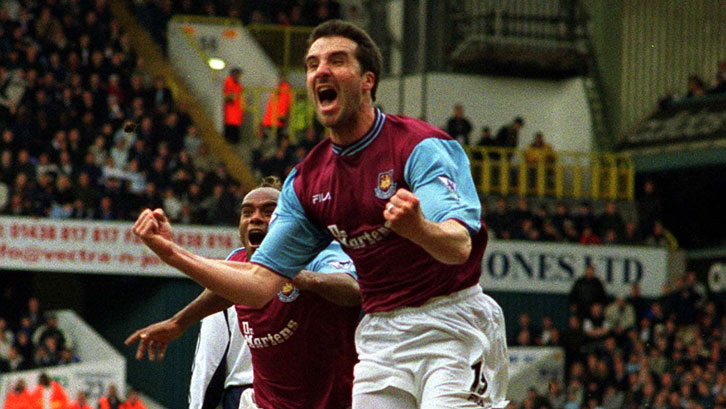 Sid Lambert pays homage to a player for whom appearances were deceptive – the versatile Ian Pearce...
I can remember vividly the first time I saw Ian Pearce. It was April 1994 and we were at home to Blackburn Rovers, looking for a win to ease any lingering fears about relegation in our first Premier League season. For 75 minutes we'd more than matched the Ewood Park side, who were chasing one of the European places.
At that point both managers made potentially game-changing substitutions. Harry Redknapp brought on the familiar face of Lee Chapman, the veteran striker whose arrival from Portsmouth had transformed our fortunes after some dismal early-season form. Big Lee had the same burst of acceleration as my nan's fridge freezer, but for 15 minutes he could get his elbows up and make a nuisance of himself in the penalty area. 
Meanwhile, Kenny Dalglish brought on the less familiar face of Ian Pearce, an inexperienced central defender signed from Chelsea who had yet to make a Premier League start for his new club.
One of the joys of being a football fan is that you're allowed to make instant judgements on players you've never seen before, then relay them to anyone within your proximity with supreme confidence, despite it being abundantly clear you have no prior knowledge on the subject matter. 
'Who's that new lad Chelsea have got? Zola? Looks lightweight to me. Defenders like Eric Young will eat him for breakfast.'
'Why have Arsenal wasted all that money on a prima donna like Bergkamp? They should have gone for Dean Holdsworth, he's done the business in this league before.'
As he trotted gingerly onto the pitch, Pearce looked like the typical centre-halves of the era: big frame, slightly ungainly, turning speed of a goldfish in treacle. And then something unusual happened. Instead of heading towards his natural habitat of the back four, Pearce made a beeline up front to provide a makeshift foil for the hottest striking property in English football: Alan Shearer.
This seemed like the most unlikely duo since He-Man texted Skeletor and asked if he fancied popping out for a cheeky pint after work (seated outdoors).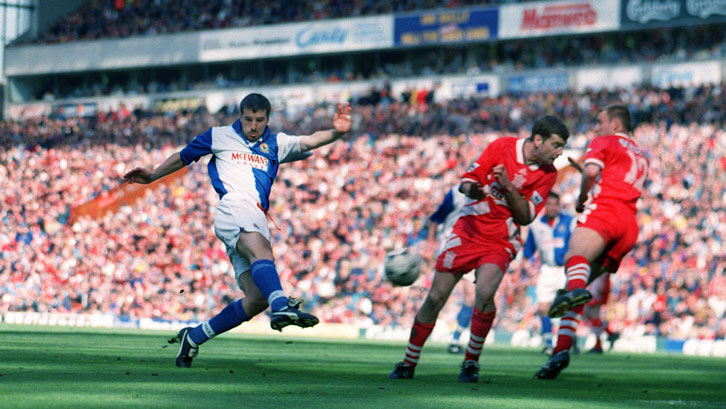 Nonetheless, in the space of a few seconds I'd seen all I needed to compile a comprehensive scouting report for the West Stand: Not much to fear here, fellas. I've seen forklift trucks with better technique than him.
Sixty seconds later Shearer got the ball deep and set Pearce through on goal. His first touch gave him a shooting angle, the second rifled a winner into the bottom corner from fully 20 yards past an utterly confused Ludo Miklosko.
What's a big lump like that doing hitting a ball so sweetly?
Fast forward four years and Arsenal's Alex Manninger was thinking the same thing. He was 12 minutes into an FA Cup tie at Highbury and the Gunners 'keeper had been beaten all ends up by a left-foot screamer from West Ham's durable centre-back Ian Pearce. It was the Big Fella's first goal for his boyhood club and a reminder that appearances can be utterly deceiving.
Pearce had arrived from Blackburn in September 1997 after a bidding war between the Irons and Crystal Palace. Within weeks it was clear that the new arrival was worth every penny of his £2.3m fee. What marked Pearce out immediately was his versatility. In fairness, I thought the same when I first saw him that night in 1994. This lad could conceivably be a Premier League defender, a bailiff, or a bare-knuckle boxer. Never did I imagine he'd become one of our most important signings of the decade.
Within passages of the same game Pearce could be a dominant aerial presence, a cultured libero striding into midfield, or a wing-back bombing forward down the flanks. From 1997 onwards Harry Redknapp established us as top-ten outfit and whilst some of the more exotic names (Berkovic, Di Canio et al) stole the limelight, Pearcey's consistency was at the heart of that transformation.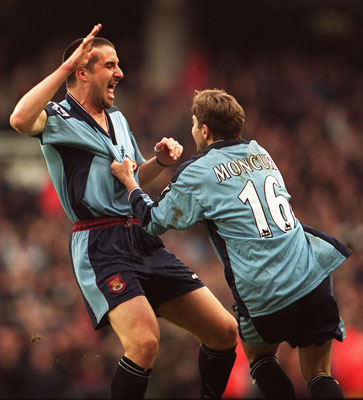 He followed up his first goal at Highbury with an impressive strike from wing-back versus Leeds three weeks later. The following season he found his natural calling, establishing himself as part of a three-man central defence alongside Rio Ferdinand and Neil Ruddock. He made 33 league appearances as Harry Redknapp's team finished fifth in the top-flight – their best position since the halcyon days of 1986. Pearce's consistency was rewarded with a second-place finish in the Hammer of the Year awards.
It was a glorious time to be a West Ham fan. The squad Redknapp was assembling genuinely felt like one of the most exciting in the league: Hislop in goal, Pearce and Ferdinand at the back, Berkovic in midfield, Di Canio up front. We were going places. 
Unfortunately, Ian Pearce's next destination was the emergency room. A training ground tackle left his ankle ligaments in tatters. It was an injury that completely derailed his Upton Park career, as further niggles restricted him to just 22 starts in the next three seasons. 
He finally returned to the first team for a consistent spell in late 2001/02, his arrival coinciding with a spell of late-season form that took Glen Roeder's side to seventh in the table. The following year, injuries elsewhere tested his versatility to the full and once again he found himself playing emergency striker. Only this time there was no Shearer alongside him, and we slipped into relegation.
He stayed to help us fight back, before moving to Fulham as part of Alan Pardew's rebuild. Football fans remember Ian Pearce as a respectable operator at Premier League level. West Ham fans remember him as a key part of one of the best teams in the last 30 years, and someone who's always welcomed back in east London.
*Catch more nostalgia like this on Twitter @sid_lambert.