When the final whistle blew at a wet and windy Turf Moor on West Ham United's 2-1 Premier League win over Burnley on Monday evening, Łukasz Fabiański let out a loud whoop in celebration.
The reaction showed just what the result meant to the experienced goalkeeper, whose superb second-half save from Josh Brownhill ensured the Hammers would end their two-match losing run with a victory and climb back into fifth place.
While Fabiański's diving stop was important, his was just one of a host of strong performances from David Moyes' players. The Irons produced an away performance that should have resulted in a far more comprehensive win, repeatedly carving Burnley open with quick and accurate passing moves, two of which ended in goals for Michail Antonio, and only missed opportunities and Nick Pope's heroics prevented a thrashing.
At the other end, the Poland international and his defenders stood firm in the face of a typical aerial barrage from Sean Dyche's side, leaving the No1 with a feeling of real pride when he spoke to West Ham TV at full-time…
The life of a goalkeeper is such that you can make a mistake one week, then the next week you can make a save that wins your team the game?
"Oh, that's a strong statement, that it won us the game! As a goalkeeper, I think the main thing is that you always try to be consistent. Obviously, I had a really bad performance in the Newcastle game and I wanted to respond very quickly. Against Chelsea, I had a good game and tonight, although I wasn't very busy, I needed to be focused and when the team needed me I wanted to help and I am happy that I was able to do so."
That was a real show of character from the team, coming from a goal down to lead, then resisting Burnley's aerial barrage to secure the win?
"I think we did really well. We played really good football and we also kept the ball well in pressure situations and we played through them and managed to create a lot of good opportunities and were able to again score two goals away from home against a really tough opponent. When you come here, you always know they are going to make it hard for you so the reaction of the team was great. It gives us a lot of confidence going into the last four remaining games and we've put ourselves in a good position again and I think we are all focused on getting as many points as we can."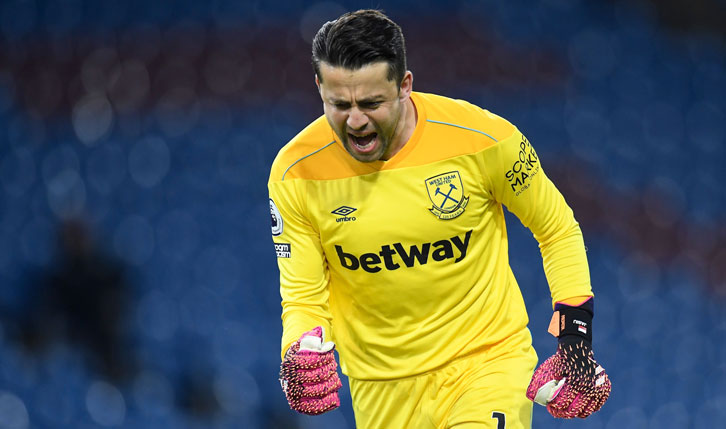 There were so many good performances from our players, weren't there?
"For example, Manu came in and he wasn't really playing that much recently and he was amazing. He was on the ball, dictating the tempo and playing little one-twos with Said and Jesse. Pablo worked really hard like he always does, then having Micky back is always good. I could go through everyone who played today on the pitch! Issa and Daws were very strong again because you know they're going to face a very physical challenge and they managed to match it and respond in a strong way. I think everyone really stepped up again."
You used to say it was always tough on a 'wet and windy Tuesday night in Stoke', but now we've done it on a 'wet and windy Monday night in Burnley'!
"Actually, when we came down for lunch, when I looked outside and I thought that was all we could get coming here – the physical game and the weather was going to be a little bit different and it might affect the quality of the game. Again, in the end, we have shown we were able to respond and able to manage the situation and able to match the energy and intensity of our opponent. I think the main thing was our response after losing two games in a row and we showed that."