It is 57 years to the day since Ronnie Boyce wrote his name into the West Ham United history books.
Born in East Ham, just a short walk from the Boleyn Ground, Boyce played schoolboy football for England before joining the Hammers as a 16-year-old apprentice in 1959.
At 17, he made his Football League debut in October 1960 in a 5-2 First Division win over Preston North End – the same opponents who would see their FA Cup dreams dashed by Boyce three-and-a-half years later.
In between, Boyce established himself in Ron Greenwood's team in late 1962, replacing Phil Woosnam while still a teenager and catching the eye with his tireless work-rate and knack of scoring important FA Cup goals.
"We called Ronnie 'Ticker' because when he was ticking over well the whole team seemed to play well," recalled the late John Lyall, who was a youth coach at the time. "He was a superb interceptor and a good and intelligent passer of the ball.
"As a player, he epitomised all the good things Ron Greenwood stood for as a manager."
I knew for sure the 'keeper had no chance of getting to it but it just seemed like time stood still for a few seconds before the crowd erupted

Ronnie Boyce
Greenwood himself was a huge fan of his No8: "In other people's eyes, Ronnie was a most underrated player, but to us he was invaluable. The thing that impressed me most about his play was his ability to do the simple things quickly and efficiently."
Boyce's FA Cup heroics continued in March 1964, when he scored two goals in a thrilling 3-1 semi-final win over Manchester United at Hillsborough.
That victory set up a final meeting with Preston at Wembley on 2 May 1964, and a chance for the Hammers to win the first major trophy in the Club's then 69-year history.
Greenwood's First Division side, which included seven home-grown graduates of the embryonic Academy of Football, were the favourites, but Preston had finished third in the Second Division and would prove no pushovers.
Winger Doug Holden put Preston in front on ten minutes, but John Sissons levelled within 90 seconds. Scottish striker Alex Dawson gave the Lancastrians the lead for a second time before half-time, but Geoff Hurst equalised seven minutes after the break.
The final looked to be heading for extra time but, with seconds of normal time remaining, Peter Brabrook crossed from the right and Boyce popped up again, heading into the corner, leaping into the air in celebration and securing FA Cup glory.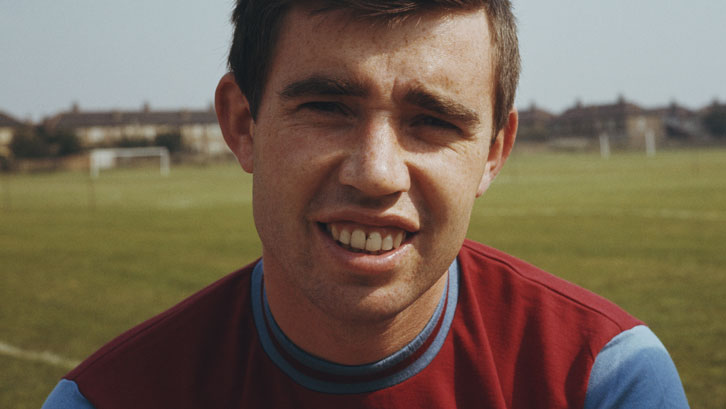 'I could see it going in!'
Reflecting on that unforgettable day, Boyce admitted he can remember little of the final, other than his winning goal!
"It's surprising, I look back and it was probably the most important game of my career – the game I was recognised for more than any other – yet, other than my goal, I can't remember too much about it!" he told Hammers News.
"Maybe it's because we went on to play in another cup final (the European Cup Winners' Cup) the following year, people ask you questions and you have to start thinking about which was which, you know, who played in one and who played in the other.
"Of course, my goal is the biggest memory. I didn't feel I had a particularly good game, but I happened to be in the right place at the right time with just a few minutes left. It was getting a bit desperate and everyone was tired, but I think it was Geoff who managed to get a move going and pushed it out wide to Peter.
"He put in a terrific cross from the right and the thing that always sticks in my mind is that, when I headed the ball, I could see it going in, yet it seemed like an eternity before there was a reaction from the crowd.
"I knew for sure the 'keeper had no chance of getting to it but it just seemed like time stood still for a few seconds before the crowd erupted. Then the noise hits you and everything else happens so fast.
"I ran around the back of the goal – people say I was one of the first to celebrate a goal that way – but it wasn't a planned celebration, it was just momentum that took me round there. Other than that, I can't remember much else!"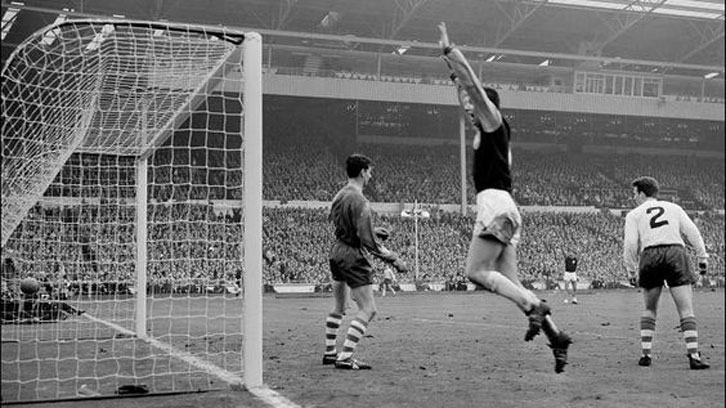 A banquet and open-topped bus
After the final whistle was blown by referee Arthur Holland, the celebrations began.
Bobby Moore led the Hammers up the famous steps to Wembley's Royal Box, where the captain received the famous trophy from the Earl of Harewood.
After a lap of the pitch, the Irons headed into the dressing room, before showering and pulling on their suits and heading to the London Hilton on Park Lane for a banquet.
The following morning, Sunday 3 May, Boyce and his teammates jumped on an open-top bus for a parade that travelled through Mile End, Stratford and Plaistow, along the Barking Road, past the Boleyn Ground to Newham Town Hall. Tens of thousands of east Londoners lined the route, welcoming their heroes back home.
"The celebrations afterwards were great," Boyce recalled. "We had a brilliant reception at the Hilton, then we went to some nightclub that Budgie (Johnny Byrne) had recommended.
"Nothing could beat the following day, though, when we took the cup back to the Town Hall on the open-topped bus. It's funny, I remember coming down past Aldgate and there was just a sprinkling of people there to wave at us – I was thinking: 'Blimey, this is gonna be a washout!'.
"But as soon as we got to Stratford, it all started. We went past the Black Lion at Plaistow and they handed us a crate of lagers.
"I can remember people kissing me on the forehead and the atmosphere when we got to the Town Hall was tremendous. The whole thing was unbelievable, such a wonderful experience.
"Soon after, I married Dawn, to it was quite an eventful year!"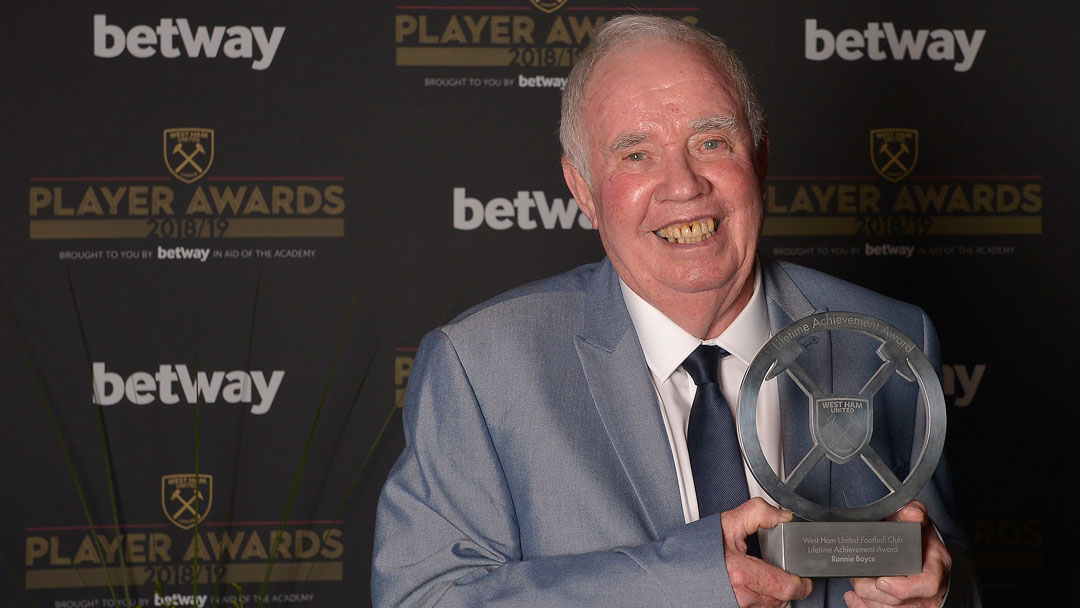 Local hero
Fifty-seven years on, Boyce can reflect on a successful career and a life well lived.
'Ticker' made 341 appearances across 14 years, scoring 29 goals, winning the FA Cup and European Cup Winners' Cup and appearing in a League Cup final.
After hanging up his boots 1973, Boyce joined Lyall's coaching staff and helped the Hammers win two more FA Cups, reach the League Cup final, win promotion and finish third in the First Division.
Boyce continued to serve the Club as chief scout in the early 1990s, working under his former teammates Billy Bonds and Harry Redknapp.
Happily living in Norfolk, Boyce was voted No23 of the #50GreatestHammers in 2018 and returned to London a year ago to deservedly receive the Club's Lifetime Achievement Award.
"I am a local boy who was born in West Ham, got married at 21 and in the meantime lived in East Ham," he reminisced. "My Dad had a little provision shop in Haldane Road in East Ham and I used to walk to the ground to play with the people he was serving, as it was only about three-quarters of a mile from the stadium!
"I'm living out in Norfolk now, so it's nice to come back and meet a lot of old faces I remember!
"I spent quite a few years at West Ham and loved every minute of it, through the good and bad times, and when you get older the good times stay with you a lot more.
"In that period of time, the most constant thing about it was the support, which stood out. In my time, and ever since, it's been great."