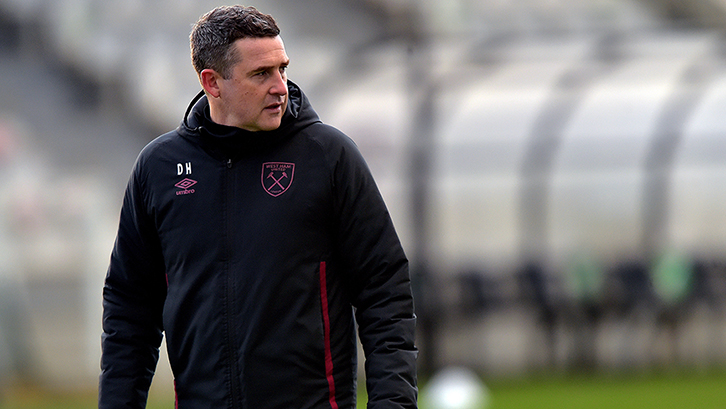 West Ham United U23s lead coach Dmitri Halajko was delighted by the dominance his team asserted in their 2-1 win over Arsenal U23s on Saturday afternoon.
On a pleasing day for the Academy of Football, just two hours after the U18s had seen off Southampton 3-2 at Little Heath, Halajko's development squad claimed a late - and important - 2-1 win over the North London side at Meadow Park.
West Ham's U23s were the dominant team throughout the course of the game, time and again making inroads into the penalty box, only to come up against an Arsenal goalkeeper, Tom Smith, in good form.
Ademipo Odubeko had perhaps the clearest of the openings but saw his close-range shot smothered by Smith, while left-sided full-back and winger duo Emmanuel Longelo and Nathan Holland – a constant combined threat throughout – also came close in the first half.
As it was, West Ham's opening goal came towards from from the penalty spot towards the end of the opening period, when Odubeko's quick feet saw him fouled, giving U23s captain Conor Coventry the opportunity to dispatch with aplomb.
Disappointingly, however, Arsenal were awarded a spot-kick of their own just moments later – the fifth penalty the Hammers have conceded in their last five games – when Kai Corbett fouled Joel Ideho inside the area, with Nikolaj Moller also converting.
 
We dominated a large share of the ball and certainly dominated the chances – we probably created enough chances to win two or three games today

Dmitri Halajko

A similar pattern ensued in the second half but, just when it looked like their deserved second goal might not arrive, Corbett's clever forward play won the Hammers the third penalty of the game with just five minutes remaining.
This time, when Odubeko gleefully dispatched the ball for his eleventh goal of the campaign, it proved the decisive one.
Halajko reflected: "I thought it was a game where we performed well, especially in the middle of the pitch – we kept the ball well. Our possession stats were good and our line breaks were good.
"We dominated a large share of the ball and certainly dominated the chances – we probably created enough chances to win two or three games today. We had really good build-up play and produced a really good performance. 
"There were only two disappointing things today: we didn't finish more of our chances, because we had lots of openings, and the fact we gave away another rash penalty. 
"Apart from that, I think we played another good game – a game that we deserved to win – with plenty of good individual performances, but most of all a really good team performance."
Halajko explained that, although a collective effort – West Ham's U23s had 23 shots to Arsenal's six, and 12 on target to the Gunners' sole effort – it was the offensive work down the left flank which particularly caught his eye, as well as Coventry's display.
He reiterated: "I really think that it was a team performance; there were many performances I could single out. 
"Down the left side we were a real threat – Manny and Nathan down that left side really gave them problems, and were probably our biggest attacking threats. 
"Manny's been ill all week as well and hasn't really trained much. He had to come off last week as well because he was ill, so to come here and play that amount of time with no real training, and off the back of an illness, showed really great character from him. 
"It was great to have Nathan ahead of him because those two link up so well – we've seen them do it before – so to have that back in the team was really nice. 
"Conor's always going to give us a captain's performance as well – he's the most consistent player in the league, so he's always going to give us a really good showing."
The young Hammers' victory was their fourth in their last seven Premier League 2 Division 1 games – a run of results which has encompassed defeat only to confirmed champions Manchester City.
 
The form that we're in at the moment is really the form we should have been in at the start of the season

Dmitri Halajko

The 14 points gained during that spell have pushed West Ham's U23s from the bottom of the table to outside the Division 1 drop zone, where they now sit eleventh place.
With just one game left to play, they now lie two points ahead of Leicester City U23s - who have a game in hand on them - and are now just two behind Arsenal U23s.
West Ham therefore go into next Friday's season finale knowing that, putting Leicester's results aside, another win against Arsenal will guarantee their place in development football's top-flight – and would even see them leapfrog the Gunners into tenth.
The lead coach confirmed: "The form that we're in at the moment is really the form we should have been in at the start of the season. 
"We're certainly producing some of the same aspects, but we weren't finishing games off or killing teams off back then. Now, we're finding a way to grind out three points when needed. 
"We've had similar kinds of performances in terms of our statistics in games – they aren't too dissimilar – but the statistics in the penalty boxes have seen a big difference. Our all-round game's been pretty consistent aside from that. 
"Manchester City away [a 5-0 loss] was probably the only game we were way off the level. Apart from that, we've been in every game, and so we've been unfortunate not to be higher in the league table this year.
"We believe our performances have been better than our league position represents."