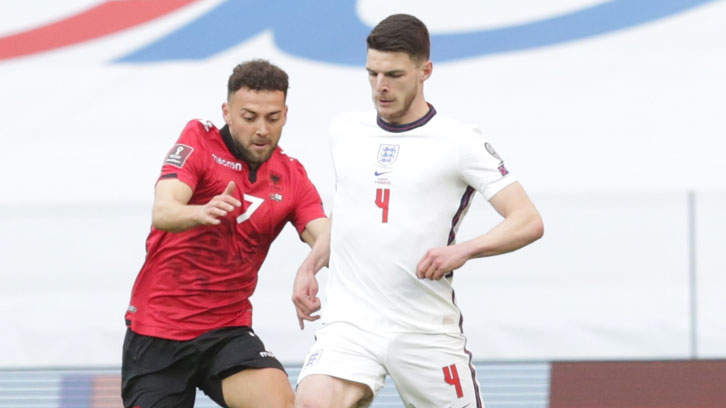 Declan Rice says sharing an England dressing room with the country's best players will only boost his level of performances for West Ham United.
The Hammer of the Year caught the eye in the Three Lions' 2022 FIFA World Cup qualifying win in Albania on Sunday, completing an amazing 109 of his 111 pass attempts and making a team-high five interceptions and three clearances.
After producing a soaring display at the Air Albania Stadium, Rice, new West Ham teammate Jesse Lingard and the rest of Gareth Southgate's squad return to Wembley on Wednesday, when they host Łukasz Fabiański's Poland in their third Group E qualifier for next summer's finals in Qatar.
The tie will also act as further preparation for this year's delayed Euro 2020 tournament, which will see England host Croatia, Scotland and Tomáš Souček and Vladimír Coufal's Czech Republic at Wembley at the group stage.
Speaking to BBC's Football Focus, Rice said he is relishing every minute he spends with the national team. 
What is it like to be part of this England squad?
"It's incredible. You've got lads from all different clubs but when you come here all of that gets put to the side, really, and when you come here everyone has got one objective and one goal and at the moment that's obviously the summer [and the European Championship finals]."
Everyone is playing for a place in that squad for Euro 2020, so has that changed the mood at all?
"I think it's healthy. I think, when you've got people competing for spots, everyone wants to start and everyone wants to play, but you feel like when you're being pushed it makes you raise your game more. Even when you train, no-one wants to lose and everyone wants to train well, so if we keep that mentality and positivity around the camp, I'm sure we can go far."
One player who has really made a positive impact is Jesse Lingard, so how do you feel about his call-up?
"I'm delighted for him. Before he came to West Ham, a couple of the coaches and players asked what he was like and if he's a good player and I said: 'Wait 'til he comes, you'll see!' and I think in his first training session the lads were blown away by how good he was. Technically, he is so good at getting into little spaces for midfielders to pass into and without him now at West Ham, I don't know where we'd be."
Talk to us about the 'band' celebration you did after he scored against Tottenham?!
"My drumming was shocking! It was shocking! He's always trying to plan stuff, so if and when he scores again, we might try something else…"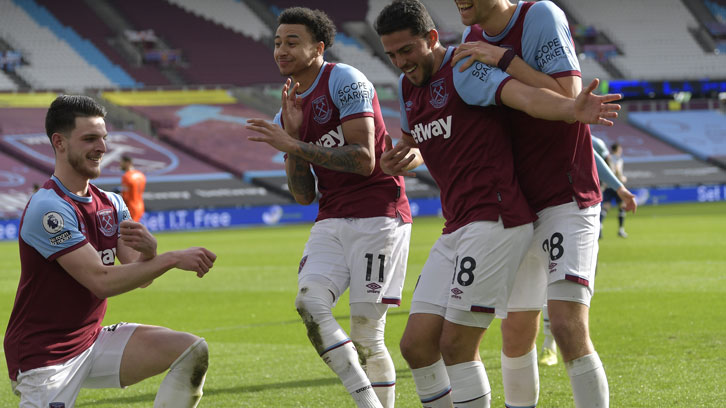 What do you think being a regular England international is doing for your game right now?
"It's massive. I'm only 22 and I come here and I'm playing with people who have played in Champions League finals, won trophies, won Premier League titles and you kind of take a step back and pick up little bits from different people. Someone like [Wolves captain] Conor Coady, I had never actually been in a dressing room with him. So to see him and see the impact he has on the squad on the team inside, it is people like him that you need in your changing room. Stuff like that I have taken away and tried to take to West Ham to add that to my game as well."
Euro 2020 could be played in front of fans at Wembley, so what is your reaction to that?
"When Boris Johnson came back the other week and said we've got a date to target to get out [of restrictions] and it was going round on Twitter that the Czech Republic play England on 22 June and the pubs open the day before and there is potentially going to be fans in, that's given everyone a massive boost. For us as players, having fans in the stadium is like having a 12th man and it gives you that extra desire and fire in your stomach to go out and perform and fight for the badge."
Could we see the band get back together if you score a winner in a Euro 2020 knockout game?
"Do you know what? If fans are back in and I scored in a knockout game, I don't think there would be a band, but just pure emotion, a straight knee slide and buzzing with the fans if I scored!"