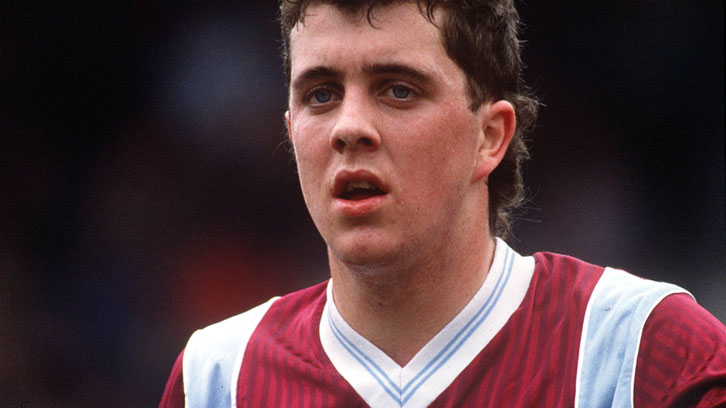 Former West Ham United defender and coach Julian Dicks, who joined the Irons on this day in 1988, picks out his favourite memories of his time in Claret and Blue...
MAKING MY MARK FROM THE START!
I'd made my actual debut for the Club on Easter Saturday 2 April 1988 up at Hillsborough, in a 2-1 First Division defeat against Sheffield Wednesday. I was actually voted Man of the Match by the Owls supporters and felt quite confident going into my home debut against Everton on the Bank Holiday Monday.
Everton were a very good side then, with a lot of international players, and had won the league just a year earlier. So, it was a big game and we did well to nick a 0-0 draw.
To be honest, the one memory that sticks out from the game is that I whacked Gary Stevens over near the dugouts on the west side. The crowd went mad and that was it, my West Ham career was born!
I knew then that I had made the right decision to join the Club. I loved the atmosphere, the humour and the passion of the fans, and it just felt like a natural fit.
HAMMERING THE REDS
In my first full season at the Club, 1988/89, we ended up getting relegated and John Lyall was sacked. It was a very difficult year but, for some strange reason, we had two great cup runs, reaching the League Cup semi-finals and the FA Cup quarter-finals.
Under the lights at Upton Park, we just came alive and could give anyone a game. When Liverpool arrived in the fourth round of the League Cup, no one gave us a chance. They were the league champions and had a fantastic side – Barnes, Rush, Aldridge, Beardsley...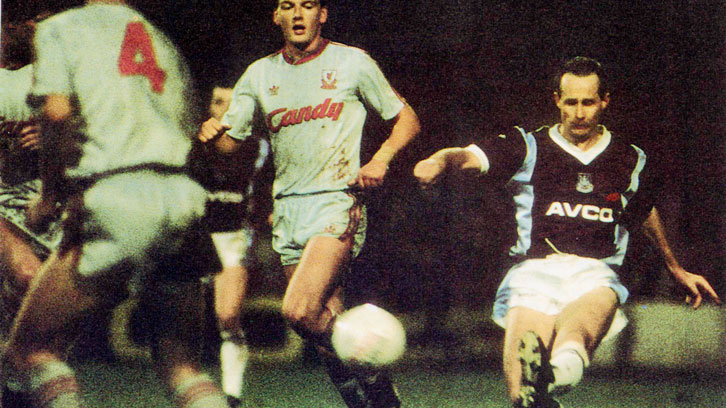 But we were magnificent, smashing them 4-1. Paul Ince burst onto the scene with two goals, Steve Staunton scored an own goal, and then late on I got kicked in the head and won a free-kick that Tony Gale curled in.
I remember Rob Jenkins the physio coming on and telling me I had to go off because the blood was going in my eye and it might need stitches. I just told him where to go! Alvin Martin said to me: 'You're not going off are you?' I said 'Of course not!' That's how it was then. I think Rob just stuck a bit of Vaseline on it and gave me a shot of brandy!
BACK TO THE BIG TIME
When Cambridge United came to Upton Park at the end of the 1992/93 season, we knew it was a game that we simply had to win.
We'd had a very difficult couple of years, with relegation, fan protests against the Bond scheme and the death of Bobby Moore in the February, so to win promotion to the new Premier League was a massive achievement.
David Speedie put us in front in the second half but Cambridge were a decent, hard-working side and were trying to spoil the party. With seconds remaining, I got on the overlap and managed to keep the ball in play in the box. I remember two things went through my mind – I can shoot and be a hero if I score, or shoot and look like an idiot if I missed.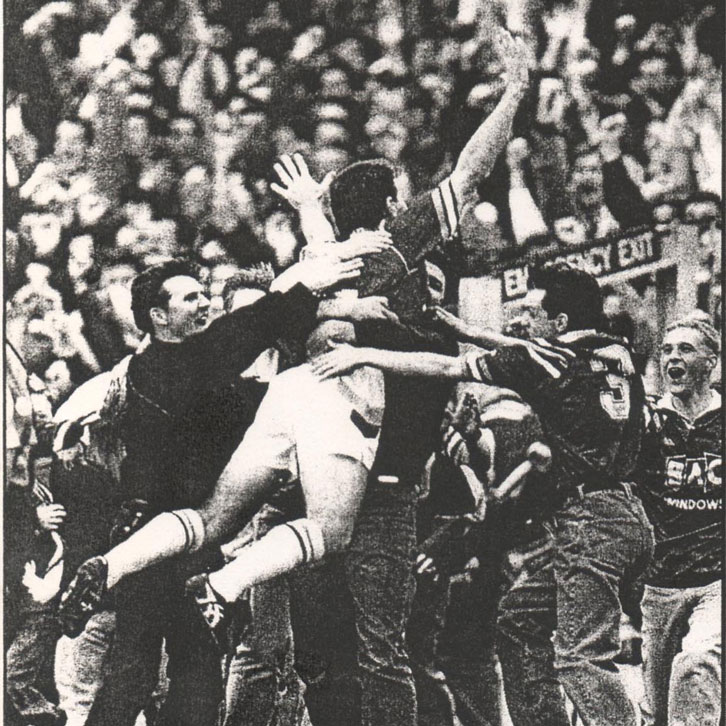 So, I passed the ball to Clive Allen and he tapped it in – I knew he wouldn't miss! The scenes then were incredible. The fans rushed on to the pitch and stayed on to wait for us to come out to the Directors' Box.
The person I was most pleased for was Billy Bonds. I don't think he got enough credit for steering the Club through a very turbulent period, and it was fantastic for him to have that promotion on his CV.
BACK WHERE I BELONGED
After a spell at Liverpool between September 1993 and October 1994, my second debut for the Club, against Southampton at the Boleyn Ground in the Premiership, was absolutely incredible.
The previous season, while playing for Liverpool, I'd come back for the Bobby Moore Memorial match, to play against West Ham in a Premier League select XI. When they called my name out, I got a standing ovation, which still gives me goosebumps when I think about it now.
So, when Jamie Redknapp told me a few months later that his Dad was looking to sign me, I said: 'Tell him to hurry up!' I couldn't wait to get back, it was just like coming home for me.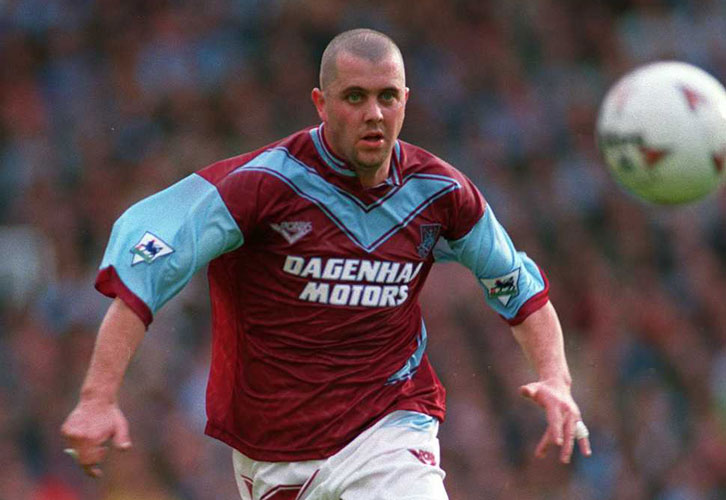 Everything – driving to the ground, walking into the dressing room, putting the kit on and then running out in front of the fans… it just felt fantastic. We won 2-0 that day, and the reception I got from the fans was out of this world.
The funny thing was that, in 28 games for Liverpool, I hadn't been booked. First game back for West Ham – yellow card straight away!
SMASHING A SCREAMER PAST SCHMEICHEL
When Manchester United came to Upton Park in December 1996, like the Liverpool cup tie in 1988, no one gave us a chance. We were fighting a relegation battle, while United had won the double the previous season and were at the peak of their powers.
They'd beaten us 3-0 at home earlier in the year, when I had a bit of argy-bargy with Eric Cantona, Roy Keane and Paul Scholes, so there was a bit of an edge to this game.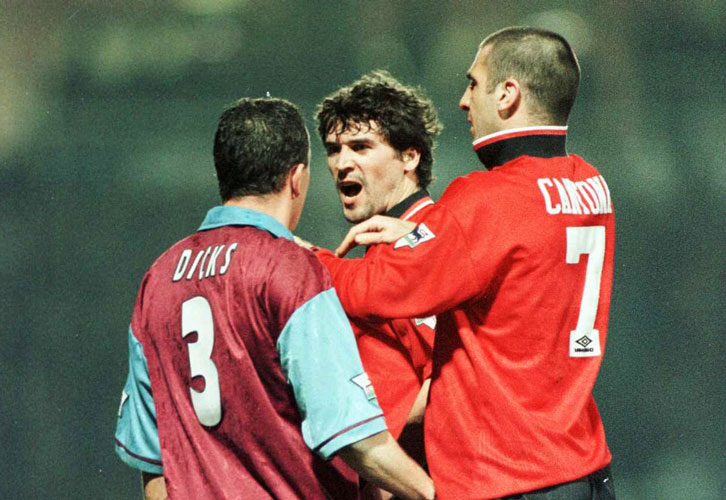 We went 2-0 down and they were rampant, knocking the ball around for fun, and we all thought there was a danger it could be five or six.
But then Harry brought on the Romanian forward Florin Raducioiu, who I liked as a player, even though he admitted to me that English football was too physical for him!
He scored a great goal from my pass to get us back in it, and suddenly the roar around the stadium just went up a notch.
Raduciuou's international teammate Ilie Dumitrescu then played a great ball in for Michael Hughes, who got to the ball just before Peter Schmeichel, and the referee pointed to the spot.
There was a bit of trouble going on while I was waiting to take the penalty, and that was when Eric Cantona came up to me and said: 'Dicks. Small goal.' So I just said: 'Yeah, but I've got a big heart' and then smashed it past Schmeichel as hard as I could. I wasn't going to miss that one!
WEATHERING THE STORM
Later on in that 1996/97 season, we were in big trouble.
We'd been knocked out of the FA Cup by Wrexham at home, we were in the bottom six and it just looked like we were certainties for relegation.
Then Harry signed John Hartson and Paul Kitson and, suddenly, we had some firepower up front. Johnny especially was magnificent, and the 4-3 win over Tottenham on a Monday night was the game when it all clicked into place for us and we began to turn things around.
The rain was hammering down, the wind was swirling, and it was another electric atmosphere under the lights.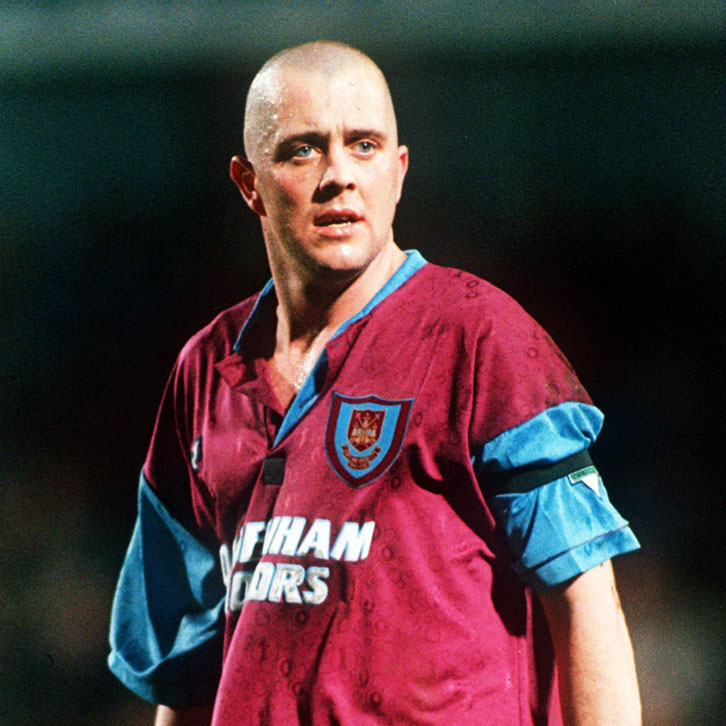 We went 1-0 down, then I equalised with a header and Paul Kitson put us in front. They got one back, before Hartson made it 3-2 and then it went to 3-3. With about 15 minutes left, David Howells brought down Hartson in the box and I had another penalty that I just wasn't going to miss.
I always thought that if you hit the ball as hard as you could and it was on target, the goalkeeper had very little chance of saving it.
AN EMOTIONAL FAREWELL
My West Ham career had come to an end in the 1998/99 season, when Harry Redknapp and I had a bit of a falling-out.
Because of my knee injury, I wasn't able to train every day and Harry was fine with that in the beginning. But then I was hung out to dry a bit when he played me at wing-back against Charlton and we got well beaten.
Suddenly it was a problem that I wasn't able to train every day and the writing was on the wall at that point.
I scored my final goal in an FA Cup replay against Swansea – a 25-yard piledriver that went underneath the goalkeeper!
My final competitive appearance was against Arsenal, although at the time I didn't know that would be my last game, so when the Club awarded me a Testimonial the following summer, it was my chance to say a proper goodbye.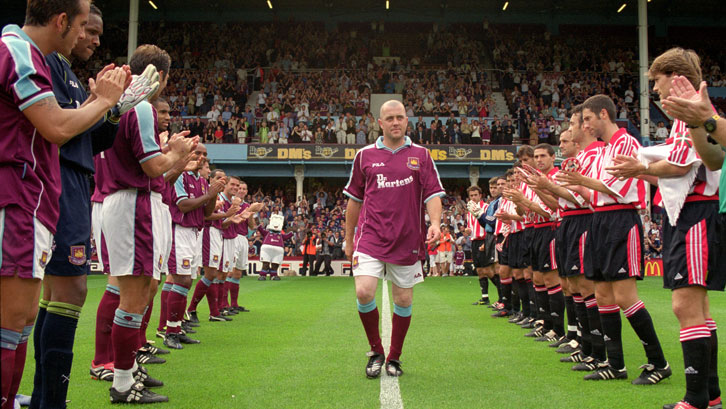 We played Athletic Bilbao, and I suppose a lot of people would say it was quite fitting that Julian Dicks' Testimonial match included a 17-man brawl that saw Paolo Di Canio have to be substituted rather than be sent-off!
Afterwards, Paolo came up to me and apologised, but I told him not to be sorry, I thought it was brilliant!
My abiding memory, though, is walking off the pitch knowing that it would be the final time I would play in front of our fantastic fans. It was the most gut-wrenching moment of my life. I was never the type to show much emotion, but I could have cried my eyes out as I walked off that day.