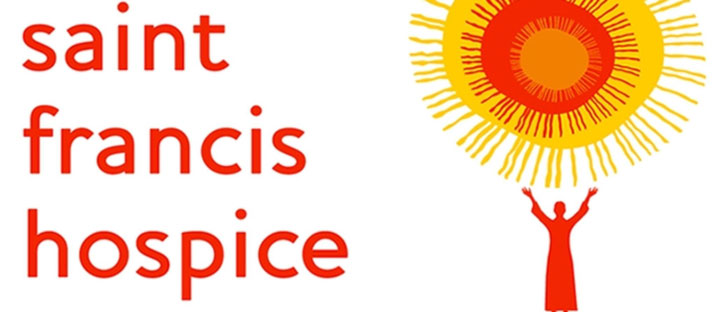 "People like Gary and his family need Saint Francis Hospice's help every day. As Patron I have seen the amazing care people receive, keeping families together to the end, even during the pandemic. 
"This year we have sadly cared for more people than ever and naturally this has been a major challenge to support those who need us, when raising funds has been so difficult. 
"We would be lost without the Hospice, and so we are forever grateful for your continued support."
Sir Trevor Brooking, Patron, Saint Francis Hospice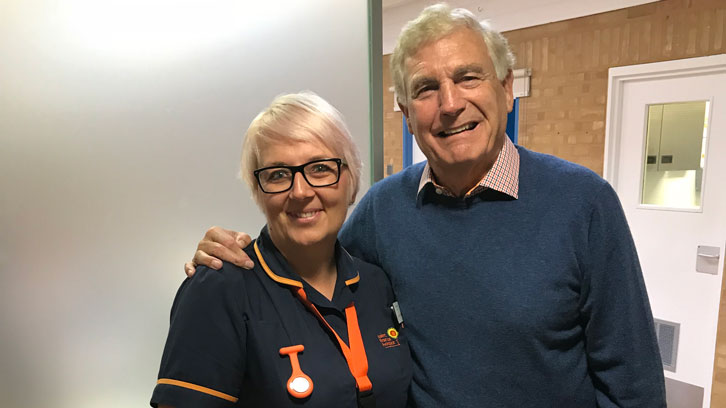 Gary Nelson needed our care, and his family also needed our support to help them cope with the loss of their loving husband and father.
This is Gary's story…
Gary was fit and healthy and wasn't overly worried when his consultant told him the pain and numbness he had been feeling was probably bowel cancer. 
So, Gary and his wife Vicky were not prepared for the devastating news they received two weeks after the biopsy. 
The results showed that Gary hadn't had bowel cancer for long, but it had already spread to his lungs and liver. The cancer was inoperable and incurable. With chemotherapy, Gary was given two years to live. He was just 35 years old — his children only three months and twenty-two months.
Gary began visiting Saint Francis Hospice for medication to manage his pain and discomfort. The couple decided to cram as much into the time they had left; they got married and went on holiday.
While in Lanzarote, Gary's body became weaker. Vicky began to wonder if they had done the right thing but stood by their mantra to live life to the fullest — knowing they only had two more years together.
When Vicky and Gary returned, they were told that the cancer had spread to Gary's bones. He came to our Hospice for end of life care. Our Family Support team began pre-bereavement therapy with Vicky and the children at their home.
"Gary was scared at home," Vicky remembered. "He was so happy to get to the Hospice and needed a break. Gary knew he would get care 24/7 and not have to worry about waking me up in the middle of the night in pain. His one wish was to not die at home in front of the children."
When Gary entered what would be the final day of his life, Vicky told Poppy and Daisy that they had to say goodbye to Daddy. Poppy was scared of her dad's appearance. She kissed her mum's hand, and Vicky kissed Gary's.
"We passed the kiss along," Vicky explained.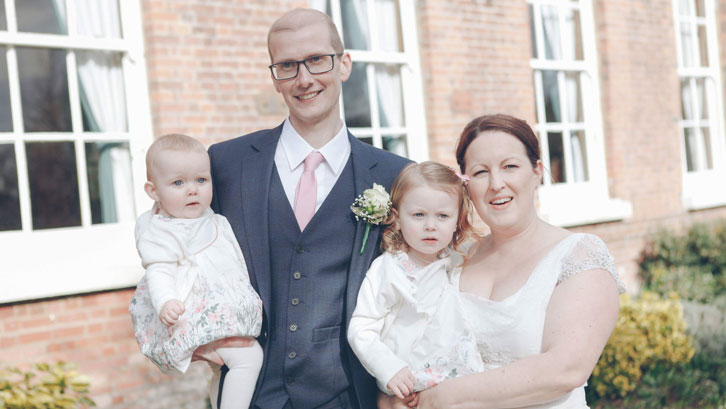 Vicky held Gary's hand and told him that it was okay for him to go now. Gary, unresponsive for days, managed to mouth the words "I love you" to his wife — much to Vicky's astonishment.
"He mustered so much energy to say that," gushed Vicky.
Gary passed away at our Hospice 15 months after his diagnosis. He was 37. Shortly before he passed, Gary left cards for his girls to open as they reach milestones in their life, including birthdays and their first day at school.
"Gary never once spoke about cancer or that he was dying," said Vicky. "He didn't want to admit it in his head. It was easier for him to pretend that he wasn't ill."
Vicky, Daisy and Poppy are still undergoing bereavement therapy from our Family Support team and recently raised £4,400 for our Hospice at a dinner and dance. Gary's girls have named a star in memory of their daddy. Vicky's work for us doesn't stop there; she's now volunteering at our Hospice on reception.
"Many of my friends describe me as the strongest person they know, but I don't see it that way. I'm just doing what any other mum would do by carrying on for my girls. We all still cry for him, but I can't sit in bed all day feeling sorry for myself. Gary wouldn't have wanted that."
Vicky's friends will often ask her how she can go back to the place where her husband died or work in what they presume is such a sad place. Vicky will tell them that our Hospice is the happiest place you could ever visit.
You can help local people like Gary by making a regular donation by clicking here. A gift of £10 could pay for art materials for bereaved children.