Approaching 16 months since his return to West Ham United, David Moyes has overseen a transformation in the Hammers' fortunes.
When the experienced Scot took charge for a second time on 29 December 2019, the Irons had won two Premier League matches in three months and slumped to 17th in the table. For the second time in three seasons, Moyes needed to guide West Ham to safety.
That he did, recruiting Tomáš Souček and Jarrod Bowen, galvanising the squad during and after the first COVID-19 lockdown and overseeing a run of 12 points from the final seven matches to secure the Irons' top-flight status.
After a short close-season, Moyes added Vladimír Coufal, Craig Dawson and Saïd Benrahma to his squad and set about building on the foundations he had put in place over the preceding months. In January, he added Jesse Lingard, giving his squad a catalyst to push on again during a uniquely condensed campaign.
Underpinned by a united purpose across the Club, the 2020/21 season has, so far, been a positive reflection of the efforts Moyes, his staff and players have put in to become a more resilient, more threatening and altogether better football team, on and off the pitch.
With ten games to play, West Ham sit fifth in the Premier League table, and the manager sat down to talk about the work he has done so far, the work he has planned for the future and continuing to build a sustainable, successful squad not just for this season, but for seasons to come.
Here is what he had to say…
You have been back for 15 months now, so what foundations have you managed to put in place and what do you feel has been achieved in that time?
"When I came, the big thing was that the team had been conceding a lot of goals, had very little energy on the pitch and were bottom of the physical stats in nearly every category in the Premier League.
"Now, I didn't think that was necessarily to do with the players and I thought about how we could get that better. Initially, it didn't, but we came in on 29 December and I knew right away we had the January window, so I thought if I could add something it might help the team, but that's not an easy thing to do in January, I've got to say.
"But we got Tomáš who could run and Jarrod who could run and got some goals, so I felt as if the first thing we had to do was get an energetic team which could at least run around and compete with the opposition.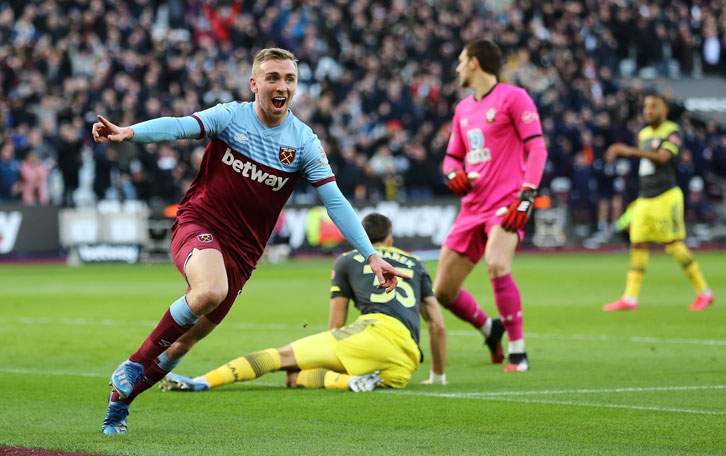 "So, my first foundation to lay was to have a team which was going to be competitive. What I didn't want was a team that was going to get rolled over and we couldn't keep off, players were going to come off injured after 60 minutes or we had a training ground full of injured players all the time, so we had to change that.
"I see that as being the first of the foundations going in, and you'll never get any growth unless you've got good foundations. As I'm saying this, at the moment we've got a few injuries, but prior to that we've been largely injury-free, so I had to get rid of that, having lots of people injured.
"We had to get the players in a better physical condition so they were more robust and more resilient, whether that be in play or whether that be in their training. The players have had very little time off, so it's been built into them that we'll be training most days and this is the way it's going and this is what we're doing.
"I think all of those things had to go in to say 'We're changing West Ham and we're not going to have anything going in that isn't completely as fully professional and correct as we can get it'.
"Now is the stage where we have to see if we can get another row of bricks on top of those foundations and we've tried to do that a little bit. We decided to bring in Jesse Lingard on loan, which has given us a little bit of another building point.
"The next part of the foundations is to be able to buy players who can keep us at a consistent level; players who are going to play; players who are young and are going to be good for the future; not players who are going to be good just for the next six months or the next year.
"Of course, now and again we have to do that, but the amount of people who wanted me to get a centre-forward who might only be a stop-gap, but I didn't want to waste the Club's money. I wanted to be sure so I tried to keep it, save it up and hopefully I can spend it as wisely as I can as we go along."
Another one of the foundations we can see is the backroom staff you have put in place, who we can see and even hear what they bring on a matchday…
"I remember at the time I came back that I felt that having a bigger staff would be helpful, partly because of the way I wanted to work. I want to work much more in smaller groups in how our training is done.
"Of course, we're joined up, but I need all the departments to know what they're doing, so all the staff have good job specifications and I've got to say at the moment Kevin and Paul do a great job with organising set pieces and all the stuff that comes with that, then we have Alan who is always watching and analysing the opposition for us, and Pearcy will debrief on what we've done in the games.
"Coupled with that, we have all of the parts which is the training, the team, the players and we're trying to work a lot with the players individually to show them what they're doing well and what they're not doing so well so we can bring them on and the big thing I could say about the players is they've responded.
"The staff have been wonderful. If there's one thing I could say about the staff it is when I got COVID they stood in and did brilliantly and probably got our two biggest results of the season [against Wolves and Leicester] so all credit to the staff."
Part of the improvements we've made have been based on the recruitment you have overseen, so what goes into that side of things, particularly with the restrictions put in place during the pandemic?
"Well, I always think you'll lose your job if you don't have good recruitment. If you don't buy the right players, then more than likely you won't have a good team, which in turn will probably mean you don't succeed.
"When I was younger, I used have a saying that I'd never sign a player unless I'd watched him live myself and that was what I did as a young coach and, if you think about it, why would you go and spend £25 or £30 million if you hadn't actually been and seen a player and studied them and found out as much as you can?
"Nowadays, though, there is so much information at hand with analytics watching the games and I can pull up any game and watch it also, so I've got to say it's an easier way of doing it than flying, seeing them and coming back. I would still rather go and watch them first if I could, but it's not always possible nowadays, especially in the stage we're at just now.
"You also need to be a bit lucky as well. You try and do your homework as well as you can and bring a good player in. But I have to say that nobody wants to sign a bad player!"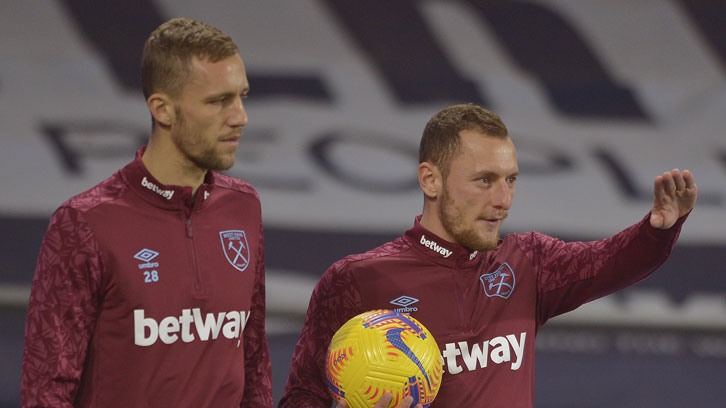 As we improve, obviously the challenge of recruiting players to make you better gets harder, as there are fewer players available and more competition for their services from other clubs, perhaps with more resources?
"I don't see our model being that we should go out and try and buy all the most-expensive players in the world, try and bring them here and that being the right way, because I don't see that being a long-term future for West Ham.
"If West Ham wants a long-term future, my idea is that the Club has to build. I use the Red Bull model as an example because I see them buying in young players for the future.
"If every player you sign you expect to see in the first team, that can't be the way. We need to try and recruit players who may come through in a year or two, but we're not quite at that stage yet. We're still at a building stage and we need to probably bring players in who are going to be in the team or in the squad and affecting the team.
"We're just in that period where we're just starting and we're looking for players to give us a consistent first team. If we're doing the same again next year, I would like to think we will be going to start to go from below more, and start getting more through from the Academy and a level of player who gives us more.
"We've got one or two players in the Academy we like at the moment and it's not too long ago we brought Ben Johnson up. We've got young Mipo Odubeko training with us regularly at the moment. We've got to try and keep bringing one or two of our own players through and if we can continue to add to it, that would be great."
You have said the supporters will be coming back excited to see this team play, so fingers crossed London Stadium will become a fortress?
"We need them back to see a team that is doing ever so well, a team that is playing well, getting results, hanging in and resilient. We've had games when we've not played so well and got results and some when we were terrific in them as well, so come back and get behind the players because what they're doing at the moment is a great job.
"The players have been terrific and there's a real feeling of progression and positivity among the players. At the training ground, the players have been great and their training has been good.
"We don't always play well, but I've got to say there's a really good feeling among the players."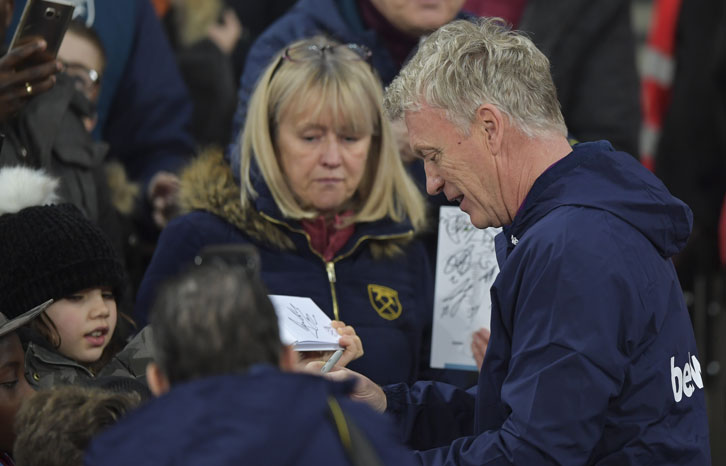 We are not setting targets, but consistency and improvement are what you are aiming for?
"Looking at West Ham from a distance (in the past), I didn't see a great deal of consistency. I've got to say I saw some really good teams and some unbelievable players playing for West Ham, but what we need to try and find now is a level of consistency.
"Quite often, to get consistency you do have to be maybe one year good and one year down a bit before you find that level of consistency, so I hope people are patient because if you're not patient then you go into the situation where you chop and change and you don't get that.
"That's the way I view and the way I see it. I saw it happen in the early years at Everton and if you want to be a team that's competing for Europe all the time, you sometimes have to feel a few bumps in the road before you get that consistency but, at the moment, we want to keep going forward, being positive, playing well and adding to the squad with the right players."