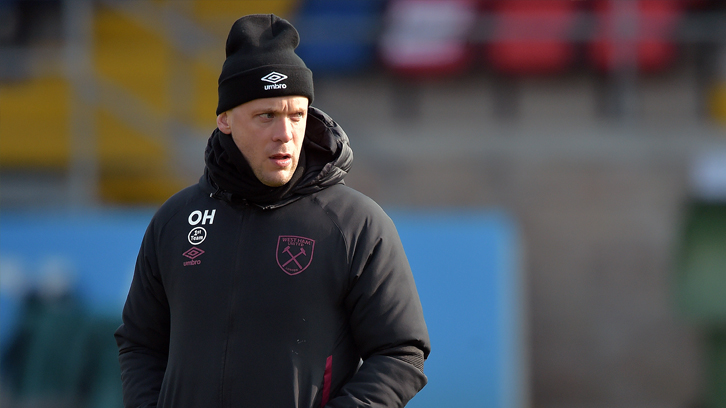 Olli Harder has described every game as 'crucial' in his sides hunt for survival in the WSL. 
The Hammers slipped into the relegation zone over the past week thanks to Bristol City's 3-2 victory over Reading. But with upcoming fixtures against sides in and around the relegation picture, Harder has called for his side to take the positives from their improved performance against Chelsea last time out and turn them into points.
"Each game is its own entity," he began. "There were some positives against Chelsea, they're obviously an extremely talented side. Our expectations have to be to compete in every match and the onus is on us going up against Birmingham on Wednesday evening.
"They will come here and be tough to break down, potentially try and play for a point and we need to go out and convert our chances." 
"I don't like to use the phrase 'must-win', but I think every game is a crucial one.

Olli Harder
Carla Ward's side were thumped 4-0 by Arsenal in their previous outing and are flirting with relegation for a second consecutive season. Harder believes that their recent results will not have inspired confidence but that they should not be underestimated. 
"They won't come here with a negative mindset as such, I anticipate them to give us an aggressive game. From what we've seen of them, they're well organised and are difficult to break down, but they've had a couple of results lately that won't inspire confidence within their camp, so for it's about trying to play off that. 
"If we can get an early goal in the game or score the first goal, then hopefully we can ride that wave home," he added. 
The New Zealander will be unable to call upon Adriana Leon, Lois Joel, Mackenzie Arnold and Leanne Kiernan, with the quartet all unavailable due to injury. 
"We ended up with two in and two out after the break, Dagný Brynjarsdóttir and Kenza Dali came into the squad but we lost Adriana Leon and Lois Joel to injury. It's unfortunate, these things happen in football and it's not our fault and we need to crack on and get on with it. 
"We're also without Mackenzie Arnold and Leanne Kiernan at the moment, so we're a little bit light on numbers. 
"I don't like to use the phrase 'must-win', but I think every game is a crucial one. There are five teams that are in the mix for the relegation place, so it will be an exciting finish with eight games to go. 
"Whether it's Birmingham or Manchester City we need to be trying to win each match to make sure we're in this division next season."
The Hammers are in action against Birmingham City on Wednesday 17th March in a behind-closed-doors fixture. Kick-off is at 7:30pm; you can watch all of the action live via the FA Player.