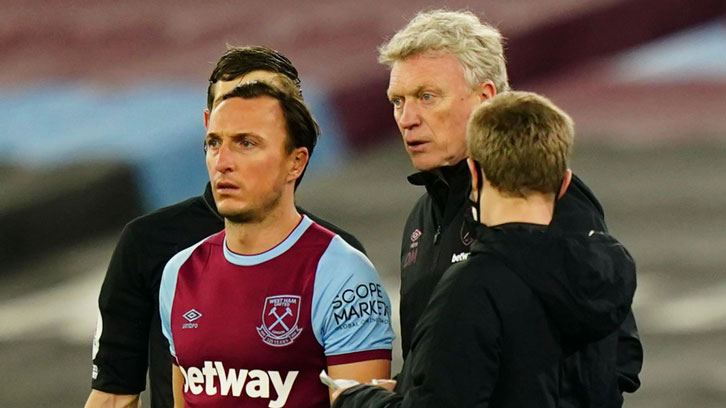 David Moyes says Mark Noble will have an important role to play in his final season as a West Ham United player.
The manager has leaned heavily on his captain since returning to London Stadium 15 months ago – as he did during his first spell in charge in 2018 – by relying on Noble's experience and knowledge of the Club he has represented more than 500 times over the past 17 seasons.
The 33-year-old this week signed his final one-year contract for the Hammers, and Moyes confirmed Noble will remain heavily involved in his discussions and thinking.
Mark has been here since he was a boy, he's been incredibly loyal, so let's hope there is a role for him at the Club somewhere in the future

David Moyes
"Mark was always going to be with us next season," he told West Ham TV.  I didn't think at any time that he wouldn't, and I wouldn't be without him.
"Right from the start of the season, people were saying 'are you going to use Mark Noble?' and 'what are you going to do with him?' but if you saw my interviews, I always said Mark was going to play a big part and he already has in some of the games he's played.
"He's played very well in many of the games. He's found it more difficult to get in the team because of Tomáš Souček and Declan Rice, and I think he would be the first one to accept that and admit that as well, but when he's played for us, he's been good.
"I want him to be part of the team next year and, look, everyone at West Ham will know Mark Noble even better than me, but I can't see Mark Noble going away. I don't think management seems to be his thing, but I think if we had him around the Club, we'd love to have him in some area, and why would we not? He's been here since he was a boy, he's been incredibly loyal, so let's hope there is a role for him at the Club somewhere in the future as well."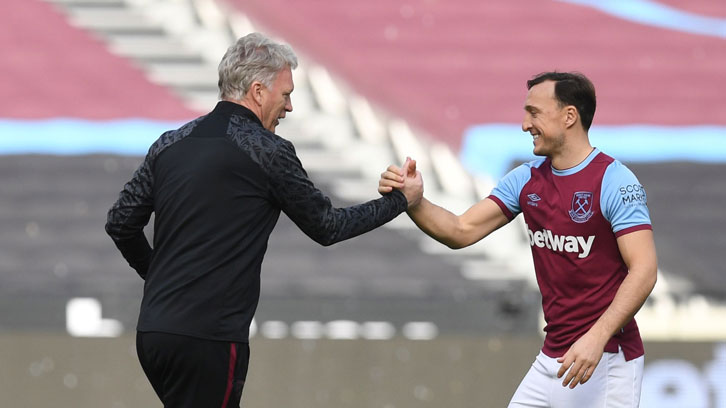 Every day at Rush Green or on matchdays, Moyes can be found in conversation with his Club captain, whose input he values greatly on a wide variety of issues, on and off the pitch.
"I do [value his input], because he knows the Club better than anybody," the manager confirmed. "I always thought when I came in that I wanted to speak to him and when I came back, I had to hear what had been happening and what hadn't been happening, where he saw where the problems were and what could be fixed, so you're trying to use everything you possibly can to benefit the team.
"Especially after lockdown, after Michail Antonio and Tomáš Souček, I thought Mark was the best player and he played really, really well and his leadership qualities in the dressing room, behind the scenes and what he was demanding from the players, were great and that's why we value him so much.
"We're glad he's staying and I hope there are many more games in him but, if not, we'll use him as much as possibly can and involve him in all sorts, but the most important thing is we keep him fit and ready to be a player."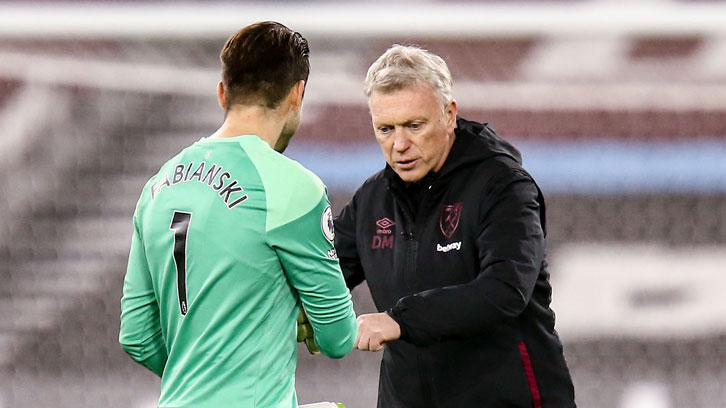 Noble was not the only vastly experienced player to extend his stay until the end of the 2021/22 season this week, with goalkeeper Łukasz Fabiański also putting pen to paper.
"Again, with Łukasz, I don't think there was any doubt, certainly in my mind, and we've got him signed up and done a good job of getting that confirmed for another year," the manager confirmed.
"Łukasz gives us great experience and he's in really good form at the moment and he's playing really well, and I think he's enjoying it as well. He's enjoying more clean sheets and a bit more consistency in how we're defending and how we're working.
"He's also at an age now when he's more mature and realising that every game at this stage of his career is really important to him."