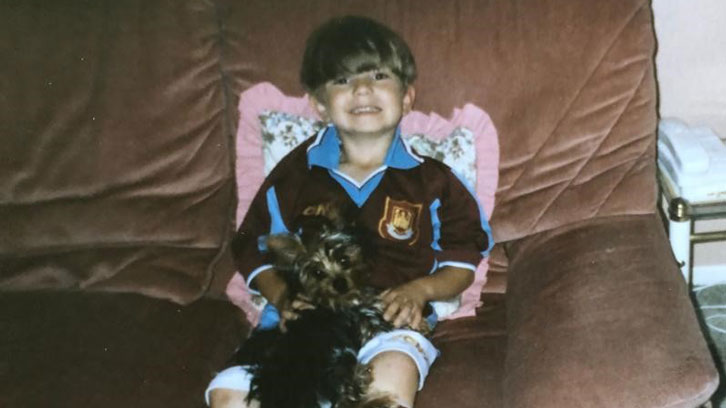 West Ham United fan Sonny Jay is hoping to complete a memorable double this weekend.
For, while his heroes are taking on Manchester United in the Premier League at Old Trafford, the Capital Breakfast presenter will be getting his skates on to take part in Sunday's Grand Final of Dancing on Ice.
London Stadium Season Ticket Holder Jay and professional partner Angela Egan are favourites to win the ITV series ahead of fellow finalists Colin Jackson, the Olympic sprinter and TV presenter, and former Coronation Street actress Faye Brookes.
And with the winners decided by a combination of scores from judges Ashley Banjo, John Barrowman, Jayne Torvill and Christopher Dean and a public vote, the 27-year-old is calling on his fellow Hammers to get behind him and bring the trophy back to east London.
As he prepares for the biggest match of his life, Jay spoke to whufc.com about his love for West Ham, his rise through the DJ ranks and which player he would love to share the studio with….
So, Sonny, why are you a Hammer?
"My Grandad grew up in east London and he always watched football and he was never a huge fan of a particular team, so he got me into it, then my brother, who is two years older than me, was a huge West Ham fan and he was the one getting all the kits before I did!
"I got to about the age of eight and I started to get a bit jealous that he was getting West Ham kits for Christmas and I wasn't, so I asked and I started getting kits for Christmas and since then I've just been so into it.
"My brother and I are now Season Ticket Holders and it's been a privilege to watch the team live. We went to the odd game at Upton Park, then managed to get Season Tickets for the last season there and then obviously we've had one at London Stadium every year, which has been so nice.
"That final season at Upton Park sticks out in my memory, especially the last game at the stadium was an unforgettable moment, and I've enjoyed being part of the move from the old stadium to the new one and I thought the atmosphere was starting to get so good there just before coronavirus happened.
"We're sat right by the away fans now, so it's the best atmosphere ever and it's great knowing every game we go to, there's going to be a great atmosphere there. I have the feeling that, when we get back, everyone is going to be so excited, especially after the season we're having."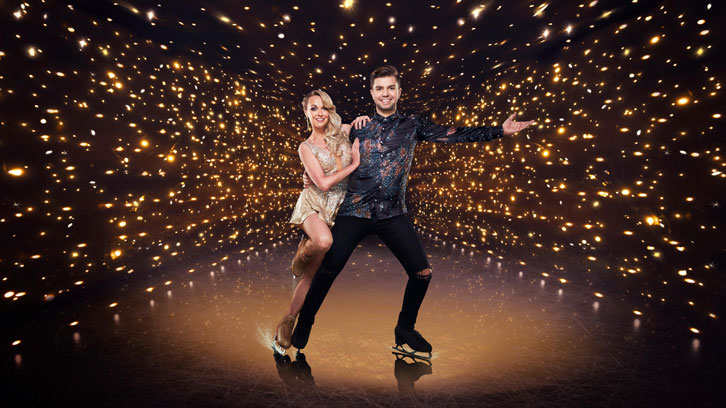 Who were your West Ham heroes growing up?
"My all-time hero and the shirt I always used to have was Paolo Di Canio – I loved him so much and I always had his name on the back of my top. You always have those standout people at the Club, and I also loved Dimitri Payet because every time got a free-kick you thought it could end up in the back of the net, but Di Canio is the one!"
The current squad has so many players to like in it too, doesn't it?
"We are so privileged to have people like Declan Rice at the Club. I think people have always looked at him and thought 'Wow, he's unreal!' and now he's out there wearing the captain's armband.
"It feels like now, more than ever, we've got a team that's solid, a team that get on and looks so excited when they're playing.
"We've got Dec, Michail Antonio and now Jesse Lingard is in the team which is something not every West Ham fan thought could happen but it did and it has and obviously he's made such an impact.
"It just looks so exciting to be in the West Ham right now and I can even sense it watching it on TV."
We've got plenty of personalities, too, so if you could pick one of the West Ham squad to be your co-presenter on Capital Breakfast, who would it be?
"I would genuinely love if Declan Rice would come on our show if he'd like! I'd be his sidekick if he wanted! He's just a top guy, is great at what he does and is still so young.
"We've got the Euros coming up and it would be nice to see him in the England squad, so it'd definitely be him!"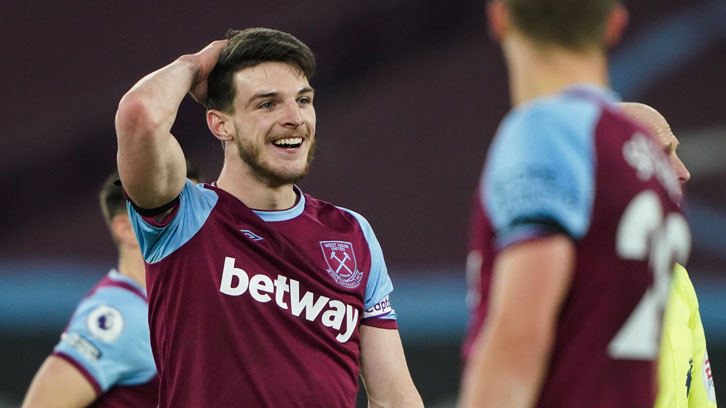 Like a footballer, you served your apprenticeship before making it to the top with the Capital Breakfast show, didn't you?
"One hundred per cent. You always have this dream in your head about where you want to go and how you're going to get there and it's the hard work you put in that no-one really sees that gets you there, like doing Phoenix FM for zero pay every week and then the overnights on Capital from one 'til four in the morning.
"Those are the sorts of things you do. You graft to get notice and it's exactly the same as trying to become a footballer – you get your head stuck down, you do your best and do as well as you can and eventually you might get noticed and have your time to shine.
"West Ham's Academy is unreal for that and we're very lucky to have that."
Capital Breakfast is a massive gig, so you must be so proud to be part of it!
"I grew up listening to it. I caught the end of Chris Tarrant, then Johnny Vaughan and Dave Berry and it was what I listened to going to school every morning and I had this thought that 'wouldn't it be cool to do that?' and I'm part of that now and it's one of the coolest things ever.
"My alarm goes off at quarter-past-four every morning, but we're the first voices people hear every morning, so we try to make it as upbeat and exciting as possible."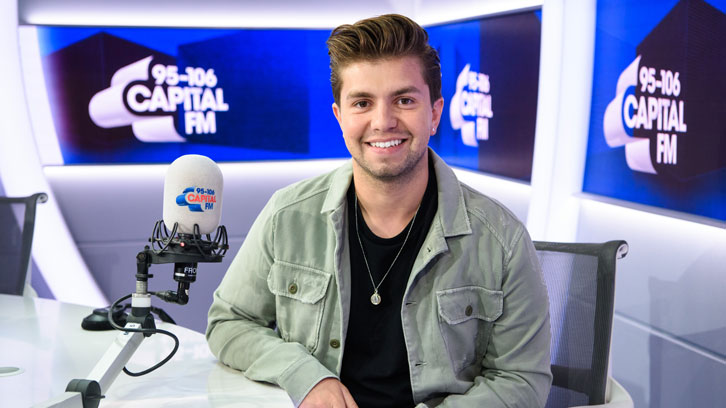 Are there many other West Ham fans in the radio DJ world?
"I don't think there are, to be honest, but the great thing is that Roman [Kemp], who I work with, is a massive Arsenal fan, so it's amazing that for the first time ever I've been able to laugh at him for a few months!
"This weekend is definitely important on Sunday as I'm in the Dancing on Ice final and it would be nice to lift the trophy, but next Sunday is even more important when we face Arsenal!
"It's just been such a great season for us and it's nice to have those moments and you appreciate them more as a West Ham fan."
As you say, you're in the Dancing on Ice final!
"West Ham are in a final! I cannot believe that I'm here and I'm very grateful that I'm here, so if all my fellow Hammers can get behind us that would be unbelievable and, you never know, West Ham could win the final!
"It's been an unreal experience, especially in the time we're in now, being able to go out and entertain people at home.
"I've got to play different characters while I'm on the ice as well, so I've had a lot of fun with it. This is the last one, so I'm going to have a lot of fun!"
*The Dancing on Ice final will be on ITV1 this Sunday between 6pm-8pm. You can vote for Sonny Jay to win on Sunday evening by phone, mobile – the numbers will be  announced on the ITV show – or via the Dancing on Ice App on Android here or iOS here.