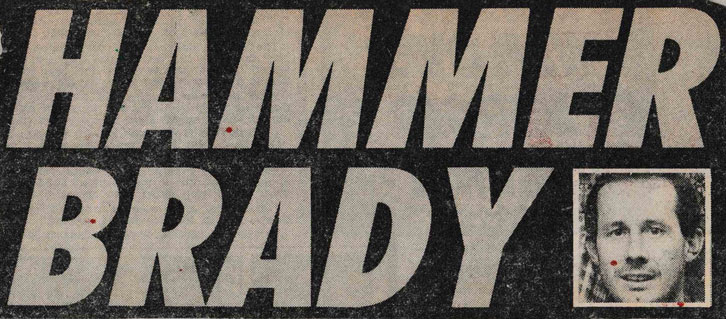 To mark the 34th anniversary of mercurial midfielder Liam Brady signing for West Ham United from Italian club Ascoli on 12 March 1987, the Republic of Ireland great looks back on his favourite moments in Claret and Blue...
BUONGIORNO BOLEYN!
My final game in London for Arsenal had been the 1980 FA Cup final defeat against West Ham United and, weeks later, I'd moved to Italy, where I went on to have some great times with Juventus, Sampdoria and Internazionale. But seven seasons on, I was having issues with my fourth club, Ascoli, who were struggling in Serie A with financial problems.
John Lyall had been at Hampden Park in February 1987 watching Republic of Ireland's 1-0 victory over Ray Stewart's Scotland in a Euro 88 qualifier. After seeing me play, he called to see whether I'd be interested in joining West Ham, who – despite having enjoyed their best-ever third-place finish the previous campaign - were struggling going into the final third of 1986/87.
I loved London – I'd moved over from Ireland to join Arsenal aged 15 and, from the day I'd arrived, the people had been so good to me. I still had an apartment there so it all made sense to come back to the capital and, with everything that was going on at Ascoli, a move to Upton Park was what John and myself both wanted.
I agreed to sign but the following day David Hay called saying that he'd also seen me playing for Ireland in Glasgow and wanted to bring me to reigning Scottish champions Celtic, who were virtually guaranteed European football every year.
I had to tell David that I'd already given my word to John – there was no way that I was going to go back on my promise to join West Ham United.
GUNNING FOR THE GUNNERS
Four games after making my Hammers debut against a decent Norwich City side on 14 March 1987, I then found myself facing fourth-placed Arsenal.
West Ham were 15th and needed to get points on the board but Phil Parkes and Alan Devonshire were injured while Stewart Robson was still finding his way following his £700,000 transfer from Highbury.
On an incredible night under the Boleyn Ground floodlights, Tony Cottee opened the scoring with his 100th Hammers goal before Martin Hayes equalised with a twice-taken penalty.
TC then put us ahead from the spot and, with ten minutes remaining, I won the ball on half-way before running to the edge of the 18-yard box, where I hit a low curler around David O'Leary and beyond Rhys Wilmott's dive, into the bottom right-hand corner.

The place went wild! I certainly wasn't going to just walk back to the centre-circle without celebrating my first goal for my new team.
I may have played 307 matches across seven seasons at Highbury but I'd left Arsenal seven years ago and was at my fifth club since leaving. Now, I was a West Ham United player, we needed three points and my goal had made the game safe at 3-1.
I just headed to the nearest group of Hammers fans and got lost amongst a crowd of bodies on the Chicken Run. Referee Dennis Hedges wasn't happy and he ended up booking me but everyone was just so excited because beating Arsenal in those days was a big one in anybody's book.
We ended up in 15th – that memorable victory had certainly helped to turn our season around.
INCE-SPIRATIONAL
The big games at the Boleyn Ground were the ones under the floodlights – the place came alive and the atmosphere was simply electric. For me, no midweek cup-tie will ever match our Littlewoods Cup fourth-round clash with Liverpool in November 1988.
Kenny Dalglish's side were fourth, while we were second from bottom and massive underdogs.
Paul Ince spectacularly volleyed home my half-cleared cross before doubling our lead with a header. And, although John Aldridge netted a penalty, Steve Staunton nodded into his own net before Tony Gale's curling 20-yard free-kick gave us a fantastic 4-1 victory.
We played brilliantly on the night and I really enjoyed it, while Kenny made no excuses for Liverpool's biggest cup defeat since 1939.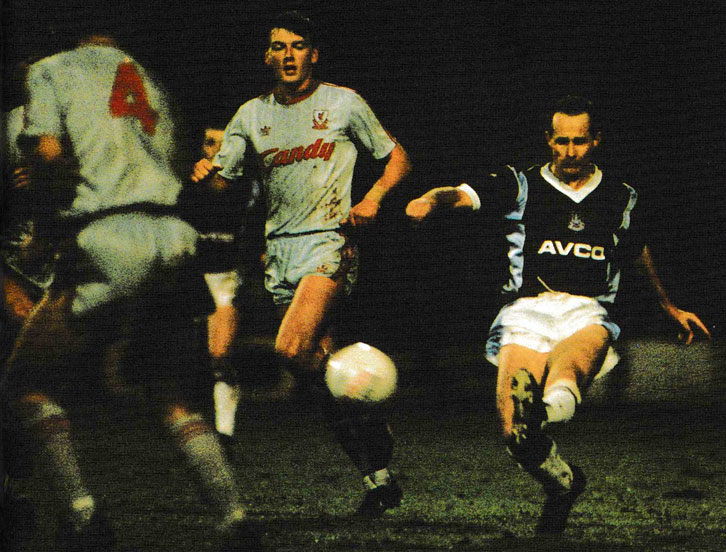 The knockout competitions were big for us as a Club and our fans unfailingly turned out for the cup-ties in huge numbers.
Across my three years, we put on some other incredible performances, especially in the League Cup – as well as that Liverpool victory, we won against Wimbledon, while twice beating Aston Villa and Derby County on our way to successive semi-finals.
On both occasions, though, we lost on Astroturf at Luton Town (1989) and Oldham Athletic (1990). Those games shouldn't have been allowed because the artificial surfaces were appalling back then, with uneven bounces and rips and tears in the material.
Home teams enjoyed a huge advantage, especially as they trained on them all week, too.
We'd done the hard work getting within sight of Wembley only to be undone by plastic pitches but, hopefully, we still left the Hammers fans with some great memories along the way.
HIGHBURY HIGH
I'd already returned to Highbury during the early part of the 1987/88 season, where Kenny Sansom had scored the only goal of the game, but my second appearance for the Hammers at Arsenal the following campaign proved to be a much happier experience.
Having drawn with the Gunners at home in the FA Cup third round in January 1989, we'd gone 2-0 ahead only to draw 2-2. Heading to Highbury for the replay three days later, I reckoned we'd probably blown our chances, especially as Arsenal were top of the table and we were rock bottom.
But despite our league position, we were still a good team and, indeed, had proved that with our Littlewoods Cup victory over Liverpool only a month or so earlier.
And with a mix of players who were comfortable on the ball and others who could run all night, we again pulled off another unlikely victory, when my half-cleared cross into Arsenal's penalty area was helped on by Alan Dickens and Leroy Rosenior headed a 77th-minute winner past John Lukic.
The FA Cup wasn't a secondary competition back then – instead, it was a trophy that everybody set out to win. Indeed, both clubs had put out their best available teams and, although it was a huge surprise, it was still a thoroughly deserved victory as far as West Ham United were concerned. It had been nice for me to go back to Highbury and come away with that cup win.
PETER BEATER
I scored ten goals in my 119 appearances for West Ham United and, obviously, would've like to have got a few more. All I'd say, though, is that the majority of those ten were very good strikes!
I hit two long-rangers against Derby County and the one that I netted in our 2-1 win at the Baseball Ground in January 1989 was definitely up there with the best of the 100-odd that I scored during my entire career.
Although Dean Saunders had put County ahead in the first minute, David Kelly soon equalised. Then, during first-half stoppage time, Alan Devonshire rolled a quick free-kick to me, midway inside the Rams half. Sometimes it's a matter of hit and hope when you try your luck from distance but that could never be the case here.
With 125-times capped, England 'keeper Peter Shilton standing between me and goal, I knew that if I was going to beat him, then I had to aim for the corners, rather than just shoot. That's how I'd put one past Shilts from 30 yards at the Boleyn
Ground the previous season and I now needed to try and do the same again.
Striding forward, I went past a couple of Derby defenders and, with the ball still nicely poised on my left foot, I curled an inch-perfect 20-yarder under Shilton's right-hand angle to net what proved to be the winner. Without doubt, that was the best goal that I would ever score in a Claret & Blue shirt.
FITTING FAREWELL  NOTE TO MARK
I was seriously disappointed when we went down in 1988/89 because the upheaval of relegation spelt the end for John Lyall, who'd had lots to handle in his final couple of seasons.
I didn't want to see John depart because he would've got us promoted. It'd always been West Ham's way to stay loyal to the manager and bounce back. Instead, they appointed Lou Macari.
With respect to Lou, he seemed better suited to the likes of Stoke City so I was pleased when Billy Bonds then took over. I'd told Bill: 'I'm retiring – give the kids first-team experience.' But going into our final game against Wolves on 5 May 1990, he asked: 'Do you want to play?' A typically great gesture from a great man. 'No, let Kevin Keen start,' I replied. 'Let's see if I get on. If it happens…'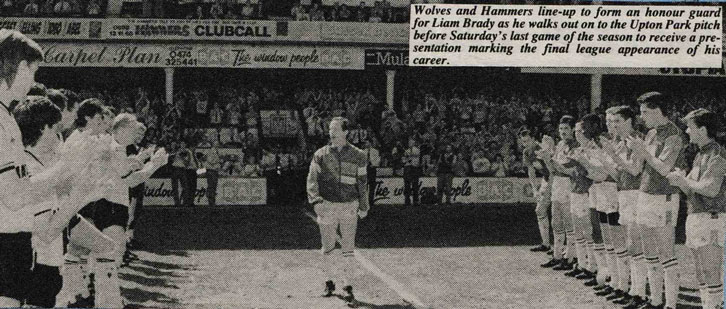 Having been given a pre-match guard of honour, I watched us go 3-0 up before replacing Keeny on 52 minutes. Then, with stoppage time looming, I carried the ball from halfway before making it 4-0 with a low, swerving 20-yarder that saw more wild celebrations with the Chicken Run. It'd been an incredible way to sign off!
Aged 65, I'm now living on the Sussex coast where, pre-pandemic days, I'd bump into Bill at Plumpton races or play golf with Sir Trevor Brooking. I've got fond memories of my time at West Ham United and having scored at the Boleyn Ground with my last-ever kick in professional football, I couldn't have written a better script.