On this day
Back to the '90s - Mike Small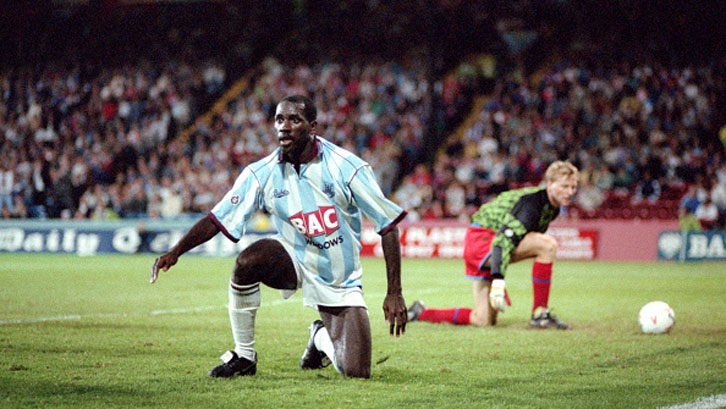 As Mike Small turns 59 on Tuesday, Sid Lambert looks back on the legacy of the West Ham striker's extraordinary 1991/92 season
Saturday 2 November 1991. I remember it clear as day.
I was in First Sport, trying in vain to convince my mum to let me buy a pair of Diadora football boots. I'd seen them worn by Roberto Baggio during Italia 90 and from that moment on waged a PR campaign that had led to this point on Maidstone High Street.
Unfortunately, my public relations masterclass hadn't taken into account the price differential between my prized Diadoras and my Mum's budget for football boots. No matter what I tried: promises of chores, eating more vegetables, spending less time on the Amiga, she wouldn't budge. And despite my increasingly juvenile protests, it became clear that I was going to end up with the same basic pair of Gola boots that I always did.
The whole embarrassing exchange had been witnessed by the teenager behind the till. To my horror, I recognised him as one of the sixth formers from my school. Tall, smug Arsenal fan. Played centre mid for the school team. He'd made my life a misery since I'd first wandered into the playground carrying my beloved West Ham rucksack.
I'd know when he was nearby because as I made my way between lessons my bag would receive a sudden whack from his heavy right Doc Martens boot, occasionally spilling the contents onto the floor.
And now here he was, Arsenal Boy, revelling in my glorious failure. Sensing my unease, he took his sweet time keying in the price and exchanging pathetic small chat with my Mum about how these boots really did offer "good value", despite knowing all too well that they were crap compared to the Diadoras. 
In a desperate attempt to preserve what little dignity I had remaining, I zoned out of the conversation and focussed on the radio behind the counter. It was playing the Five Live commentary and the familiar voice of commentator Alan Green described the action from the featured game in the Barclays First Division. During a break in play, he brought a score update from around the grounds and my heart stopped when I realised where he was going next: Arsenal. Oh please no.
"The deadlock's been broken in north London. Mike Small has put the Hammers ahead at Highbury."
The smug grin disappeared instantly from Arsenal Boy's face. At that point, we both became prisoners of our environment. For his part, he was now contractually obliged to offer the same snarky level of customer service to my Mum whilst she fumbled through her handbag for her purse. 
Meanwhile, I was fighting the primal urge of every self-respecting 13-year-old whose team had taken the lead against one of your mortal enemies. I wanted to unleash a primal roar, flick him the double v-sign and make a run for the exit. Instead, I stood there and smiled. A smile that said, "you can stick your on-sale Gola's pal, and your Doc Martens too, because we're doing you at Highbury". All without fear of retribution.
From that moment on, Mike Small was my hero.
The nomad
Funny old game, football. And for a long time, Mike Small didn't seem very good at it. 
Born in Birmingham, he played for Bromsgrove Rovers, failed at Luton Town, then began a nomadic spell in Belgium, Greece and Holland, where he had a half-decent spell with Go Ahead Eagles. 
Aged 28, he pitched up back on these shores at Brighton. In the 90s, the south coast was the place to revive your career if you'd had limited success on the continent. Little did we know that 20 years later avocadoes would do the very same thing.
Given that he'd never scored more than a dozen league goals in a single season, Small arrived with little fanfare. Incredibly, he took the division by storm, notching 21 times as the Seagulls made it all the way to the Second Division Play-Off final.
He'd impressed Billy Bonds by scoring in an early-season encounter at Upton Park. And when the Irons achieved automatic promotion, the West Ham boss spent £400,000 on Small as the man to lead the line now we were back in the big time. 
A scoring start
He made his debut in a dreadful season-opener with Luton Town. Both teams were favourites to be relegated and the goalless draw did nothing to suggest otherwise.
The new striker opened his Hammers account on a Tuesday night trip to Sheffield United. In many ways, it was a goal that became the essence of Small. A goal so undeniably terrible that it looked better on Teletext.
A hopeful Ian Bishop cross drifted aimlessly into the box where it caused mass panic amongst the gaggle of professional footballers waiting for its arrival. At one stage the ball became an innocent bystander, watching in disbelief as ten burly men pushed, shoved and fell over to no clear purpose. On Green Street in the 90s, they used to call that "closing time". In the Barclays First Division, they called it a set piece.
As the carnage cleared, a lone limb appeared from the mass of humanity to poke the ball apologetically over the line. It belonged to Mike Small. To add insult to injury, he was probably offside (a position he would later spend most Saturday afternoons). Nonetheless, he celebrated with the massed ranks in the away end like he'd won the World Cup. And why not. 
His first home goal came two weeks later in a fixture against perennial bogey team Aston Villa. Tonight's visitors had gone in front through Tony Daley and the Irons, winless after three games in the top flight, were on the rack. Up stepped Upton Park's new hero. Small burst onto a through ball to bury a left-foot screamer past Nigel Spink.
A minute later he went from the sublime to the ridiculous. A punt downfield from Tim Breacker found Small in the penalty area. He made two clumsy attempts to control the ball, failed miserably, before the third bounced off his arm beautifully into the path of an onrushing Leroy Rosenior to put us ahead. In 60 seconds, his chaotic contribution had completely changed the game and we had our crucial first win of the season. 
At this stage, it was hard to work out what Small was. There were times when he looked unstoppable. And then there were others when he looked like he wasn't on speaking terms with the ball. Those incidents could happen mere minutes apart in the same game. He was an enigma. A quandary.
Was he actually any good, or was he just… lucky?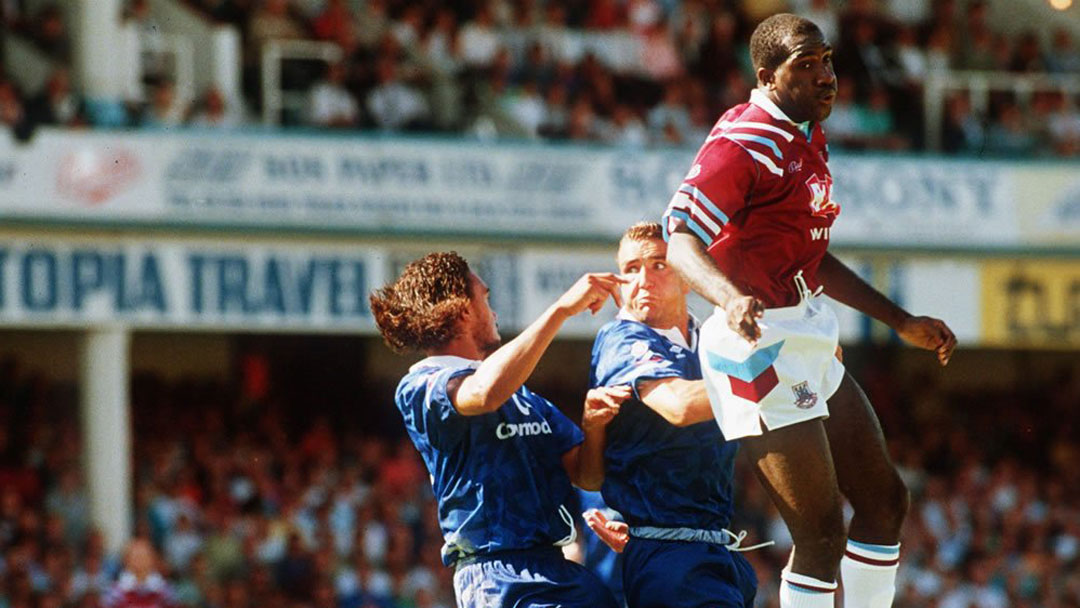 A derby against Chelsea neatly summed up everything about Small's time in east London. His confidence was high and he was all hustle and bustle from the first whistle, bullying the Blues' defence. He hit the bar twice in the first half, initially with a sensational drive that deserved better, then with a toe-poke from close range when it was far, far easier to score. In the second half he got the goal his sheer effort deserved, bundling home the opener from a yard out after Colin Foster hit the post.
With the Hammers in the ascendancy, Small unwittingly let our rivals back into the game. Holding the ball up on the edge of the Chelsea area, he had numerous options to play in a team-mate. Instead, he played it straight to a blue shirt, much to the amazement of the terraces. Seconds later Chelsea had gone to the other end of the field and equalised. Three points turned to one. Small had gone from hero to zero in the space of ten minutes.
Derby day delight
The highlight of Small's time in Claret and Blue came during four glorious days at the end of October when the First Division fixture computer conjured up successive games against Tottenham and Arsenal. We had a disastrous start against Spurs when our central defenders, as they so often did in this era, contrived to leave Gary Lineker – England's captain and goalscorer supreme – totally unmarked on the penalty spot.
Then Small took centre stage. Mitchell Thomas's mishit unintentionally bisected the entire Spurs defence and found West Ham's top scorer minding his own business in the penalty area in two yards of space. Caught somewhat by surprise, because the odds of a pass reaching him from Thomas's position were a million to one, he scuffed his shot into the ground and it bobbled into the far corner. It was a fluke. But no one cared. We won 2-1.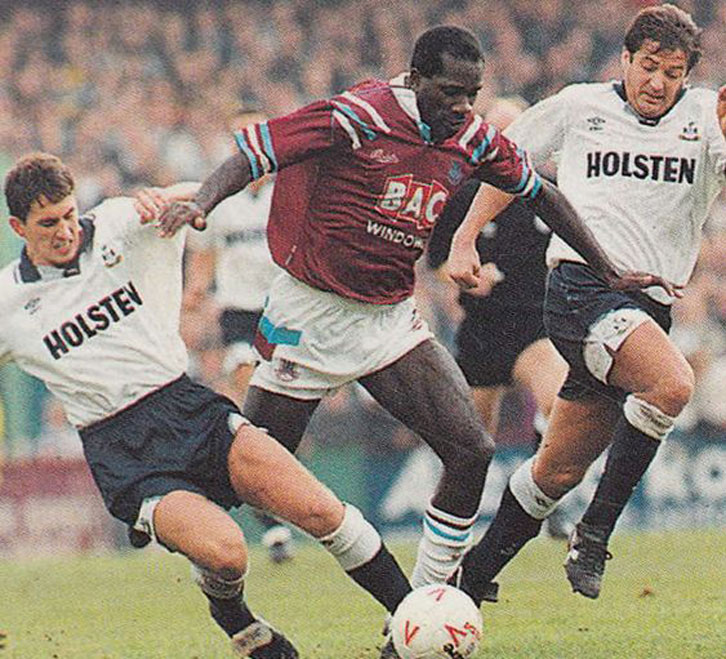 A week later, the joy of Highbury. Thomas strode forward like Beckenbauer in his prime, evading tackle after increasingly desperate tackle. The ball shifted right, then inside where Small was waiting. He took a touch, left England's Tony Adams for dead, and hit an unstoppable 20-yarder past David Seaman. The Arsenal keeper was by now establishing a reputation as the best shot-stopper around. He couldn't get a sniff of it. We won 1-0.
By this time Small had 13 goals in 19 starts. He was the hottest striker in the country.
From hero to zero
There was talk of him being rewarded with a call-up to the England squad, and on reflection it's a mystery that it didn't happen. Small was a physical specimen but clearly lacked the technical expertise to operate at international level.
What happened next is hard to explain. The facts are simple enough: Mike Small stopped scoring – and West Ham stopped winning. We didn't get another three points until mid-January. 
The midas touch deserted him. It was as if overnight, he lost all his reserves of good fortune. The scuffed shots bobbled out of play, the mis-controls were gobbled up by centre-halves. With every passing game, the confidence drained from his very being. It was awful to watch.
And then were the offsides. Constant offsides. They say desperate men take desperate measures. Small's determination to arrest his slump in form saw him take up a starting position ten yards behind the opposition back four – and hope the linesman didn't notice. It's a hard thing to do when you're six foot two.
It took a visit to Kenilworth Road for the horror show to finally end. Now relegated to the subs bench, Small came on for Frank McAvennie and took a hopeful potshot with his first sight of goal. Incredibly, his luck returned as it deflected off the defender and looped agonisingly over the keeper. 
A goal. A lucky, lucky goal. And three oh-so-precious points. Maybe this was the start of something. A win at Oldham followed and then a trip to Hillsborough where Small scored yet another goal that defied explanation and the laws of physics. 
The ball hit post then bar and Small, at one stage standing out of play (where he couldn't be offside, at least), managed to contort his body round the upright in mid-air and knock it in with his nose. If there was a romantic end to the Mike Small story, then this would have been the start of something. A return to the glorious form of old, a miraculous escape from relegation and his name in the history books. Sadly, as was becoming a depressing habit, the defence disintegrated and we lost 2-1 at Hillsborough. Relegation was becoming a reality.
The legacy
Small scored only once more all season. He finished the campaign on the bench and West Ham finished rock bottom out of 22 First Division clubs.
He barely played for the club again. In fact, he barely played professional football again. Loan spells at Charlton and Wolves followed, then short stints in Sweden and the Republic of Ireland.
These days the name Mike Small provokes a mixed reaction. There are those who remember that glorious three-month spell where everything he hit turned to gold, and where a man came from nowhere to the very pinnacle of his profession. 
Then there are those for whom the mere mention of his name provokes the pained grimace of seeing a thousand offsides, and a man's confidence crumble before your very eyes.
Nonetheless, the big lad will always be a legend to me. After all, he did put the Hammers ahead at Highbury.
*The views expressed in this article are not the views of West Ham United FC. For more content from Sid Lambert, read the Official Programme or follow him on twitter.