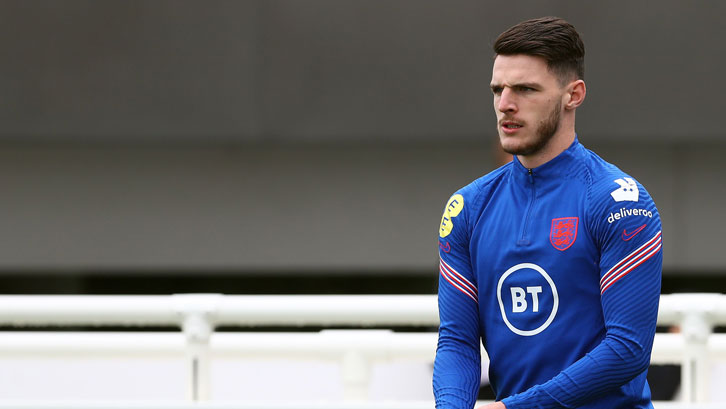 Declan Rice says England cannot afford to look past Germany if they want to be crowned European champions for the first time.
Speaking to the media ahead of Tuesday's UEFA Euro 2020 round of 16 clash between the two nations at Wembley Stadium, the West Ham United midfielder was asked if he was allowing himself to dream of lifting the trophy at the same venue on Sunday 11 July.
Victory over Germany would see England face Sweden or Ukraine in the quarter-finals, with Netherlands, Czech Republic, Wales or Denmark awaiting the winners of that tie in the semis, but Rice said the sole focus of Gareth Southgate and his squad was on beating Joachim Löw's side.
And the 22-year-old, who started all three of England's group matches as the Three Lions came through unbeaten and without conceding a goal, also confirmed he would take a spot-kick if the last-eight showdown needed to be settled by a shootout...
As a young player, are you aware of how big the England versus Germany rivalry is?
"I think the main one for me growing up was Frank Lampard's disallowed goal in 2010 (when England were trailing 2-1, the former West Ham midfielder's shot was incorrectly judged not to have crossed the line, and Germany went on to win 4-1). Obviously, the tournaments before 1999 I wasn't born, so I don't remember much of them! But my main memories are of the 2010 World Cup and of that game. Germany at Wembley is a massive game and we're all going to be up for it."
Germany have some top players, including Euro 2020's top passer Toni Kroos, so how do you go about stopping him?
"He's world-class but for me and the other midfield players in our team, we want to test ourselves against the best and you need to impose your game on him, get up to the ball, make it physical, make it hard and stop him doing what he does best, which is spraying it around the pitch."
From a fan's perspective, we're always worried about penalty shootouts, so would you take one if it came to it?
"Yes, definitely. If you'd have asked me a couple of years ago, I probably would have said 'no', but where I've started to take responsibility at club level now, it's about a process and having it in your mind that you can go up there and put the ball in the back of the net.
"We've been successful in the World Cup and Nations League in shootouts so, as a group, we know the processes we need to go through and mentally picking a spot and just wanting to put the ball in the back of the net."
How do you prepare to take a penalty? What's the process?
"It's just repetition for me. In training we do it properly, there's a whistle and you can take your time and kind of get yourself in the zone. You get yourself ready with the way you want to run up to the ball and you can say out there as long as possible and practice as many as you want, so you're just in the zone and you want to hit the back of the net. When it comes to the matchday, you're familiar with it and you know where you want to put the ball."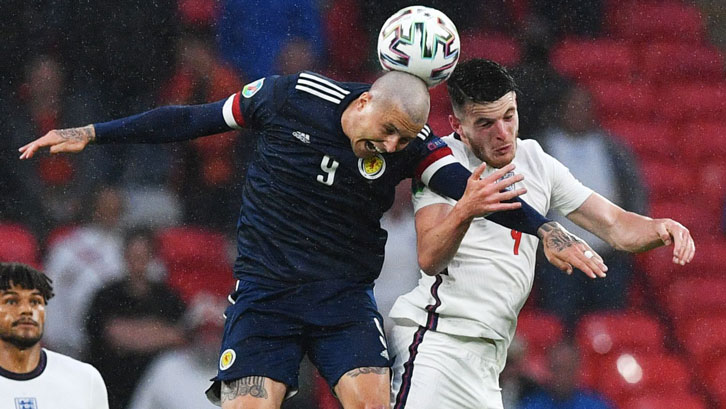 Looking at the draw, England are in the opposite half to World Cup holders France, European champions Portugal and world No1 Belgium, so are you happier being on this side of the draw?
"The draw could have gone either way and we'd have taken anyone because in this tournament you have to play the best and beat the best if you want to win it. Whether we come up against them in the round of 16 or the quarters, it doesn't matter, because no game is easy in this tournament and in the end you're going to face one of them. So, I'd rather play them early and knock them out."
Have you allowed yourself to dream?
"No, because we know Germany is going to be such a tough game and we're going to take it one game at a time. We've got a couple more days to prepare and nail what we've got to do on matchday. If we beat Germany, it's Sweden or Ukraine in the next round, but we'll take one game at a time and hopefully we can keep progressing and who knows what will happen in the end."
How hard has it been for you with your best friend Mason Mount having to isolate after coming into close contact with Billy Gilmour after the Scotland game?
"I'm a lost soul! To be fair, a few of the lads have come up to me and said 'you look lost' as a bit of banter and I said 'yeah, I am'! It's been alright to be fair. Hopefully he'll be out in the next couple of days. He tested negative again, so I'm hoping he can be back with the group soon."