If you had to build a captain from the ground up, you would be hard pressed to find a better mould to work from than Kevin Nolan, who joined West Ham United on 16 June 2011 - exactly a decade ago. 
Wednesday 16 June marks the tenth anniversary of the day the midfielder made the move to West Ham from Newcastle United. The captain would go on to make 157 appearances in a spell that lasted just over four years, score 31 goals, and lead the Hammers out of the Championship and back into the Premier League. 
At a time when West Ham were perhaps at their lowest, Nolan's experience and guidance in the dressing room and on the pitch was a pivotal factor in the Irons not only returning to the top flight but thriving upon their re-entry into England's top tier. 
"I wish I could go back, I must admit because I do miss playing!" smiles Nolan, who is now part of David Moyes' coaching staff and helped the Hammers finish sixth in the Premier League in the recently-completed 2020/21 season.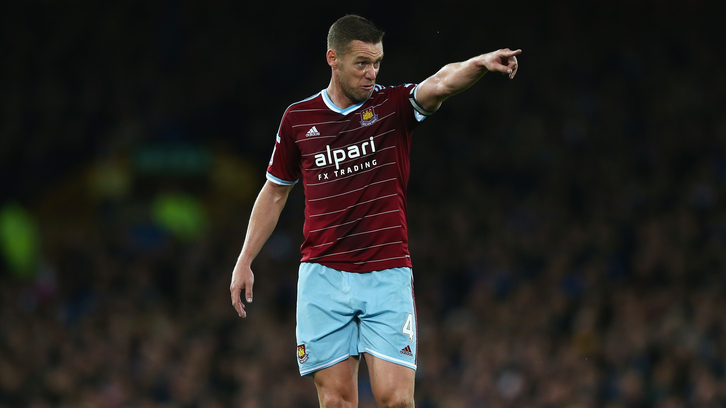 Nolan was arguably enjoying the best football of his career when he decided to swap the north-east for east London. Having helped Newcastle back to the Premier League, the midfielder scored 12 goals for the Magpies in the 2010/11 campaign, establishing himself as one of the Magpies' most vital players. 
By his own admission, switching his life in Newcastle for a move to West Ham was a huge decision; not just for the man himself, but for his young family too. The man himself says it is one he is still proud of to this day, eight years on. 
He recalled: "I'd been at Newcastle for two-and-a-half years and had a really good season in the Premier League, and it was a big decision to join West Ham. I had two years left on my contract with Newcastle and I was in Dubai with my family when I got a call from my agent asking me if I'd be interested in joining West Ham and linking back up with Sam Allardyce. 
"There was no hesitation from me. I wanted to get it done and the rest, as they say, is history. My wife probably saw it a bit differently though as I was then on the phone for most of that holiday, trying to sort the move out. It was the right choice for us and our family in the end, and we've got some great friends in London."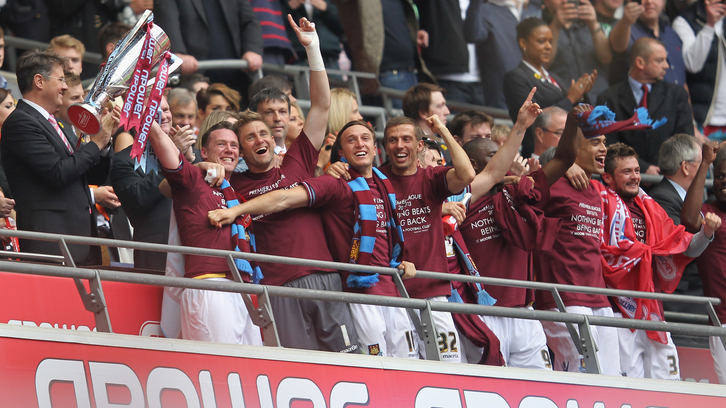 A reunion with a former boss in Sam Allardyce – the man who brought Nolan through at Bolton Wanderers – meant that he was immediately entrusted with the captaincy at the Boleyn Ground. 
Nolan knew he had to prove himself to his new teammates and understood what he needed to do; help to galvanise the team spirit ahead of a tough campaign in the Championship. 
"It was a massive thing to be brought in by a manager I've already played for, someone you have a really good understanding with, so the other players are looking at you like you're his spy or his man," Nolan laughed. "They don't really know how to take to you and if they can trust you. It was difficult in a way; another challenge, but I know that once they got to know me and I had settled in they would know that I wasn't there to be Sam's spy. 
"I was there to be there for them and help to regroup a dressing room that was struggling after the relegation. That was my job, as the captain, and I think the lads saw that. I made some really good friends at West Ham, many of who I still speak to now, which is fantastic."
After finishing third in the Championship that season, the Play-Offs beckoned for West Ham. If you could write the script and guarantee it, then most fans would say achieving promotion via the one-off match at Wembley Stadium is the best way to do it. 
West Ham would do exactly that. Under Nolan's captaincy, the Irons came from behind to beat Blackpool 2-1 to secure a place back in the Premier League, with the skipper providing the cross which led to Ricardo Vaz Te's unforgettable late winner.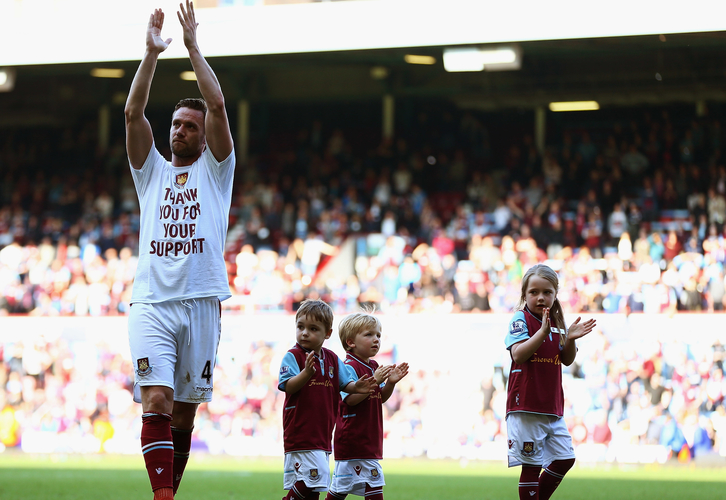 While the ex-skipper is proud of that day, he is equally proud of the season that followed.
"I think the season we got back into the Premier League is a stand-out one, because of how easy we made it look to stay in the division again," Nolan continued. "When you go down in the manner that West Ham had been relegated the season before, and then to turn it around and get into the Premier League, it was amazing. 
"I scored the first goal for us in the Premier League that year, against Aston Villa, and I think I also scored the last in the 4-2 win versus Reading when I scored a hat-trick. We had all our families and kids with us, and they walked out on the pitch with us, and I got that hat-trick, it was really nice. I've got some fantastic memories from West Ham."
After departing the Irons in 2015, Nolan enjoyed managerial spells with Leyton Orient and Notts County, leading the latter into the EFL League Two Play-Offs.
Nolan, who turns 39 on 24 June, returned to the Hammers in February 2020, when he was appointed as a first-team coach by manager Moyes, and his influence was felt as West Ham secured a record-breaking Premier League points total and qualification for next season's UEFA Europa League group stage.