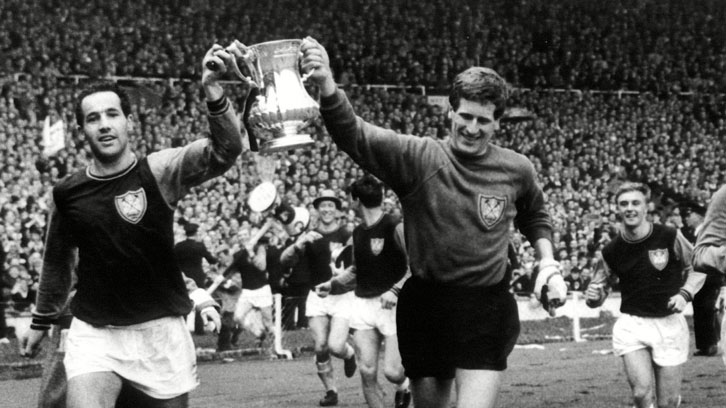 We continue our alphabetic journey through 125 years of West Ham United history with a trip to Africa, goalkeepers and guest players galore…
George Gresham
One of the standout players of the Thames Ironworks era, George Gresham joined from his hometown club, Gainsborough Trinity, in 1896.
Like so many early Hammers, he worked as a ship's plater at the Thames Ironworks & Shipbuilding Company and played for the works team in the London League.
An outside left, Gresham scored on his debut in a 3-0 win over Vampires from Crouch End. He would not find the net again for over a year but, after scoring in a 4-0 win over Leyton, Gresham went on a prolific run and ended the 1897/98 season with 12 goals in 19 appearances, including a hat-trick in a 4-2 victory over Stanley in January 1898.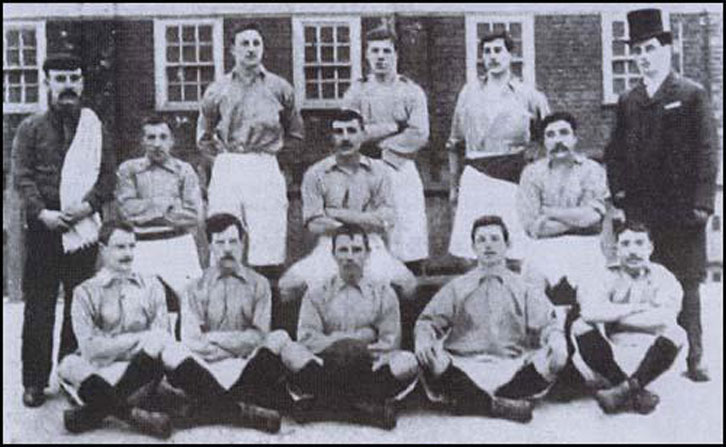 Two months later, he scored two goals in a 5-3 win over Woolwich Arsenal in a pioneering floodlit friendly at the Memorial Grounds, before celebrating winning the London League title in April of that year.
Five more goals followed in 1898/99 as Ironworks won the Southern League Second Division title, including two in an 8-1 thrashing of Chesham.
The Lincolnshire-born player was Thames Ironworks' all-time leading scorer with 30 goals to his name.
Ghana
West Ham United visited Ghana in the summer of 1962, playing three friendly matches in the newly independent West African republic.
After contesting matches in what are modern-day Malawi and Zimbabwe, Ron Greenwood's squad flew to the Ghanaian city of Accra, where they were met by 'colouful foot-long lizards' and incessant rain!
Despite those challenges, West Ham defeated Ghanaian champions Hearts of Oak 4-1, with John Dick scoring twice, added to goals from Johnny Byrne and Ian Crawford.
Next came a five-hour drive to Kumasi, where the players visited a local school, before Dick scored two goals and Ronnie Boyce one in a 3-0 win over Ashanti Kotoko.
It was then back on the bus for the long, hot trip back to Accra, compounded by Malcolm Musgrove, John Lyall and Bill Lansdowne being laid low with a stomach bug.
After time recuperating on the beach and swimming in the Gulf of Guinea, Musgrove recovered sufficiently to score in a 1-1 draw with Real Republikans, who won win the Ghana Premier League title the following year.
Amazingly, the drama was not over as an aborted take-off in Lagos delayed the Hammers' departure for 12 hours, before they were eventually able to fly back to London, via Lisbon.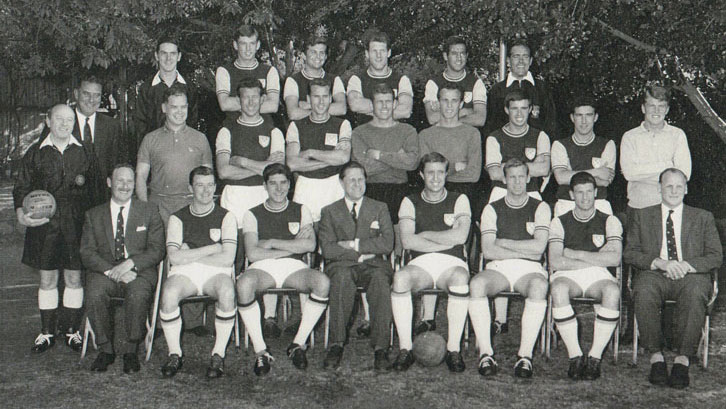 West Ham have been represented by two full Ghana internationals – John Pantsil and Andre Ayew.
Pantsil, whose birth name of Paintsil was mis-spelt on his passport, was a right-back who joined the Hammers from Israeli club Hapoel Tel Aviv in 2006.
Known for his risk-taking playing style and brightly coloured clothing, Pantsil played 24 times across two seasons before joining Fulham. He helped the Whites finish seventh in the Premier League in 2008/09 and reach the 2010 UEFA Europa League final.
A versatile forward, Ayew starred for Marseille and Swansea City before joining the Irons for a Club-record fee in 2016.
Ayew scored 12 goals in 50 appearances in Claret and Blue before returning to Swansea in January 2018. He was released by the Welsh club this summer.
Goalkeepers
No fewer than 112 goalkeepers have represented the Club in the 125 years since John Watson stood between the sticks for Thames Ironworks FC's first-ever competitive fixture in October 1895.
Little is known about Watson, who kept goal for the 5-0 FA Cup defeat by Chatham in Kent, other than the fact he made a number of good saves to prevent the amateur Hammers falling to an even heavier defeat.
Watson's appearance turned out to the one and only time he featured for the Club. He was one of three goalkeepers to feature in Thames Ironworks' inaugural season, which otherwise comprised friendly matches, with Hugh Graham appearing 18 times, Gibson seven times and Woodford on one occasion.
Following the Club's reformation as West Ham United in 1900, Scot Hughie Monteith kept goal for the Hammers' first game and kept a clean sheet in a 7-0 Southern League win over Gravesend at the Memorial Grounds. Ayrshire-born Monteith played 60 times across two seasons.
George Kitchen arrived from Everton in 1905 and enjoyed a unique debut against Swindon Town, keeping a clean sheet and scoring the winning goal from the penalty spot in a 1-0 Southern League victory. Over 205 appearances spanning six seasons, Kitchen scored six goals and saved six penalties!
The first West Ham goalkeeper to play international football was the long-serving Ted Hufton, who was in goal when the Hammers' contested their first Football League fixture against Lincoln City in 1919, and again for the 1923 FA Cup final defeat by Bolton Wanderers at Wembley Stadium.
Hufton was 30 when he earned his first England cap in a 2-2 friendly draw with Belgium in Antwerp in November 1923, and 36 when he earned his sixth and last cap in a 4-3 friendly defeat by Spain in Madrid in May 1929.
Hufton's 402 official appearances in Claret and Blue – he also played 54 times for the Club during the First World War – place him 19th on the all-time list.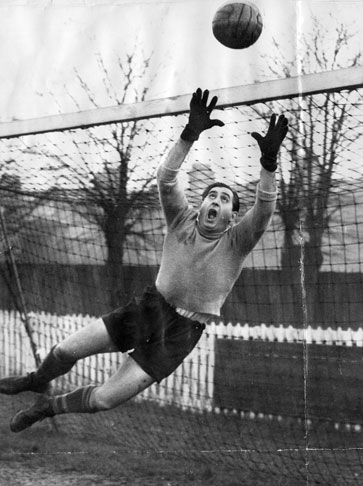 Two places ahead of him, on 415 official appearances, is the long-serving Ernie Gregory.
Born in Stratford, Gregory joined the Hammers in 1938, only to see his career interrupted by the Second World War. After serving with the Essex Regiment and the Royal Air Force, Gregory finally made his Football League debut in December 1946, in a home game against Plymouth Argyle, at the age of 25.
Gregory remained the regular No1 for more than a decade, winning promotion to the First Division in 1958, retiring the following year and being awarded a Testimonial in 1960. He remained with the Club as a coach and later in an administrative role, finally retiring after a 51-year association with the Hammers in 1987.
The first goalkeeper to win the Hammer of the Year award was Scot Lawrie Leslie, who did so in 1962.
Born in Edinburgh, Leslie played for Hibernian and Airdrieonians, reaching the Scottish Cup final and earning five Scotland caps, before moving to London.
His performances in 1961/62 helped Ron Greenwood end his first season in charge with an eighth-place finish in the First Division. However, a broken leg the following season saw him replaced by Jim Standen (pictured at the top of this story parading the FA Cup at Wembley Stadium).
The most-decorated goalkeeper in West Ham history, Standen arrived from Luton Town in 1962 and went on to win the FA Cup and European Cup Winners' Cup as part of Greenwood's star-studded side.
Amazingly, Standen was also a professional cricketer with Worcestershire, taking more than 300 first-class wickets and winning the County Championship in 1964.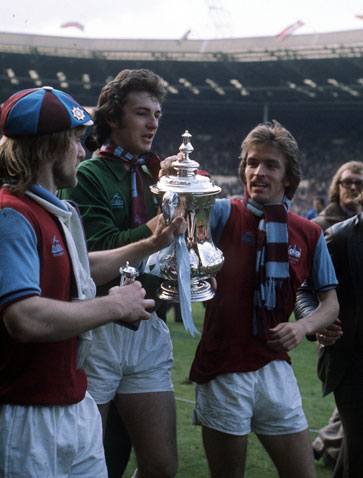 Mervyn Day was in goal the next time West Ham won the FA Cup in 1975. Then aged just 19, Day was also named PFA Young Player of the Year, before helping the Hammers reach the European Cup Winners' Cup final, where they lost to Anderlecht, the following season.
Day's replacement was Phil Parkes, who joined for a world record £565,000 fee from Queens Park Rangers in 1979, despite the fact West Ham were in the Second Division at the time.
Parkes proved a superb signing, however, keeping goal for a decade as the Hammers won the FA Cup for a third time in 1980, won the
Second Division title and reached the League Cup final in 1981 and finished third in the First Division in 1985/86. He was voted Hammer of the Year in 1981, too.
The first West Ham goalkeeper born outside the British Isles was Luděk Mikloško. The Czechoslovakia international was signed from Banik Ostrava in 1990 and went on to become a cult hero among the Claret and Blue Army, making 373 appearances and being named Hammer of the Year in 1991.
Trinidad & Tobago international Shaka Hislop ended the century by becoming the fourth goalkeeper to win the award in 1999.
This millennium has seen no fewer than three more West Ham goalkeepers represent England in David James, Robert Green – another Hammer of the Year winner – and Manchester City loanee Joe Hart.
And, in 2019, current No1 Łukasz Fabiański became the sixth goalkeeper to win the coveted award.
West Ham have also employed emergency goalkeepers on occasion, most often when their regular stoppers have been forced off with injuries.
Among those who have stood-in between the sticks were Jim Barrett Sr, Martin Peters, Clyde Best, Bobby Moore and Henri Lansbury, with Moore famously taking over from the injured Bobby Ferguson during the League Cup semi-final second replay with Stoke City in 1971.
Guests
During both World Wars, West Ham United relied on the services of 'Guest' players, many of whom were stationed in London and the south east with their branch of the armed forces.
The practice saw the Irons represented by some of the biggest names of the time, whose own professional careers had been put on hold due to the hostilities.
During the First World War, Everton and England forward Sam Chedzgoy appeared 28 times in Claret and Blue, scoring 14 goals, while Rangers and Scotland star Andy Cunningham netted nine times in his 17 guest appearances for the Hammers.
During the Second World War, around 85 guest players wore the Hammers' colours.
No fewer than ten Arsenal players guested for West Ham, including England internationals Ted Drake, Eddie Hapgood, Bernard Joy and Laurie Scott.
Charlton Athletic supplied their legendary goalkeeper Sam Bartram, who featured in a 3-1 win at Chelsea in 1943.
The guest player with most appearances for West Ham was the Leicester City defender Dai Jones, who played in 42 games.
Amazingly, for one game in June 1940 against Charlton, three days before the Football League War Cup final with Blackburn Rovers at Wembley, the Hammers fielded ten guests, with the lone West Ham player being Jim Barrett!