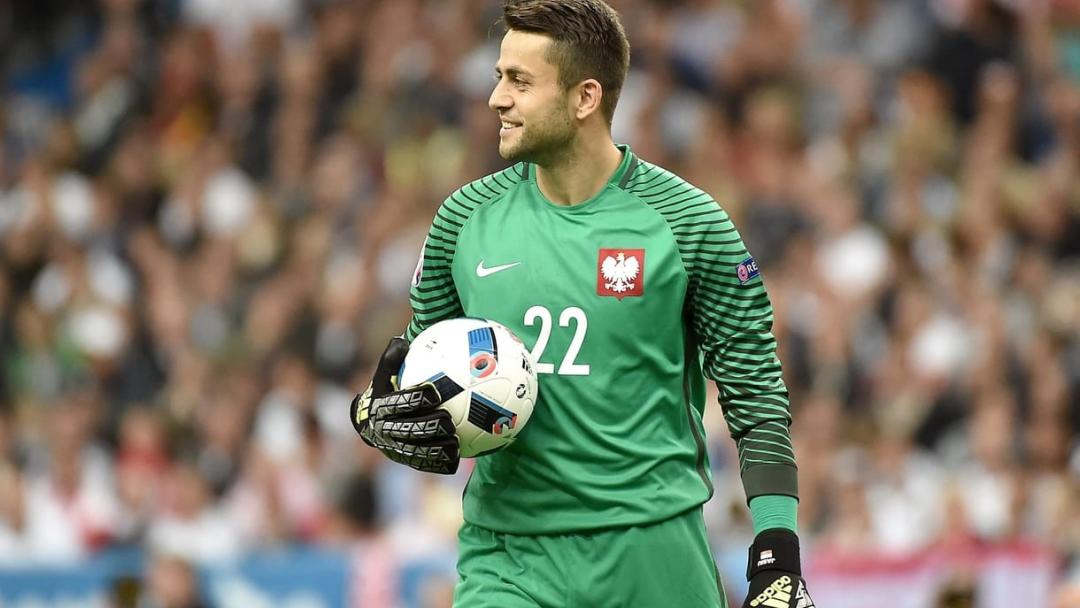 Łukasz Fabiański is raring to go for his third crack at a UEFA European Championship finals.
The West Ham United goalkeeper was part of Poland squads at Euro 2008 in Austria and Switzerland and 2016 in France and has been selected for the Europe-wide 2020 edition.
Having reached the quarter-finals last time out in France - Poland's best performance at a Euros - Fabiański is hungry for more success when his  country's tournament gets underway on Monday 
First up is a Group E fixture against Slovakia, with games against Spain and Sweden to follow, and although this will be the fifth major tournament of Fabiański's career, representing his country will never lose its special feeling.
The 36-year-old has 56 caps under his belt and will continue to make the most of every moment he gets at what could be the last major finals of his illustrious career...
How does it feel to have the opportunity to represent your country at a major tournament?
"It's always special. It's something that every professional football player looks forward to and in your career you don't have that many opportunities to do it, so it is always very special."

Looking back at your previous Euros, you'd have been in the squad for Euro 2012, but were injured and missed the tournament. At that time you wouldn't know if the opportunity would come again…
"When you miss a tournament in the way I missed that tournament in 2012 with a last-moment injury, it's always something that disappoints you and puts you in a bad mood. In that moment we were one of the hosts, and the way that everything evolved in the tournament, with Wojciech [Szczęsny] starting, but being sent-off in the first game, who knows what would have happened if I had been fit.
"That was a big disappointment on my side, but luckily I was able to represent my country in other big tournaments after that."
You then came into the team at Euro 2016 when you guys came close to going a long way in the tournament…
"The 2016 Euros was one of the best tournaments that we've had in recent times for the national team. We've had some special moments, very memorable ones, and to be part of it was a big honour. I will always cherish the times that I had with the national team with the Euros in France."
In that tournament there were a couple of really special moments too. First off to keep a clean sheet against Germany – Poland against Germany is always a massive game – so that must have been a proud moment?
"The game against Germany was a very proud one for me, and at the same time probably it was the biggest game that I had ever been involved in when it comes to the national team. We played in Paris at the Stade de France with nearly 80,000 people there. My family were there too, so it was just massive for us. Germany were at that time World Cup holders, so to get a draw, a good point and a clean sheet against them was a massive confidence boost for me and us as a team."
Then against Switzerland, you had a penalty shoot-out which went your way…
"It was a great experience, even though I didn't manage to save any penalties, but I played a big part in actually getting us to the penalty shoot-out. To get it over the line in those circumstances is always different. There's a lot of excitement around it and again my family was there. That experience at the tournament was one of a kind, one I'll always remember and I'll probably be telling stories from it, hopefully to my grandchildren! 
"We were so close to going even higher, because we lost on penalties to Portugal in the quarter-finals. We didn't actually lose a game in 90 or 120 minutes. We just lost on penalties, so that was a big disappointment at the end as we were very close to achieving something special."
You're at another Euros now. Do you still get that same feeling of anticipation?
"Yes. It's going to be an interesting one because there are so many different cities around Europe hosting it. It will be interesting to see if you get this feeling of a big tournament, because I remember the Euros in France and in Poland and Ukraine, there was the feeling of everything happening in one country with so many fans of all countries in one place.
"This time it's a bit different and we'll see how it works, but it's a massive competition and everyone is looking forward to competing and hopefully achieving something special."
You face some of the best players in the world in the Premier League, but is it a different experience when you're doing it for the national team especially when you play against the top nations?
"It is a bit different. For some reason the international games have a different vibe and there's a different pace to the game. The atmosphere around the game is a little different too, there's the national anthem before kick-off, which is special and gives you the feeling that the game means that little bit more.
"You're representing your country, in our case almost 40 million people, so you realise how special it is and you feel the pressure too. That's the biggest difference."
How do you think Poland will get on?
"We hope we do well. I hope we're going to have a good Euros and achieve at least what we achieved in France. We have a good enough team to surprise many and hopefully it's another one which will stay in our memory for a while."