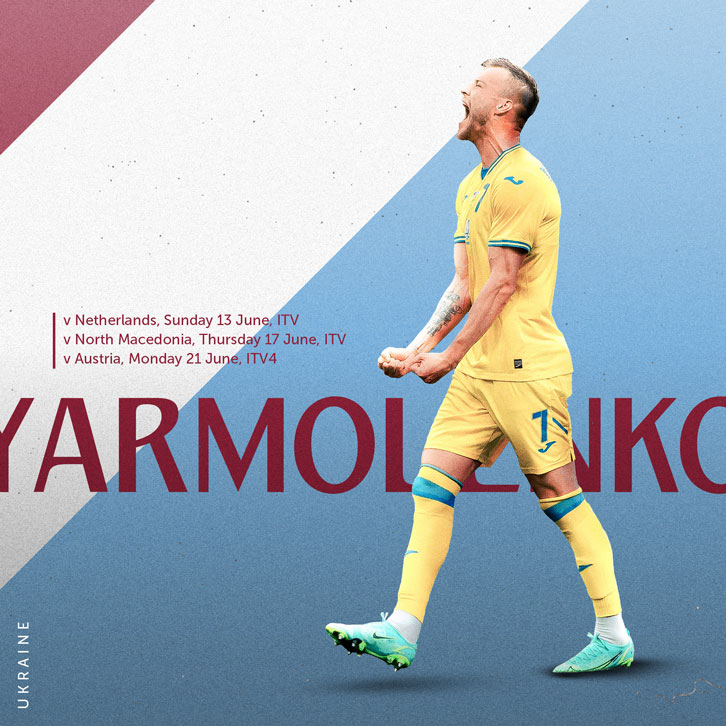 Andriy Yarmolenko is hoping both he and Ukraine can finally make their mark at a UEFA European Championship finals.
The West Ham United forward was part of his country's squad for the 2012 and 2016 finals, but both experiences ended in disappointment.
Nine years ago, on home turf in Kiev, Ukraine defeated Sweden in their opening group-stage fixture, with Yarmolenko supplying the assist for the first of captain, striker and current manager Andriy Shevchenko's two goals in a come-from-behind 2-1 victory. However, in the forward's own words, 'something went wrong' and Ukraine lost to France and England in Donetsk to crash out.
Four years on in France, things went even worse as, despite the presence of Yarmolenko in a potent-looking attack, Ukraine failed to score in defeats by Germany, Northern Ireland and Poland and finished bottom of their group.
Since that disappointment, Ukraine have undoubtedly improved under Shevchenko, finishing unbeaten and top of a Euro 2020 qualifying group that included Portugal and Serbia and beating Switzerland and Spain in the UEFA Nations League late last year.
Yarmolenko has remained a central figure for his country, scoring in victories over Portugal and Switzerland, while his recent brace in a warm-up win over Cyprus took his personal record to 40 goals – second only to Shevchenko's 48 – in 94 caps.
And so, the 31-year-old is hoping his proud nation can make it third time lucky and emerge from a Group C that also includes the Netherlands, Austria and North Macedonia…
Andriy, Euro 2020 begins for you on Sunday evening with a group-stage tie with the Netherlands in Amsterdam, so how are you feeling?
"First of all, it's a great source of pride to represent my country. It was my childhood dream and I do my absolute best every time I pull on the Ukrainian national team shirt."
This will be your third European Championship finals, having previously played on home turf in 2012 and then in France in 2016. What do you remember of those experiences?
"It was a special experience in 2012. It was my first try at a tournament of this magnitude and I was extremely proud to wear the Ukraine shirt and was really eager to give my best efforts representing my country in front of a home audience.
"Of course, I felt a lot of emotions and all sorts of feelings went through my head before our first game. I can only compare it to the feeling you get when you're a kid and you can't wait until it's your birthday and all your thoughts are directed towards that one event. That's the best comparison I can give you for my feelings playing for Ukraine.
"I can still remember feeling those emotions nearly ten years ago and the whole idea of playing for Ukraine is something that I live for and, despite my age, and I'm 31 now, I am totally keen on repeating those incredible emotions I felt playing back at home for Ukraine in Euro 2012.
"When you are 22 or 23, you don't fully grasp the size of the tournament that is unfolding in front of you. I am now over 30 and I am keen to appreciate this experience more and to really show the full capacity that I possess."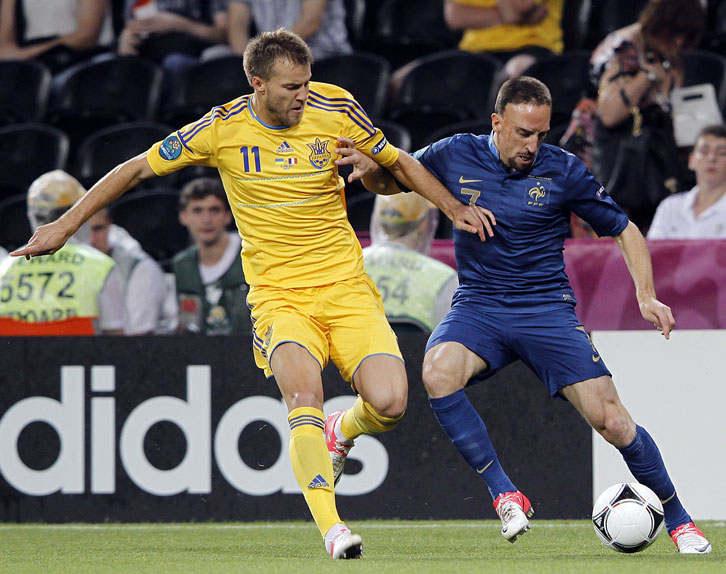 You have played at the European Championship finals, in the Nations League, Champions League,  Premier League, Bundesliga and the Ukrainian Premier League, so how do the levels of those competitions compare?
"As a football player, I always dreamt of playing at the highest level. I don't want to get bogged down with the finer details of comparing one competition with another because I am doing my best in every tournament to show myself and assess my level of play against very strong opposition players.
"This experience of international football plays a very important role in my career and it clearly helps me to concentrate even more and to train myself to play at this level and to prove myself."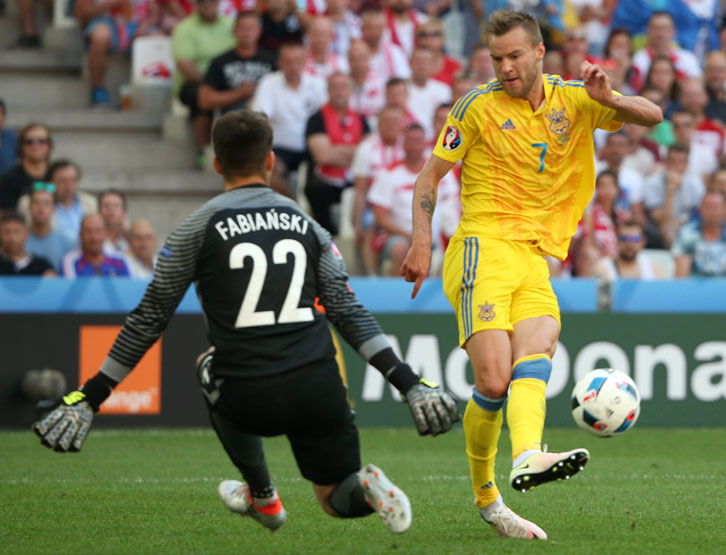 Ukraine has achieved some impressive results in recent matches, so what can you tell us about your current squad?
"We've got a young coach who needs no introduction and I'm sure everybody knows him perfectly well – it's Andriy Shevchenko.
"We've got plenty of young players who want to show themselves to Europe and to the world and to prove that Ukrainians can play and that Ukrainians are good footballers.
"We've got older guys such as myself in the team who, being realistic, this could be the last international tournament for us, and we want to show ourselves and make our country, our friends and our families proud by showing we can do it."
Finally, after disappointment at your previous two Euros, can you get out of your group third time around and have a successful tournament?
"I want to say that the Ukraine team possesses steady quality and I want to remind you that we have beaten Portugal and Spain and if we show the same qualities we showed in beating those teams then we can achieve a good result, so I am pretty optimistic from every angle."