Ask any West Ham United supporter which two nations they would like to qualify automatically from UEFA Euro 2020 Group D and most will answer England and the Czech Republic.
While every Hammer is backing Declan Rice to go all the way and win the tournament with Gareth Southgate's Three Lions, most would also love to see Tomáš Souček, Vladimír Coufal and their compatriots advance to the knockout stages.
West Ham's 'Czech mates' have made a hugely positive impact since moving to east London – Souček in January 2020 and Coufal nine months later – with their enthusiasm, work ethic, inspirational character and outstanding ability, helping David Moyes' side secure a sixth-place Premier League finish and qualification for the UEFA Europa League groups stage.
Before then, of course, midfielder Souček and full-back Coufal have their eyes on another prize, Euro 2020, where they have been drawn in a group alongside Rice's England, Scotland and 2018 FIFA World Cup runners-up Croatia. With Group D being based in the UK, the Czechs will face Scotland and Croatia at Hampden Park in Glasgow before returning to London to face England at Wembley Stadium on 22 June.
Among the fans cheering Souček and Coufal on at Wembley that Tuesday evening will be Libor Sečka, the football-obsessed Ambassador of the Czech Republic to the United Kingdom who has welcomed the players and their families to England and become something of a social media sensation with his support of them and of West Ham on Twitter!
Sečka has hosted the Součeks and Coufals regularly at his residence, while the players also joined him at a ceremony paying tribute to Czechoslovak pilots who flew as part of the RAF during the Second World War and teamed up with the Ambassador to hold a fundraising auction for young West Ham fan Isla Caton's fight to beat the rare child cancer neuroblastoma.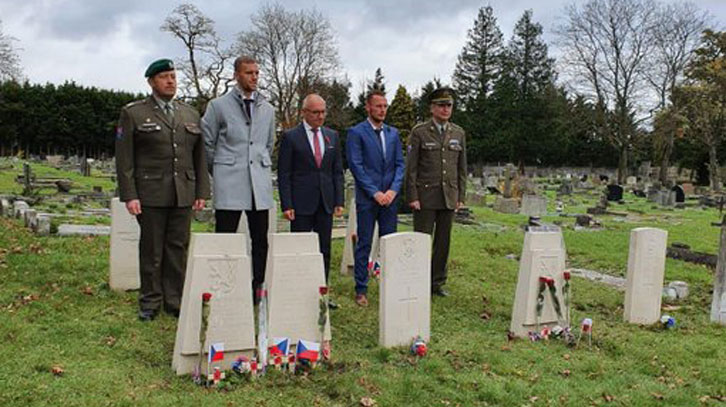 Souček and Coufal have also instigated a positive relationship between West Ham fans and their former club, Slavia Prague. Many Irons supporters, some of whom brought Czech flags to London Stadium for the final-day win over Southampton, planning trips to the Czech capital to watch a match when COVID-19 restrictions allow.
"It's great that we came together from this one club," Souček smiled. "We actually played together at two clubs – a smaller club called Slovan Liberec and then three years at Slavia – and for the Czech national team, so it's great that I see so many fans in London like Slavia too now and supported them in the Europa League. We are happy that people are interested in our history and when we came from."
For the Ambassador, who visited Rush Green and met the players and manager David Moyes, the dynamic duo represent everything good about the Czech Republic.
"They are stable, they are responsible and they do everything for the team," Sečka, who is the Czech Republic's most-experienced diplomat, observed. "They think about their mates and the team and this is nice."
"We have a very famous tradition of Czechoslovak soldiers and especially pilots from the Second World War here. This is a very strong part of our history and they respect it and this is something which creates a wave of sympathy in our country.
"We shouldn't forget another personality in the female squad, Kateřina Svitková, who is absolutely amazing as well. She was the best football player in the Czech Republic and is now playing with her whole heart for West Ham.
"To make it short, they are helping me a lot in my work to put together both nations."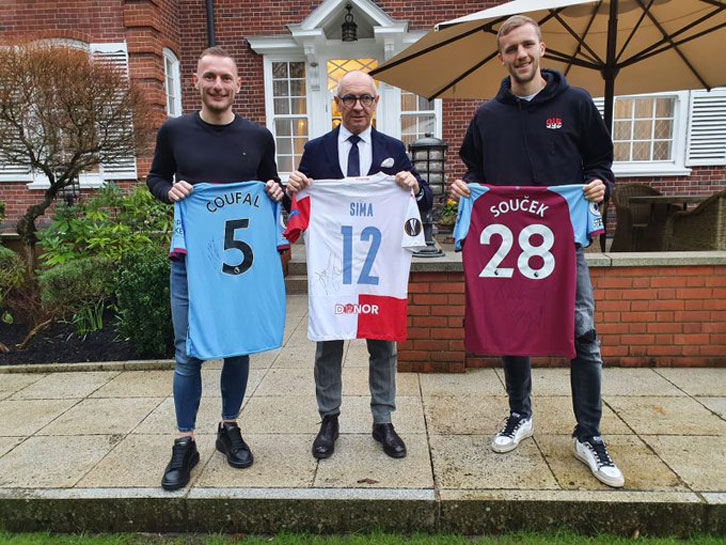 Coufal is rightly proud of the role he, Souček and Svitková are playing to promote their country in the UK, on and off the pitch.
"Me and Tomáš represent our Czech Republic here in England and West Ham has found many new fans in the Czech Republic as well, so it's similar and I hope this connection will continue and Tomáš, Kateřina and I will do good promotion of the Czech Republic," the No5 confirmed.
That mentality helped West Ham enjoy their best season in over 20 years, secure a record Premier League points total and has the Claret and Blue Army preparing for a European tour.
And so, as Euro 2020 gets underway, Hammers everywhere – apart from Scotland and Croatia – will be hoping their heroes can inspire their respective nations to a successful tournament and continue to enhance not just their own reputations, but those of their Club and their countries.