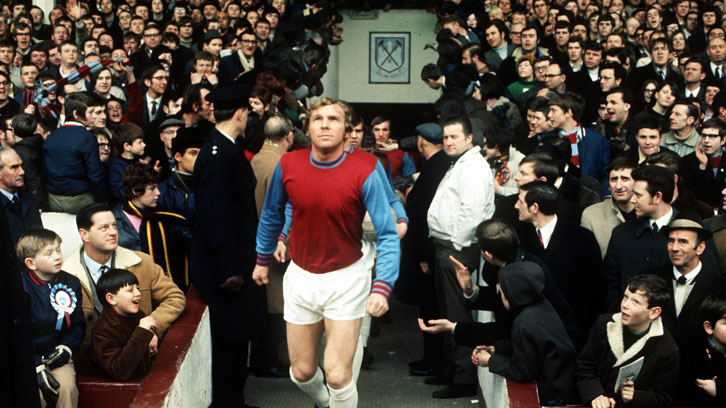 Continuing our alphabetic journey through 125 years of West Ham United history…

Captains...
Thames Ironworks and West Ham United have been captained by dozens of players over the previous 125 years, from the first, Robert Stevenson (pictured), to the current incumbent, Mark Noble.
Stevenson, a full-back or half-back, was born in Barrhead in Scotland in May 1869 and played for Third Lanark before moving to London in 1894 to work in shipping.
Described as 'a wonderfully good player and invaluable as an advisor to the fathers of the club', he played for and captained Woolwich Arsenal and Old Castle Swifts,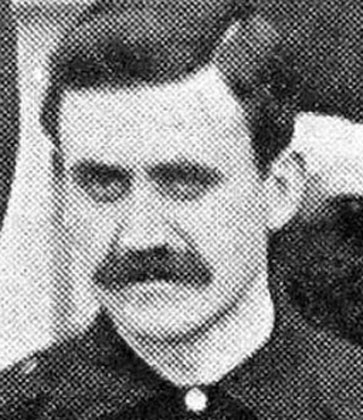 The latter folded so, after a brief return to Scotland, he joined the newly-formed Thames Ironworks and was appointed as the Club's first-ever skipper, leading the Irons to West Ham Charity Cup glory in their inaugural 1895/96 season.
Walter Tranter, Harry Bradshaw and Charlie Dove also captained Ironworks before the Club was reformed in 1900 as West Ham United. The honour of being West Ham's first captain went to another Scot, Roddy McEachrane.
Born in Inverness, McEachrane moved to east London at the age of 20 to work at the Thames Ironworks & Shipbuilding Company, where he joined the works football team. A tough tackling half-back, McEachrane helped Ironworks win the Southern League title in 1899 and remained with the Club following its reformation.
Since then, 31 different players have been appointed as West Ham United's Club captain, while many more have worn the armband in an unofficial capacity, including Englishmen, Scots, Welshmen, Irishmen, an Italian and Australian.
The longest-serving captain was Bobby Moore, who led the Hammers for 13 seasons between 1961-74, winning the FA Cup and European Cup Winners' Cup. His successor, Billy Bonds, was skipper from the spring of 1974 until 1984, winning two FA Cups and the Second Division title.
West Ham's first non-British born captain was Irishman Noel Cantwell, the Cork-born full-back who led the Irons to the Second Division title in his first season as skipper, 1957/58, while the first born outside the British Isles was not Paolo Di Canio, but Steve Potts, who was born in Hartford, Connecticut in the United States.
Canning Town-born Noble has been captain since the start of the 2015/16 season, succeeding current first-team coach Kevin Nolan, while his teammates Aaron Cresswell, Angelo Ogbonna and Declan Rice have all worn the armband in his rare absences.
| | | |
| --- | --- | --- |
| Years | Captain | Born |
| Thames Ironworks FC |   |   |
| 1895-97 | Robert Stevenson | Barrhead, Scotland |
| 1897-99 | Walter Tranter | Stockton-on-Tees, England |
| 1899-00 | Harry Bradshaw | Tottenham, England |
| West Ham United FC |   |   |
| 1900-02 | Roddy McEachrane | Inverness, Scotland |
| 1902-03 | Unknown |   |
| 1903-04 | Ernest Watts | Birmingham, England |
| 1904-07 | Dave Gardner | Glasgow, Scotland |
| 1907-11 | Frank Piercy | Stockton-on-Tees, England |
| 1911-14 | Tommy Randall | Barking, England |
| 1914-15 | Dick Leafe | Boston, England |
| 1915-22 | William Cope | Stoke-on-Trent, England |
| 1922-25 | George Kay | Manchester, England |
| 1925-26 | Billy Moore | Newcastle-upon-Tyne, England |
| 1926-28 | Jack Hebden | Castleford, England |
| 1928-32 | Stan Earle | Stratford, England |
| 1932-37 | Jim Barrett Sr | Stratford, England |
| 1937 | Joe Cockroft | Barnsley, England |
| 1937-45 | Charlie Bicknell | Chesterfield, England |
| 1945-51 | Dick Walker | Hackney, England |
| 1951-57 | Malcolm Allison | Dartford, England |
| 1957-60 | Noel Cantwell | Cork, Ireland |
| 1960-62 | Phil Woosnam | Caersws, Wales |
| 1962-74 | Bobby Moore | Barking, England |
| 1974-84 | Billy Bonds | Woolwich, England |
| 1984-89 | Alvin Martin | Liverpool, England |
| 1989-94 | Julian Dicks | Bristol, England |
| 1994-95 | Steve Potts | Hartford, Connecticut, United States |
| 1995-97 | Julian Dicks | Bristol, England |
| 1997-01 | Steve Lomas | Hanover, West Germany |
| 2001-03 | Paolo Di Canio | Rome, Italy |
| 2003-05 | Christian Dailly | Dundee, Scotland |
| 2005-07 | Nigel Reo-Coker | Thornton Heath, England |
| 2007-09 | Lucas Neill | Sydney, Australia |
| 2009-11 | Matthew Upson | Eye, England |
| 2011-15 | Kevin Nolan | Liverpool, England |
| 2015-Present | Mark Noble | Canning Town, England |
Cassettari's Café...
Cassettari's Café was an integral part of West Ham United life.
It was in the early 1950s that the players started to meet post-training in the café, which was situated just a short distance from the Boleyn Ground on Barking Road.
At the encouragement of manager Ted Fenton, who urged his players to plan for future careers in management and to mentor the Club's young players, the likes of Ernie Gregory, Noel Cantwell, John Bond, Ken Brown, Malcolm Allison, Malcolm Musgrove, Frank O'Farrell, Andy Nelson, Dave Sexton and Jimmy Andrews would spend their afternoons talking tactics, coaching and football in general. 
Cassettari's Café was more than just a post-training venue, though. The Café also hosted wedding receptions, including that of Irons centre forward Tommy Dixon!
The tradition continued into the 1960s, with the likes of John Lyall, Joe Kirkup, Bobby Moore, Harry Cripps, Andy Smillie, Mike Grice, Tony Scott and later Geoff Hurst, Martin Peters and Ronnie Boyce all frequenting Cassettari's. Many of the above took what they learned there into successful management careers.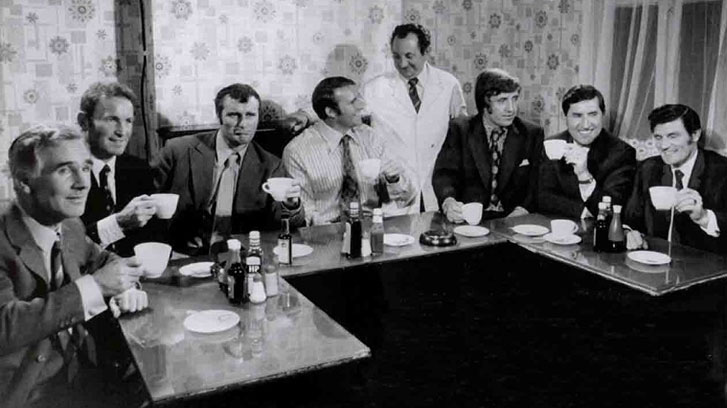 Charity Shield...
The Football Association Charity Shield (now the Community Shield) is English football's annual match contested between the champions of the previous League season and the holders of the FA Cup.
Introduced in 1908 by the FA, proceeds from the game are distributed to community initiatives and charities around the country, as well as the 124 clubs who competed in the FA Cup from the first round onwards.
West Ham United have competed in the Charity Shield on three occasions, all of them as FA Cup holders, in 1964 (pictured), 1975 and 1980.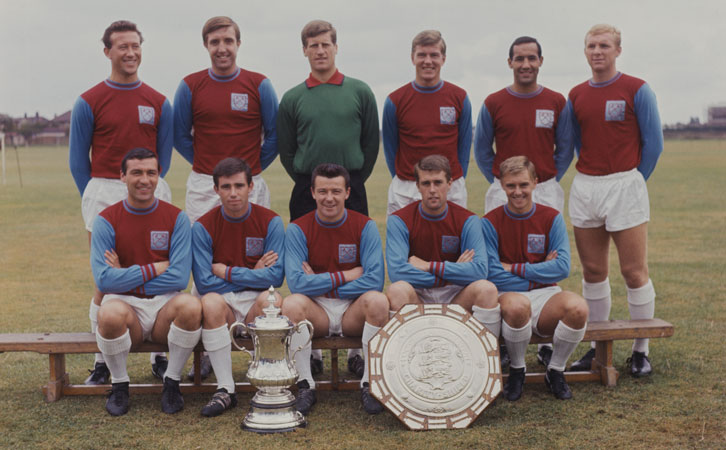 The 1964 match was held at Anfield, home of League champions Liverpool, and ended in a 2-2 draw, with Johnny Byrne and Geoff Hurst on target for Ron Greenwood's men. The Shield was therefore shared, with the Hammers holding it for the first six months of the following year.
Eleven years later, the Hammers lost 2-0 at Wembley to Dave Mackay's Derby County, who had won the First Division the previous season.
And finally, in 1980, the Irons returned to Wembley as FA Cup holders to take on champions Liverpool, for whom Terry McDermott scored the only goal of the game.
Cricket...
There was a time when many footballers spent their summer months not by sunning themselves on beaches, but by pulling on their whites and playing cricket!
No fewer than six West Ham United players of days gone by played first-class cricket.
The first was legendary centre forward Syd Puddefoot, who played eight matches for Essex between 1922-23, scoring 101 runs with a top score of 42, and taking one wicket.
George Eastman kept wicket for Essex between 1926-29, playing 48 first-class matches, but his average of 6.97 suggested he was in the team for his glovework rather than his batting!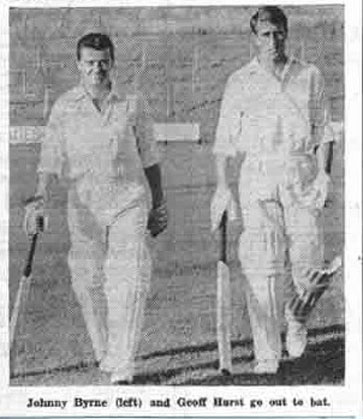 Ron Tindall, who had a prolific strike partnership with Jimmy Greaves at Chelsea before joining West Ham for a short period in 1961, was an outstanding all-rounder for Surrey, scoring 5,446 runs with a top score of 109 not out, and taking 150 wickets as an off-spinner between 1956-66.
Defender Eddie Presland also turned out 54 times for Essex between 1962-72 in both first-class and one-day cricket, scoring 812 runs and taking 16 wickets.
Goalkeeper Jim Standen was West Ham's most successful cricket and enjoyed an amazing 1964, winning the FA Cup with West Ham and County Championship with Worcestershire. A right-arm seamer, Standen took 313 first-class wickets at outstanding average of 25.34, in addition to 43 one-day wickets at an even better average of just 18.44. He also weighed in with over 2,300 runs.
And finally, Standen's 1964 FA Cup and 1965 European Cup Winners' Cup winning teammate Geoff Hurst turned out once for Essex in 1962, but failed to score a single run…
Back in the 1960s and 1970s, West Ham players also turned out in charity matches.
One such game saw Hurst, Bobby Moore and Johnny Byrne (pictured) feature in a Footballers XI against a Cricketers XI at Selhurst Park in July 1964, with the proceeds going to Surrey and England batsman Ken Barrington and Crystal Palace's long-serving groundman Charlie Carlett.
Despite facing some fearsome bowling, all three men reached double figures, with Moore top scoring with 20, as the Cricketers, captained by Surrey masseur Sandy Tait, edged out the Footballers, led by Palace and England forward Ronnie Allen, by six runs.
Croatia
West Ham United have been represented by five Croatians.
The first was Slaven Bilić, who both played for and managed the Hammers. A centre-back, Bilić was signed from German club Karlsruher SC in January 1996 for a £1.3million fee.
Bilić's debut was a memorable one, as West Ham defeated Tottenham Hotspur 1-0 at White Hart Lane, and he went on to make 54 appearances over the next 18 mons, scoring three goals, before joining Everton.
The 1998 FIFA World Cup semi-finalist returned to east London in the summer of 2015, having previously managed his country for six successful years and also coached in Russia and Turkey.
Bilić's reign was a memorable one, as the Hammers concluded life at the Boleyn Ground with a superb 2015/16 season, finishing seventh and setting a new goalscoring record for a single Premier League campaign, before making the historic move to London Stadium.
His international teammate and friend Igor Štimac followed in 1999, being signed from Derby County. Also a centre-back and 1998 World Cup star, Štimac made 52 appearances in Claret and Blue, scoring once.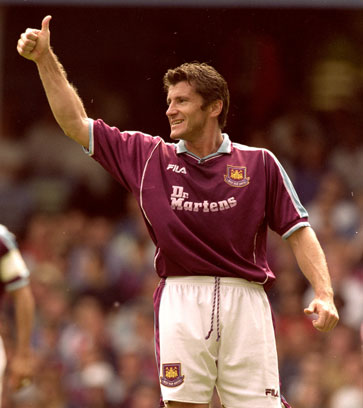 A third member of that 1998 World Cup squad, and arguably the finest player Croatia has ever produced, striker Davor Šuker (pictured) arrived on a free transfer in 2000, having previously played for Arsenal, Sevilla, and Real Madrid.
The prolific Šuker spent just one season in east London, playing 13 times and scoring three goals.
More recently, striker Mladen Petrić spent three months with the Irons in the autumn of 2013, making four unremarkable appearances.
And another forward, Nikica Jelavić, was signed by fellow countryman Bilić in September 2015, but his spell was also largely forgettable, save for a last-minute FA Cup third-round winner against Wolverhampton Wanderers at the Boleyn Ground in January 2016.
Match-wise, West Ham first faced opposition from what is modern-day Croatia in November 1936, when Zagreb Gradjanski of what was then Yugoslavia visited the Boleyn Ground for a friendly, with the Irons winning 1-0.
In August 1982, Hadjuk Split – a club later represented by Bilić, Štimac and Jelavić – provided the opposition at the pre-season La Gantoise Tournament in Belgium, with the game ending goalless.
Five years later, in May 1988, Dinamo Zagreb provided the opposition for Geoff Pike's Testimonial and left the Boleyn Ground impressive 4-1 winners.
Croatia became independent in 1991 and eight years later West Ham visited for the first and, so far, only time, for a competitive fixture.
Harry Redknapp's side had qualified for the UEFA Cup by winning the Intertoto Cup and were drawn to face Croatian Cup winners Osijek – Šuker's home city – in the first round. A star-studded team including Frank Lampard, Rio Ferdinand, Trevor Sinclair, Paolo Di Canio, Paulo Wanchope and Croatian Štimac took a 3-0 first-leg advantage with them and completed a comfortable aggregative victory with a 3-1 win with goals from Marc-Vivien Foe, Paul Kitson and Neil Ruddock.