West Ham United is delighted to announce that promising French midfielder Pierre Ekwah Elimby has joined the Club from Chelsea for an undisclosed fee.
The 19-year-old signs for the Hammers on an initial three-year deal, with the option to extend for a further year.
Ekwah had previously spent two weeks on trial in Claret and Blue, featuring in the U23s' final two Premier League 2 Division 1 matches of the 2020/21 season – both against Arsenal – and scoring in the latter one.
A powerful defensive midfielder, also capable of dropping into the back line, Ekwah is pleased to be continuing his development within West Ham and the Academy of Football.
 
When West Ham gave me the opportunity to come in for two weeks, I took it, saw how the Club worked, and I just enjoyed it

Pierre Ekwah Elimby

"I feel really good signing for West Ham," Ekwah told West Ham TV. "I'm really happy in myself. I want to thank the Club for the opportunity they have given me. It's a big achievement for me.
"I really think that West Ham is a Club where everyone is working all together. The U23s and the first team work really closely to each other, and I think that young players here have got a good chance of breaking into the first team, as they have done in the past. 
"Loads of young players have reached the first team: Declan Rice has been captain, and he's so young and playing so well. Mark Noble is an unbelievable player who's been there and done the same. I just want to do similarly to them. 
"When West Ham gave me the opportunity to come in for two weeks, I took it, saw how the Club worked, and I just enjoyed it. They gave me the opportunity to sign and I said 'Yeah, I'm taking this shirt away!'"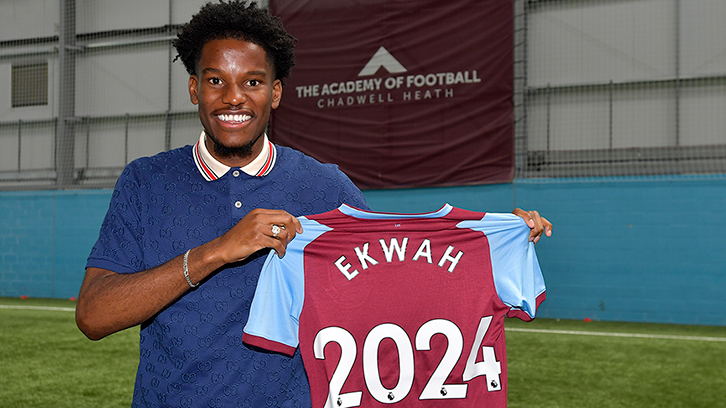 A France Under-16 international from the small village of Avrainville, situated in the department of Essonne just south of Paris, Ekwah counts RC Arpajonnais and Bretigny FCS among his youth clubs.
The midfielder enjoyed three formative years as a teenage footballer at the highly renowned national academy INF Clairefontaine, whose graduates include the likes of Thierry Henry, Nicolas Anelka and Kylian Mbappé.
Ekwah subsequently spent a year with Ligue 1 side FC Nantes, before joining Chelsea's Academy in the summer of 2018, where he made his Premier League 2 and UEFA Youth League debuts as a 16-year-old.
Now keen to progress further at West Ham, the midfielder said: "My favourite position is definitely playing No8 – box-to-box midfielder. 
"I like creative players, and players who break things up as well. I'm a ball player as well, so that's the position I really enjoy playing in.
"I would say, because I'm French, Zinedine Zidane [was my idol]! He was my guy. [I also like] Kaka, Andrea Pirlo, Claude Makélélé… 
"I wasn't looking at just one player, I was literally looking at every single team who had that midfielder who was the break-up player or the playmaker, I was just looking at them and taking in everything I could. I still do it when I watch football.
"I'm really looking forward to getting started here. It's a big thing."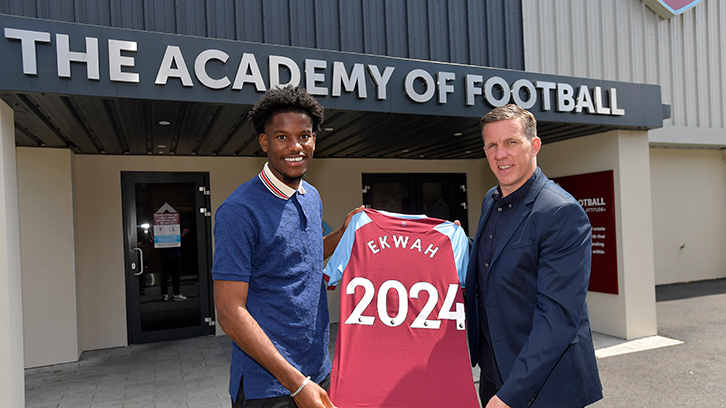 Academy Manager Ricky Martin explained: "Pierre was identified by our recruitment department as a potential new addition for the U23s squad.
"We had an opportunity to assess him at the end of last season and, following that, we're really happy to offer Pierre a new opportunity at West Ham with this contract.
"Everyone here wishes him a very successful career in East London."
Everyone at West Ham United would like to welcome Pierre to the Club and wish him the very best for his time in Claret and Blue.