Mark Noble has allowed Michail Antonio and Jesse Lingard to take penalty kicks in recent months, but the West Ham United captain was not about to pass up the opportunity to score from the spot at Celtic Park!
Antonio, who Noble handed the ball to at Manchester United in July 2020, had already netted twice to help the Hammers recover from a goal down to lead in Glasgow on Saturday. But when the No9 was fouled just before half-time, instead of giving the forward a chance to complete his hat-trick from 12 yards, or winger Saïd Benrahma to take the penalty, he took on the responsibility himself and easily beat Celtic goalkeeper Vasilis Barkas.
For a man who has Irish ancestry from County Cork and one who respects the history and traditions of the game, the opportunity to score at one of world football's most iconic venues was not one the skipper was about to pass up.
The game, which finished 6-2 in the Irons' favour, was played in a superb atmosphere created by the 18,500 Celtic fans in attendance – the biggest football crowd in Scotland since before the COVID pandemic – and Noble told West Ham TV he plans to take his son Lenny to Glasgow to experience it for himself in the future…
Mark, it's your final pre-season as a West Ham United player and you've now marked it by scoring at Celtic Park!
"Do you know what? It actually went through my head in the game and I was going to let Said take the penalty as I'm not too worried about pre-season games, but then I thought 'No, actually, at Celtic Park I want to take it myself!'. 
"It was a lovely day, really nice to play there and it's a fantastic football stadium. I was a little bit gutted that it wasn't full, but the atmosphere was great and obviously it was a great result in the end.
"We missed two fantastic chances early on through Mick and Jarrod and fell behind, I thought the way we kept pushing, we could have scored more goals and in the end we looked pretty comfortable."
Their defenders won't forget Michail Antonio in a hurry, will they?
"No! When he's like that, he's tough to play against and you realise that the first 25 minutes away from home in front of their crowd, you might have to ride a bit of a storm, but I thought the boys were great.
"That said, I don't take too much out of pre-season games. It's about getting minutes in the legs and getting ready for the season, but when you come to a place like this and play at a stadium like this, that makes it a little bit special."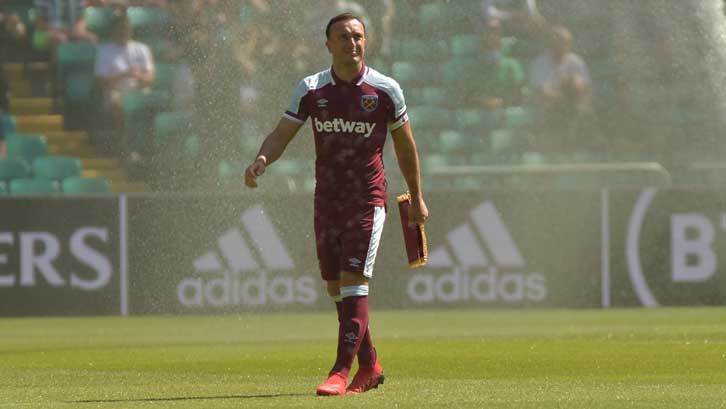 I know you say it's all about minutes, it's better to go into a season full of confidence than going into it having been battered 6-0 in all your pre-season matches!
"Yeah, in a way, but I remember playing in a pre-season when we won every game and we got relegated [in 2010/11], so you can't take too much out of it! 
"Celtic have got a Champions League qualifier on Wednesday night, I think, but I thought the way we conducted ourselves and the way we came out and played and came back after losing an early goal were great."
You have Irish ancestry, so it must have been extra special to play at Celtic Park?
"Yes, it's a special place. When we walked out when we got here, it's got such a lovely feel about it with all the history and I will definitely bring my boy here in a few years for one of the [Old Firm] derbies because I want to experience what the atmosphere is really like. I thoroughly enjoyed it."
Just lastly then, we had 18,500 Celtic fans in on Saturday and we will play in front of a full house at Brentford on Saturday, then we host Atalanta on our return to London Stadium on 7 August before the start of the Premier League season, so we are returning to some sort of normality…
"We've got two tough games coming up, but we're getting our players back after the Euros now and doing a bit of training, because we're going to need them.
"We've got an incredible fixture list coming up of games so we're going to need as many bodies as we can.
"I think Angelo has got a slight problem, but he's going to be fine and apart from that everyone got through the game, so we rest up, recover and go again."