West Ham United hit six of the best at Celtic on Saturday afternoon and manager David Moyes was delighted to see the goals get shared around some of his big hitters.
Michail Antonio scored a first half brace, while Saïd Benrahma, Jarrod Bowen and Mark Noble also found the target, before youngster Armstrong Oko-Flex rounded off a highly-entertaining 6-2 win late on.
The manager, who started his playing career at Celtic Park, was delighted with what his team produced going forward on a sunny Glasgow afternoon and believes that bodes well for the team's potency as they move towards the new Premier League season.
He spoke with West Ham TV at the final whistle…
It was great to come back here and put in an entertaining performance…
We're pleased. We got a win, we scored some goals and a couple of our main players got goals too, which is really important to us.
You never know what the results mean in pre-season, but all I do know is we're getting better and I want a new West Ham who play and win, try to do the right things and I thought today we did a lot of the right things.
There were things we didn't do so well defensively and a lot of things we should have done even better going forward, but in the main it was a good performance.
All the main players are beginning to get goals and you want them to get the confidence because we want to keep doing what we did last year. I thought we were exciting to watch, we were entertaining at times, but while we're doing that we also need to make sure we're good enough at the other end. We conceded two today and we could have conceded a couple more on another day so we need to make sure we tighten that up. 
We have a great group of lads here and I want to add to that to ensure we keep on moving forwards…
We need to get more competition, that's the important thing if we want to keep the standards up, but I'll tell you what we've got and that's a great group of lads.
I'm really lucky because we've got a group of lads who are right on it, foot to the metal all of the time so hopefully we keep that going.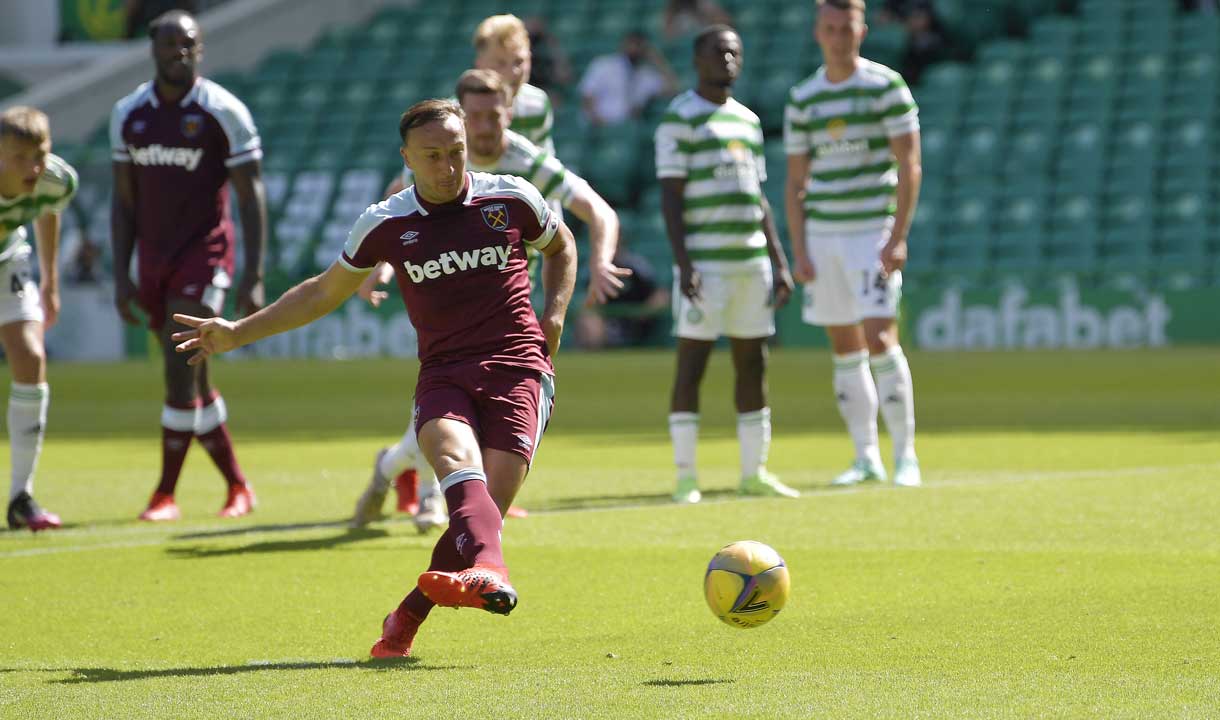 I was especially happy that my dad could come to see us play today, and I've learned so much from him and Celtic to take into my career…
It's been hard for him to get down to West Ham games. He'll be at all the games hopefully next season if the rules permit, so it was good that he could come to see us win and we'll have a few beers together after the game before I head back to London over the weekend.
He was the coach of an amateur team and as a boy I used to watch how they organised and the planning and I've been brought up in a real football family.
He was very much about the young players, and I found when I played for Celtic they were very much about young players too, always promoting their young players and trying to get them in the team.
I learned some really good habits and the big thing I learned at Celtic is that they want to play entertaining football and I thought in the first half they played very well today and gave us a really difficult game.
I thought the 18,000 in here today was 60,000. We've got a fabulous stadium at London Stadium and if we can get the noise there was today it'll going to be great. This club has had great European nights and I hope we can say the same too moving into the future.