Pablo Fornals was delighted to be wearing Claret and Blue once again on Wednesday afternoon, admitting he hadn't stopped thinking about West Ham United during his summer away from East London!
The 25-year-old playmaker returned to pre-season training later than many of his teammates, having been called up as cover by Spain for the UEFA European Championships after Sergio Busquets tested positive for COVID-19.
Wearing his new No8 shirt – formally assigned earlier this week – Fornals put in a typically industrious display at the Select Car Leasing Stadium during Wednesday's 3-0 pre-season win over Reading.
The Irons were well on top from the off in Berkshire, with Fornals seeing a smart header turned round the post inside the opening five minutes, before almost playing Jarrod Bowen in on goal with a cute round-the-corner pass.
The Spaniard departed the field at half-time with his team 1-0 up and with 45 minutes' valuable playing time under his belt, and admitted after the game that he was delighted to get back to doing what he loves best in West Ham United colours.

Pablo, welcome back! Was it nice to be back out there on the pitch?
"A hundred per cent! I was anxious to get back after this period of being at home.
"I was at home just thinking 'I want to be with my teammates, and I want to be on the pitch,' so these 45 minutes for me were massive."

Like a lot of the players, you've come back in good shape…
"Yeah, I think they were working really well in Scotland, and even here in London, we are preparing the squad for what we're going to face this season: more games, more competition inside our squad, and the Premier League, which is going to be tough again. We are working for that."

At the start of last season, you said we had to dream… and then we made it to the Europa League!
"Yes, and why should we have to stop dreaming? I think that we are in a great position. We did it. We dreamt last season, so why stop?"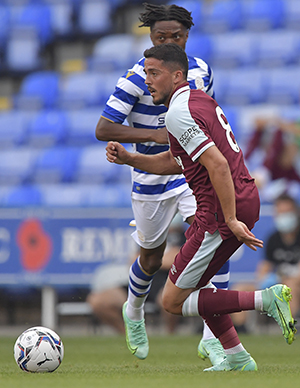 You've played in the group stages and knockout stages of the UEFA Europa League before. What's it like?
"It's an unbelievable experience, not just for the players – for the players, it's a hundred per cent – but also for our fans.
"We are one of the biggest teams in London and in England. We have fans around the world, everywhere, so if we go to play in Spain or Italy or wherever UEFA say, we're going to have our crowd there. It's a big moment to keep dreaming." 

You hadn't seen your family for such a long time before the summer break…
"I think everyone is the same – well, I don't know if everyone is the same – but this [football] is what I'm thinking about 24 hours each day! 
"When I'm not playing it, I need to play it again. I was at home enjoying time with my family, but obviously I couldn't stop thinking about how good it would be to be back! Our careers are just 15 or 18 years long, and we have to be ready for that."

And, of course, there was the news that your girlfriend is expecting a baby – congratulations!
"Thank you! We are waiting for our lovely boy. 
"Now, probably, I will stop watching so many matches and start watching cartoons – Peppa Pig, Dora the Explorer, these things! I'm really happy, really excited and I can't wait to see my baby's face."

Finally, you finished last season so well and got called up for Spain's shadow squad for the UEFA European Championships, which shows just how close you are to the full squad…
"Obviously everyone wants to be there, but I'm really happy about the way Spain did in the Euros. They had a strong team and just to be there training with them… 
"Maybe I wasn't in the 23-man squad, but maybe I was 24th or 25th or 26th, so it's not a bad position for a Spanish player. Obviously, that was all about what I did with my Club, so I'm really happy."