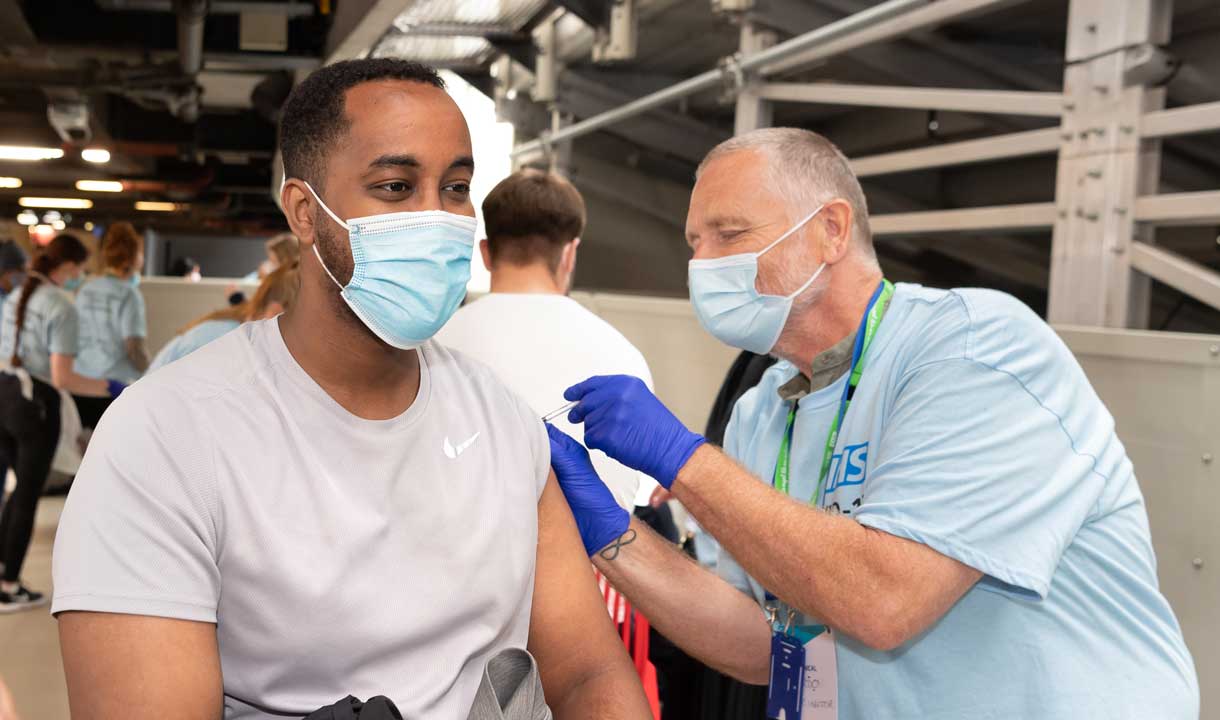 As part of West Ham United's ongoing pledge of support to the NHS across east London, we are offering everyone who has had the COVID-19 vaccine in north east London before the end of July the chance to win a new 2021/22 Umbro Home Kit shirt, signed by the squad.
COVID-19 affects everyone. People of all ages are being treated in critical care for the virus or struggling with long-COVID. Don't let that be you. Book your vaccine online, or go to one of the local walk-in centres near you.
To be in with a chance of winning the signed shirt you need to have had a COVID-19 vaccine by the end of July, and post a picture, video or message to Twitter saying you have had your jab. It could be you saying why you had it and how it went, or a picture of you outside a vaccination centre. It's up to you! Anyone who has been vaccinated already or gets their first dose of the vaccine by the end of July can enter. 
Just include the hashtags #Ihadmyjab and #WestHamComp in the Tweet. The winner will be selected at random from the entrants after 31 July 2021. 
Join your family, friends and the millions of people in the UK who have already had their vaccine. The more people who are vaccinated against COVID-19, the safer we all are, as getting the vaccine yourself helps others who are more at risk of COVID-19, even if they've also had the jab.
Not only does the vaccine protect you against COVID-19, it also means you may not need to isolate in certain situations, so you won't miss out on work, going to events or going on holiday.
If you are aged 18 or over, you do not need to wait to be invited for a vaccine, you can book online at a time and location that works for you. To find out where and how to get a vaccine, visit the North East London Health and Care partnership website for information about the 50 vaccination centres across north east London or use the National Booking System.
You can also get your second dose of the vaccine eight weeks after you had your first dose by booking it online. Having two doses of the vaccine reduces your chance of being infected with COVID-19 by almost 80%.
You must be 18 or over to enter this free draw. By entering the competition you provide consent for your vaccine image to be used in north east London's COVID-19 vaccination campaign. To win you must be able to provide proof you have had at least one dose of your vaccine and live in one of the following boroughs: Tower Hamlets, Newham, Waltham Forest, The City of London, Hackney, Barking and Dagenham, Redbridge or Havering.
The competition is being run by North East London Health and Care Partnership, which brings together NHS organisations, local authorities and community organisations in partnership with local people to support them to live healthier, happier lives.