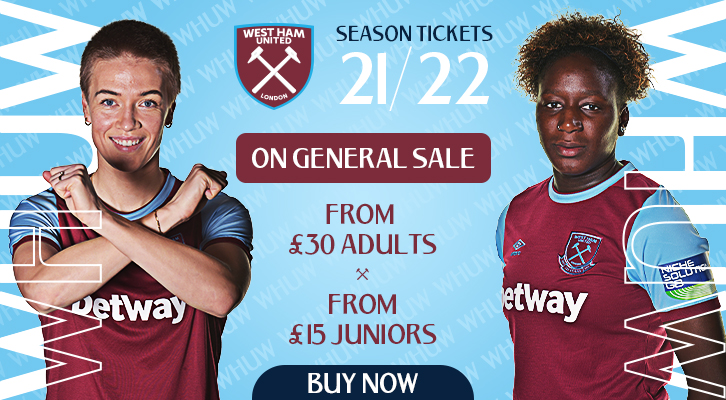 The long-awaited return of the West Ham United faithful is almost upon us, and you can be there cheering the team on at Victoria Road. 
Olli Harder's side finished the 2020/21 season strongly, playing a fast-paced, pressing style of football that will be sure to get you off their seats! The early acquisitions of Australian international midfielder Tameka Yallop, American defender Zaneta Wyne, English forward Claudia Walker and Grace Fisk securing her future at West Ham United, signing a new two-year contract, as well as former West Ham United full-back Paul Konchesky being confirmed as the new assistant manager of the team gives plenty of reasons to be excited for the upcoming season. 
The Club is actively working towards bringing in a number of players ahead of the new season, as well as looking to continue to give talented young players an opportunity. 
It was an incredibly tough year for the players without your support from the sidelines. Your backing has been felt – something the players appreciate and now they can't wait to have you back inside the stadium. 
 
Click here to purchase our 2021/22 Home Kit!
Captain Gilly Flaherty spoke of how much of a miss it was not having the fans during last years' campaign: 
"I think you can tell that we've really missed the fans. At games we had at Rush Green, they were the difference in us picking up late points in matches. They're always so supportive and vocal and I know that they've missed watching us play. 
"The support over social media has been great, but we can't wait to have them cheering us on against next season," she said. 

We would be delighted to have you on board to spur the team on in our 2021/22 campaign, with Season Tickets now available to buy online so that you can secure the best seats in the house at our home! We want to make West Ham one of the best supported teams in the WSL and we need the support of our loyal Hammers fans to make this possible. 
Tickets are available from just £30 for adults and £15 for juniors if you are a West Ham United men's season ticket holder. For non-season ticket holders tickets are available for just £40 for adults and £25 for juniors. 
We would love for you to come and support your local WSL team!

Click here to purchase your season ticket!