West Ham United is proud to be partnered with a charity making a positive difference to the lives of injured veterans and their families - Blesma, The Limbless Veterans
Blesma, The Limbless Veterans is one of only around ten charities that still exist from the 18,000 that were born out of the First World War. Our mission is to assist limbless and injured veterans to lead independent and fulfilling lives.
Around 40,000 British Service men returned from the Western Front having suffered life-changing injuries in a time when the National Health Service did not exist. To fill the gap, these veterans came together as local networks, sharing their knowledge, supporting each other, and lobbying for better employment opportunities for the war disabled. These groups later became Blesma, The Limbless Veterans.
Today, Blesma exists to guarantee that our limbless and injured veterans and their families are supported for life. Blesma provides its Members both young and old with the latest advice on prosthetics and benefits as well as life-changing rehabilitation activities. From those who fought in the Second World War, to young men injured in recent conflicts like Pete Norton, Blesma works to make sure no limbless or injured veteran is failed, forgotten or left behind.
Pete's story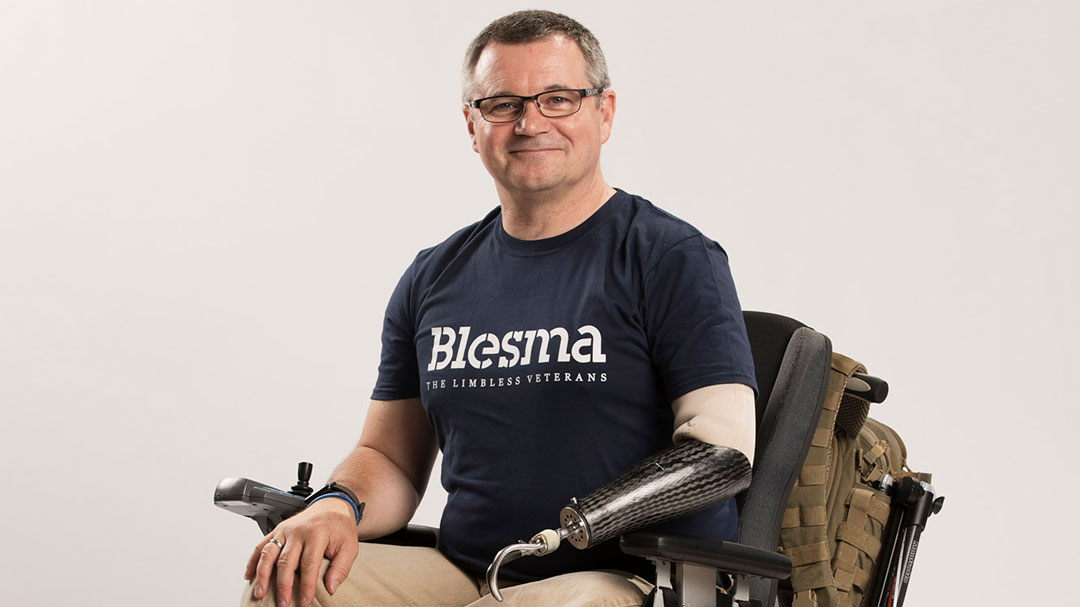 Some say Pete Norton is the bravest man in Blesma. It's not a title the modest, softly spoken man from Shrivenham in Oxfordshire accepts, but his story is a remarkable one. Not only was he awarded the George Cross for bravery on operations but because he saved American as well as British lives, he was awarded the FBI Star, the Bureau's equivalent of the Purple Heart. 
"I was an Ammunition Technical Officer in the Royal Logistic Corps," he explains. "My job involved anything that went 'whoosh' or 'bang'. I completed seven tours of Northern Ireland and worked my way up to WO1 Conductor RLC before I was commissioned in 2001."
I've rediscovered a love of photography. I've been to Mull, Anglesey, and Iceland with Blesma's photography group, the trips are just fantastic

Pete Norton
Pete was injured in Iraq in 2005. "I was second in command of a Coalition unit that was weapons intelligence; we would investigate explosions, finds of bomb making equipment, shoot downs of helicopters – it all fed into the intelligence cycle. It was like CSI Miami but on steroids, and real!"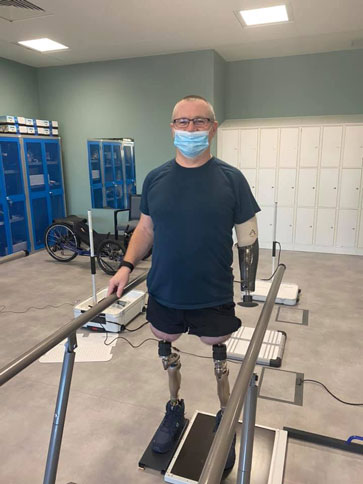 There was also great danger. "While I was out there, I trod on a pressure pad. Underneath it were two 122mm artillery shells. Thankfully, although they exploded, they didn't quite detonate as designed. But I lost my left leg above the knee, my left arm below the elbow, and suffered quite a lot of back injuries."
Pete's quick thinking immediately after the attack was lifesaving. His refusal to be treated for his imminently life-threatening injuries until everyone else was safe eventually saw Pete decorated in both the UK and USA.
"I remember everything – I was conscious throughout. 
"The worst thing after the explosion for me was the fact that my team was in danger. It was a high threat area, so I was doing a one-man check around. I could see my guys coming forward, but I stopped them as I strongly suspected there were more IEDs and briefed them about what I'd done."
After guiding them in, Pete was given life-saving treatment and put on a Black Hawk helicopter, but Pete's rehab that followed was tough. He spent "surreal" weeks drifting in and out of a coma. And after a year in hospital and another at the Defence Medical Rehabilitation Centre at Headley Court, he returned to work in 2007.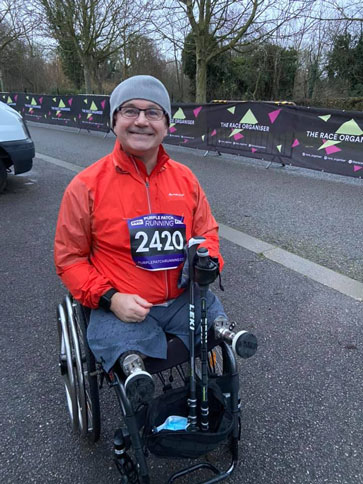 Pete has kept busy with his work in the military intelligence field ever since and has even rekindled a passion thanks to Blesma.
"I've rediscovered a love of photography. I've been to Mull, Anglesey, and Iceland with Blesma's photography group, the trips are just fantastic. 
"And Blesma has helped me in other ways; I was one of the first claimants of the Armed Forces Compensation Scheme, and Blesma guided me through that. But just as important is the work the Association does when it comes to the welfare and integration of its Members and making sure they keep active. 
"Just last year, Blesma facilitated a grant to enable my wife and I to fly out to Australia for MoD funded life-changing surgery; in one operation I had my non-functional leg amputated and bilateral trans-femoral Osseointegration carried out, with the eventual aim to get back up walking after 15 years in a wheelchair." Pete completed a 5km walk on the new osseointegration stubbies just before Christmas, raising £11,375.65 for Blesma.
"Blesma truly is a great charity, with its Members needs at heart and is always there if I need support." 
For more information on what the charity does or how to support us, please visit https://blesma.org/support/ or to donate £3 today simply text WHFC to 70085