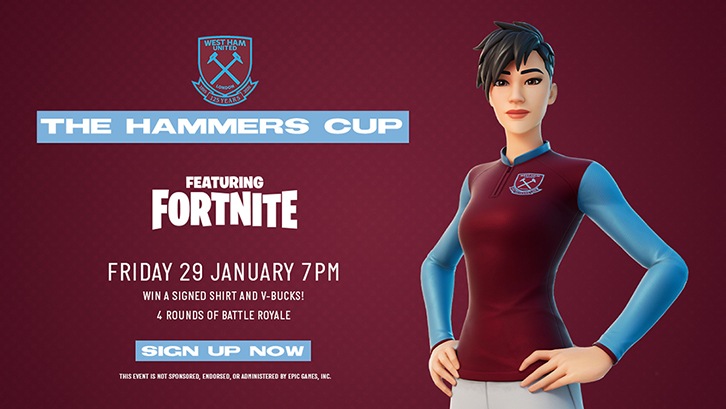 Wear your kit with pride, West Ham United fans: this week, we're launching the very first edition of The Hammers Cup featuring Fortnite!
Up to 100 lucky Fortnite players – including one very special guest, to be announced – will participate in an exciting tournament on Friday 29 January, 7pm until 9pm.
The event will also be broadcast live for fans to watch on the West Ham Esports Twitch channel.
The Hammers Cup comes at the culmination of West Ham United and Epic Games' celebration of global football in Fortnite, with "Kickoff Set" Outfits available until the end of the week in Claret and Blue colours.
Following four rounds of solos Battle Royale mode, the winner of The Hammers Cup will be the player who amasses the most points as per the scoring system in the tournament rules.
The winner will earn a West Ham United first-team shirt signed by members of the first-team squad, as well as 3,000 V-Bucks in gift cards. The second-placed player will win 6000 V-Bucks in gift cards, and the third-placed player will win 3,000 V-Bucks in gift cards.
The Hammers Cup is open to players aged 13-years-old and above.  
Please note that players between the ages of 13 and 17 years of age will need to submit a signed parental consent form to [email protected] along with their application.
All players will need to have an Epic Games ID and Discord username before registering, and they will need to familiarise themselves with the The Hammers Cup Rules and Code of Conduct.
We anticipate spots will be snapped up quickly – so fill out your forms below! We will be in touch with successful applicants imminently to invite them to the Discord channel, where further information will be revealed.
Good luck!