David Moyes will grant himself a belated Burns Night drink after seeing his West Ham United squad continue their perfect start to 2021.
The annual celebration of the famous Scottish poet fell on Monday, but the manager was too busy preparing his Hammers for their Premier League fixture at Crystal Palace to enjoy a supper of haggis, neeps and tatties and a wee dram of scotch whisky.
Those preparations paid off as West Ham came from a goal down to win 3-2 at Selhurst Park, with Tomáš Souček scoring twice in the first half before Craig Dawson powered home his first Premier League goal for the Club midway through the second.
The Irons created 17 goal attempts, seven of which were on target and two of which hit the frame of the Palace goal via Michail Antonio's right boot, and could have won by a wider margin, but Moyes was satisfied with the overall performance of his team and another three points.
His West Ham team sit in the top four overnight and look forward to Sunday's home game with Liverpool with confidence and belief that they can extend their winning run and maintain their place near the top of the table.
Let's keep them going, because I'm not getting tired of winning, that's for sure!
I just hope that it's giving the supporters something to really get excited about, and they see hopefully we're here to stay and we're not going to go away.
I think the bigger thing tonight was that we played well. There have been other games where we've got results but I didn't really like the performance, but tonight I really liked the performance.
The only thing I didn't like was the finishing because we could have had four or five, but I've told Micky I hope he's saving his goals for the upcoming games!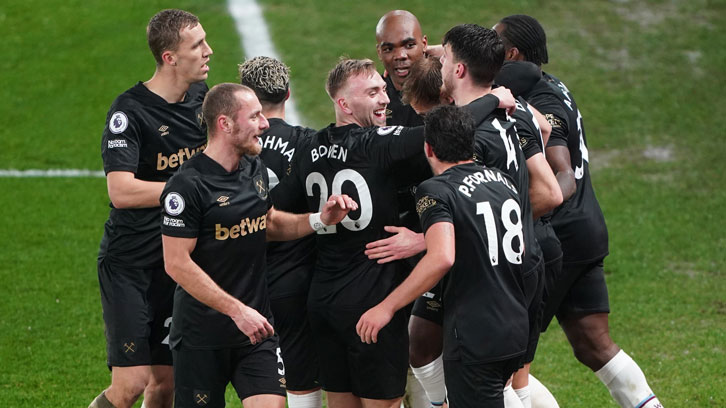 It wasn't the best night here. It was a big ugly weather-wise when we first came out and they got the goal and I was thinking 'Here we go. What sort of night is this going to be?', but the boys dug in great.
Declan is a great example of that and he led by example throughout the game, while Tomas Soucek was a great example of 'We are not giving up on it and we are going to keep going'.
It's not always going to be our day, but we're doing well at the moment and we want to keep that going.
I keep saying that Tomas has got a great goalscoring record and he's a great boy and he's a good footballer as well.
When you think from a year ago when we bought him, the difference he has made to the team is fantastic.
Yes, you can talk about a lot of players but there has been an incredible lot of improvement from so many different players and long may that continue.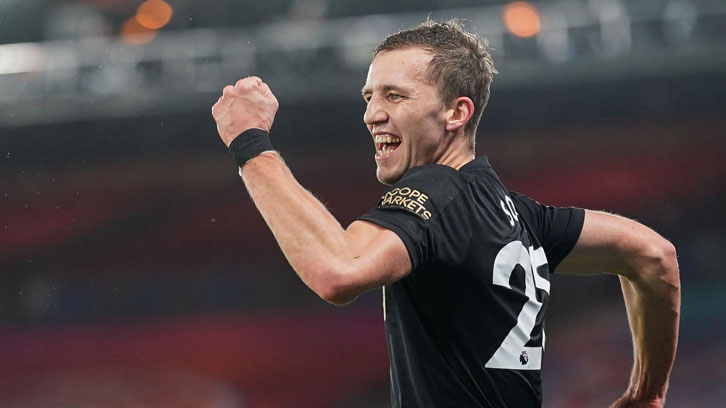 We are in the top four tonight and we want to raise expectations, but we've also got to be mindful and we don't want people getting carried away, but don't think for a minute that I'm giving it up!
We're on it and the players are on it and I think they can even do much better.
I think we are only scraping the surface and there is a lot more to come.
I'm looking forward to all the games but with the amount of games we've got, I'm just going to enjoy a glass of red wine when I get home tonight!
It was Burns Night last night and I hope everybody had their haggis last night!
I would have a wee dram if it was offered but I'm not really a whisky drinker, but I might have a glass of red wine because it was a really good win.
We've won away at Leeds and at Everton and now we've come to Palace and won, so we're picking up some really good points away from home.