Interviews
Kevin Nolan seeking to extend Doncaster unbeaten record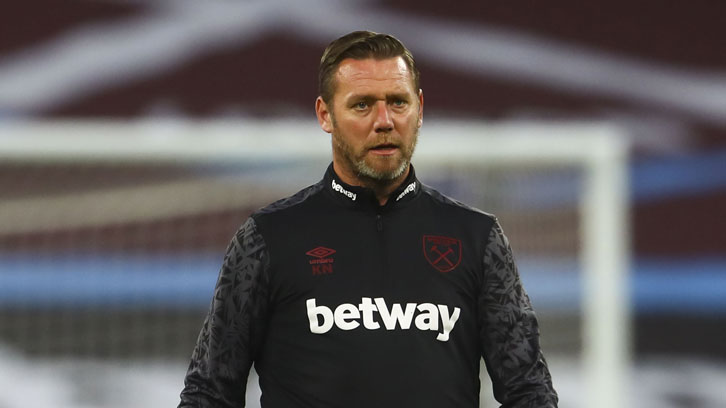 Unbeaten against this afternoon's opponents as a player, the boy always Don good.
And now as West Ham United prepare to face Doncaster Rovers in the Emirates FA Cup fourth round, Kevin Nolan will be in the London Stadium dugout, hoping that he can help David Moyes' men to navigate their way into the last 16 of football's most-famous knockout competition.
Winning three and drawing one of his Championship encounters against the visitors with West Ham and Newcastle United, the first-team coach netted a trio of goals – plus an assist – in four matches, including two strikes in Claret and Blue during 2011/12.
We're now going into the second half of our campaign and have simply got to carry on doing our job in every single match

Kevin Nolan
"When I first arrived at the Club, I realised there was a long season ahead for us all," recalls the 38-year-old, who first moved down West Ham way from Newcastle United in June 2011. "Following the previous year's relegation, Sam Allardyce had been appointed as manager and we all knew that we needed to work hard to make sure that we won promotion straight back to the Premier League.
"Alongside Matt Taylor and Joey O'Brien, I'd made my debut in our first match of the season, but Cardiff City came to the Boleyn Ground on that opening Sunday and spoilt the party [with Kenny Miller's late winner securing a 1-0 away win]. Our next game was up at Doncaster Rovers and it was important that we got something from the second match, otherwise people would've started to ask questions.
"Fortunately, we got off to a great start and I volleyed home Jack Collison's cross on five minutes. After the Cardiff disappointment, that early goal gave us all a lift and we went on to put in a determined and gritty performance," continues Kevin who, having bagged his first goal for the Club, went on to net 31 times in his 157 appearances for the Hammers. "We headed home knowing we had the resilience to grind out 1-0 wins in difficult away fixtures and, having got three points on the board, it certainly settled us down."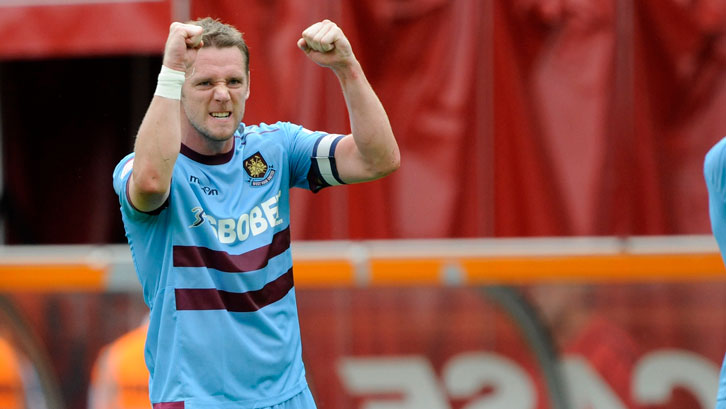 Nemesis Nolan also struck early in the Boleyn Ground return in March 2012 before seeing his ninth-minute tap-in subsequently wiped out by James Coppinger – who turned 40 this week and is still turning out for the visitors – as the second-placed Hammers were forced to settle for a point in the middle of an eleven-match unbeaten streak.
"As the weeks and months had worn on, we'd really begun to bond as a team and just got stronger with our challenge and, as everyone knows, we eventually ended up achieving our target of getting promoted after beating Blackpool in the 2012 Play-Off final."
Having already climbed the steps up to the Royal Box to collect silverware as a West Ham United captain at Wembley, Kevin knows only too well what an FA Cup final would mean to the Hammers fans, come Saturday 15 May.
But, for the man who joined Moyes coaching staff last February, this Saturday is all about concentrating on the job in hand.
"Never look past the next round," he warns. "It's easy to start jumping ahead and, although it's a well-worn footballing cliché, everyone really does have to take each tie as it comes. All I'd say is that we've got a really strong belief that we can beat anyone right now and, of course, we want to have a decent FA Cup run but we've got absolutely no automatic right of passage into the next round.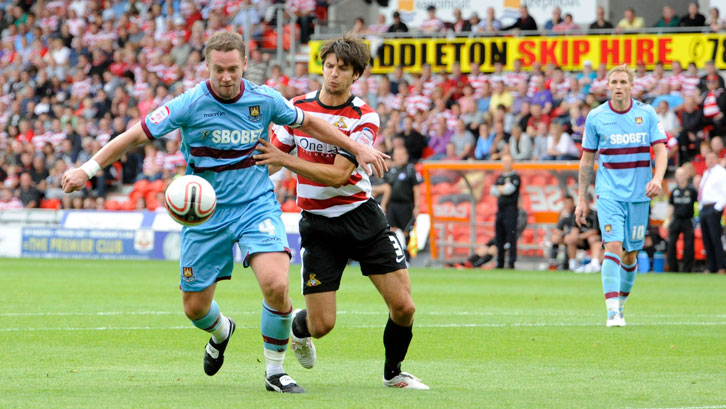 "Tuesday night's game against West Bromwich Albion was our 19th Premier League match so we're now halfway through the season. We went into that game unbeaten since Christmas and with four successive clean sheets, while we've also shown that we can score goals, too. We've built up momentum, we're in the top half of the table and, overall, it's been a good start to 2020/21 but as the manager constantly reminds everyone, we mustn't rest on our laurels.
"We're now going into the second half of our campaign and have simply got to carry on doing our job in every single match," insists the Merseysider, knowing that Saturday afternoon's prize is a tricky trip to his native North West. "Our first task is trying to overcome Doncaster to reach the fifth round, where the winners of Saturday's tie will face very good opposition – either Manchester United or Liverpool.
"After beating Charlton Athletic and Hull City, we were disappointed to lose at Everton in the Carabao Cup back in September so, hopefully, we can make up for that in the FA Cup.
"With everything that's gone on in the world, it's been a terrible year for everyone and we'd love to get our supporters back into London Stadium as soon as it is safe for everyone to return," concludes Kevin. "Yes, it'd be fantastic for our fans if we could make those latter rounds but, first-up, it's about building upon our successes to date and putting in a hard-working performance on Saturday afternoon."