West Ham Tv
David Moyes: We're happy with the result, but disappointed with the performance
David Moyes was happy with the result but far from happy with the performance in Tuesday's 2-1 Premier League win over West Bromwich Albion at London Stadium.
The Scot's West Ham United team made it three top-flight wins in a row and extended their perfect start to 2021 with a hard-fought victory over Sam Allardyce's struggling Baggies, with Michail Antonio and Jarrod Bowen getting the goals either side of Matheus Pereira's equaliser.
But while Moyes was pleased to see his side rise to seventh in the table with 32 points - the Irons' best haul at the halfway stage of a Premier League season since 1985/86 - he said he and his players were still disappointed with the way they played against West Brom...
Thirty-two points is a good return for halfway through the season, and I've just told the players 'well done' for that, but I didn't them 'well done for the performance tonight'.
I told them 'well done for the result' and 'well done for where you are the points you've got', but I want this to be the start and not the finish.
I want us to find ourselves keeping up with the big boys if we can.
I thought we scored two goals goals tonight.
They were both crosses beyond the far post that were knocked back across the goal and Mickey's goal was a great finish, while the earlier one Jarrod instinctively chested it in.
They are two players from who we want to get goals. We want them to come from our attacking players, so it's always good when they score.
We are aware that Jarrod is someone we want assists and goals from, so that will do him the world of good.
He had a little bit of a dip, but I think he's beginning to get back to it now and is showing signs of it and obviously that goal will give him great confidence.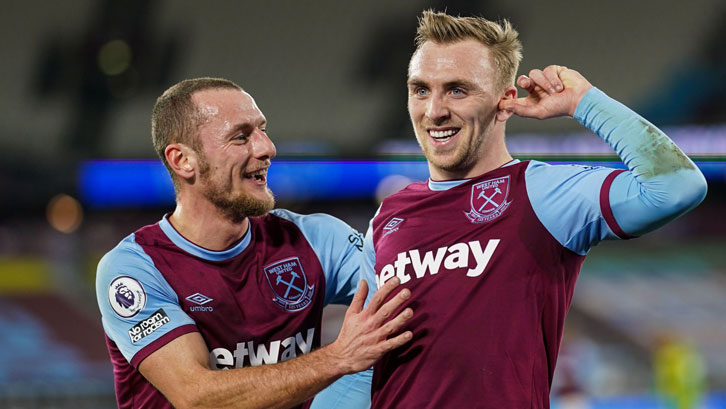 We're in the dressing room and we're all a bit disappointed we didn't do as well as we'd have liked.
But it was a tough game, it was a really tough game, and you've got to remember West Brom have got some good results - they drew at Anfield and they've just won at Molineux - so let's not kid ourselves how good this result is tonight.
It's a great result, but I've set standards for the players and I don't think we reached them tonight. We didn't pass the ball well enough at times and our control looked poorer tonight than it has been.
But then we've just played Burnley and we've just played West Brom, who are two difficult teams to break down. We've had bits of the ball at different times and it's not quite worked for us as we'd have liked, but great credit to the players to have got the points they have got to this point.
What else can we do but try and beat 32 points in the second half of the season?
Our plans now are to look up, but I am not going to tell the supporters that I am going to promise them, because I think it's happened here in the past and I'm not going to do that.
I am going to tell them that we're going to keep at it, driving them forward to get results in every game.
We want to improve and give you a really good team, but I can't promise anything.