Women
Kate Longhurst: It was a performance we can build on
While lifelong West Ham United supporter Kate Longhurst will never happily accept losing a London derby, the Hammers midfielder did see the positives to take from Sunday's defeat to Tottenham Hotspur.
In their first match under new manager Olli Harder, the Irons deployed a new system and shape in accordance with their new coach's footballing philosophy – and the differences were palpable.
The result saw a display of real intensity and industry from West Ham, albeit one without much luck in front of goal, as Lucy Quinn's first-half strike – arguably Tottenham's only clear opening of the match – settled the score.
While the Hammers committed bodies forwards in the search of an equaliser in the second half, they were unable to fashion too many opportunities of their own against a committed Spurs defence – but Longhurst noted the promise for the weeks ahead.
"I think we actually were by far the better team," she told whufc.com. "In the second half they couldn't really get out, except for maybe a couple of counters, but the display gives us so much to be positive about for the season going forward. 
"We've worked really hard under Olli. He's wanting us to play a new formation, a new system, that requires a lot of work, but the girls are all really buying into it. 
We're all enjoying training every day and of course we're gutted, because we don't ever want to lose against Tottenham – or anyone – but it's certainly something we can build on."
The new system entailed new responsibilities from the players in Claret and Blue, but none of them could be accused of not applying themselves fully to the task in hand.
 
It's a different way of playing, but it's definitely on the front foot which we want to be as a team. Olli's got us working hard, and I think the results will come

Kate Longhurst

Longhurst expanded: "I think we've all gone into the game knowing exactly what Olli wants from us, how we want to play, who's pressing who, who's responsible for what, and we've really bought into that. 
"It's a different way of playing, but it's definitely on the front foot which we want to be as a team. He's got us working hard, and I think the results will come. 
"Down the line, we're going to be a real force with this level of coaching and level of commitment from the players. It's something to be positive about."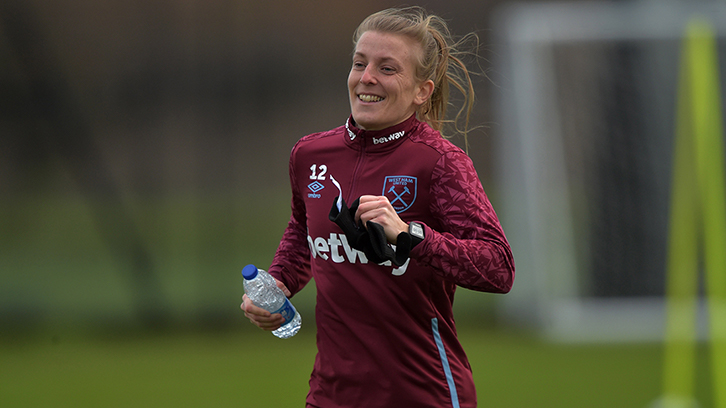 Harder and the Hammers won't have to wait too long for the opportunity to put things right, with an FA Women's Continental League Cup quarter-final tie against Durham to come on Thursday evening.
Longhurst feels the combination of that incentive – plus the added momentum of Harder's early impact – means there is plenty to be optimistic about.
"We can't win the league with the position we're in, so it gives us something that we can focus on to try and win," Longhurst said of the Durham game.
"I think none of us want to come away from the season without getting to a final or doing something in the league, so it gives us a real opportunity to get into the semi-finals – and then from the semi-finals, it's anyone's game. We have to play like that and then have a little bit more quality in the final third.
"We're really positive about the way things are going at the moment. In the two weeks since Olli's come in, we've really adapted to it well. We've had a lot of information, a lot of training – and a lot of running! – but we're excited. 
"It's definitely something we're looking forward to and I really think we can progress with this."