Women
Olli Harder: I'm pleased with what I'm seeing after just two weeks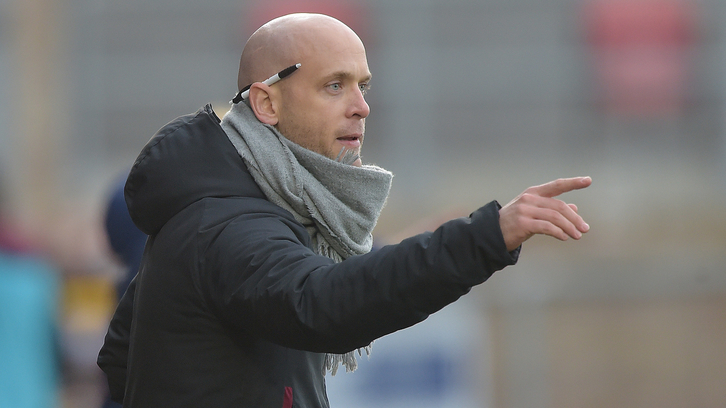 West Ham United could count themselves unlucky as they fell to a 1-0 defeat against Tottenham Hotspur at the Chigwell Construction Stadium on Sunday afternoon.
The Hammers gave everything in a full-throttle display, but failed to find a response to Lucy Quinn's first-half strike for the visitors.
Recently-appointed manager Olli Harder was in the dugout for the first time in east London for the Barclays FA Women's Super League clash.
Harder, who joined the Irons on 23 December but took to the training pitch for the first time earlier this month, was impressed with his side's performance, albeit in defeat.
"We're disappointed that we didn't get the three points today," he said.
"We didn't get anything out of the game but on the whole, two weeks in, we're pleased with a lot of the things that we're seeing on the pitch."
 
It's fantastic for me to see because a lot of what I want to do is about energy and application, we're just missing some of that quality in the final third.

Olli Harder

West Ham enjoyed long spells of possession and carved out numerous openings at a bitterly cold Chigwell Construction Stadium. It was, however, the work his side did without the ball that was most noteworthy.
Afterwards, Harder spoke of his eagerness to implement a dynamic pressing style.
"You can see from today I want to implement a pressing style," he explained.
"After just two weeks, we're up the field and we're still pressing after 85 minutes. It's fantastic for me to see because a lot of what I want to do is about energy and application - we're just missing some of that quality in the final third."
The new women's boss has had to wait for his first match in charge after last weekend's trip to Manchester City was postponed, but the New Zealander wasn't surprised by the high standard of his first WSL game.
"It's nice to get the first game out of the way," Harder continued. "It's obviously not nice to lose but it's great to get it out of the way and now crack on with the rest of the season.
"The league is as I expected it to be: it's very physical. The pace is certainly there, the technical quality varies from team to team but the standard is about what I expected."
There were plenty of positive individual performances to point too also on Sunday afternoon, and Harder took time to praise the efforts of his backline, who battled admirably throughout.
"We're particularly pleased with our defence today. Gilly Flaherty has done well and controlled lots of difficult situations. Grace Fisk has had an outstanding game.
"We want to tweak a few bits and pieces but then I think we'll be able to get some results in the future."
With the quarter-final of the Continental Cup against Durham this Thursday evening, Harder may not have long to wait for a more positive result.
"If we can rinse and repeat from here, and perform to a similar level, then we should expect a good result," he surmised.
"A quarter-final like that is a great opportunity and we'll be treating it like it's any other game. We're playing to win and hopefully we can get a good result against Durham."
West Ham United play Durham in the quarter-final of the FA Women's Continental Cup on Thursday 21 January. Kick-off is at 5:30pm and you can follow all the action on whufc.com.