West Ham Tv
Mark Noble | 500
Mark Noble has worn dozens of different West Ham United shirts during his long and illustrious career with his boyhood Club.
To mark the occasion of him reaching 500 appearances in Claret and Blue in 2020 – and White, Navy Blue and Black – the captain shared his standout memories, inspired by the shirts he has worn along the way.
Noble's senior debut arrived on Tuesday 24 August 2004, when the 17-year-old was introduced by manager Alan Pardew as a 68th-minute substitute in a Carling Cup second-round win over League Two side Southend United at the Boleyn Ground…
"To be honest, it was a little bit of a surprise for me. I think it's been well documented over the years that I was named on the bench. My Mum and Dad were in Cyprus at the time, but I was just overwhelmed and with our support there it was unbelievable. I had five of my mates there. 
"I remember the emotion of coming on in front of the crowd and playing and coming off after and being in the changing room with the first team, and being in awe of everything. "Then, realising my wife now, my girlfriend then, Carly, was waiting in the Players' Lounge for me and we decided to walk home because it was only through East Ham and over the bridge to Beckton, it was a surreal feeling really. It's gone so quick since then as well, really quick!"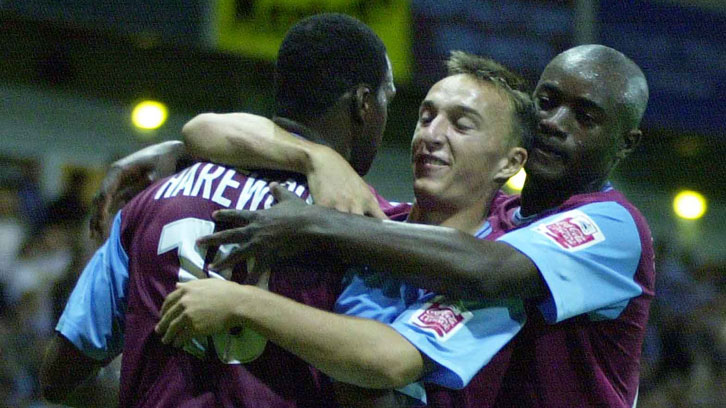 Noble did not establish himself immediately in the first team. Instead, he had to wait two months for his second substitute appearance in the Carling Cup fourth round at Chelsea – a game the Hammers lost, but which also featured Jimmy Walker's penalty save from former West Ham midfielder Frank Lampard…
"I've still got a photo in my house on the wall of me running in for Lamps' penalty and Jimmy saving it with his knees, with his legs, and three of my best mates are in the crowd in the background and you can see their faces. They're in shock, as in just before Jimmy saved it, and it's a great photo. This is what this shirt reminds me of actually. I've actually taken it off after the game to exchange with Lamps, and I looked like such a small kid compared to him. I was tiny and that was probably the same shirt, extra-large!
"I remember Pards turning around and saying 'Get ready' and I think it was 40 minutes into the game, and I was like, 'What, now?!'. Whether it was half-time or just after half-time I came on, I got quite a lot of the ball, it was a great game to be involved in."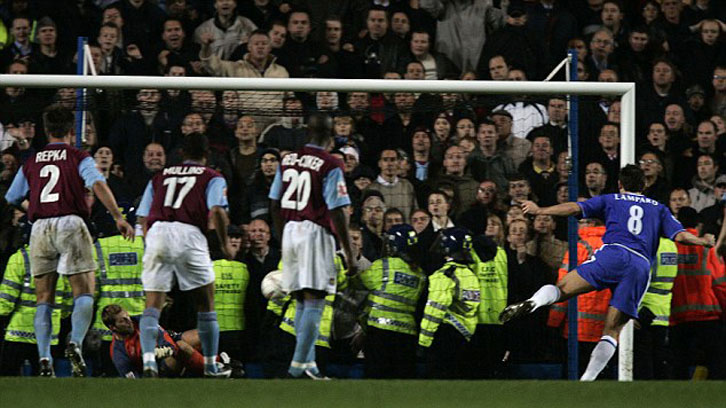 Speaking at the end of the 2003/04 campaign, which ended in the frustration of a Play-Off final defeat by Crystal Palace, Pardew said Noble's emergence had been 'the high point' of the season, and how the teenage midfielder had a 'natural gift for football'. West Ham would go on to win promotion in 2004/05 and Pardew handed the then 18-year-old his full Premier League debut at Tottenham Hotspur on 20 November 2005…
"I remember Pards calling me into his office and saying 'I'm going to play you tomorrow' and it was Spurs away, and an incredible game, I think we drew 1-1. I actually scored, but it was ruled offside. Maybe it would have counted now with VAR, but you never know. It's different now, as I've become accustomed to playing, and accustomed to fans, and accustomed to your mates being there, but that was a real special moment playing at White Hart Lane against Michael Carrick and Edgar Davids, which was fantastic."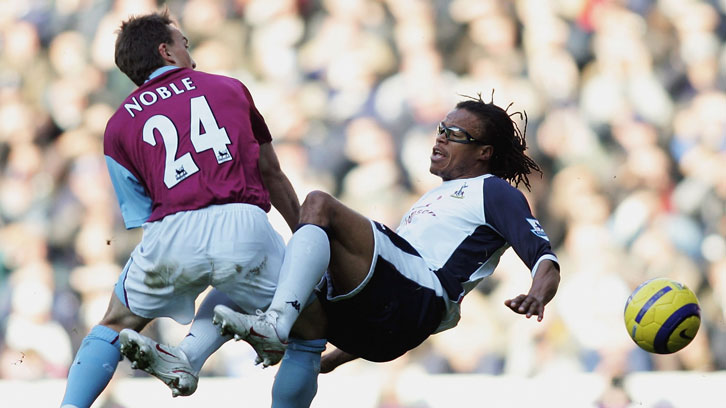 After appearing six times in 2005/06, Noble was loaned to Hull City and Ipswich Town before returning to West Ham in late 2006. Pardew's successor Alan Curbishley picked him for an FA Cup third-round tie with Brighton & Hove Albion on 6 January 2007, but he then spent two months waiting for another opportunity. When it came, it was in the dramatic 4-3 home Premier League defeat by Tottenham Hotspur that sparked the Great Escape, which ended in a 1-0 win at Manchester United on 13 May 2007…
"When you look at that shirt and you think all of us standing there cheering at the crowd at the end of the game at Old Trafford… How many years ago was that now? 13 years ago? It's amazing how quick that goes. but I think that's the real beauty of the memories you get.
"It's mad because you do look at the shirts and they do remind you of certain players and certain times. That one is Manchester United away and Carlos Tevez – what a memory that was. I remember looking at the clock – I think there was 15 minutes to go, and Ginge (James Collins) kept on talking to me saying 'We're nearly there, 15 minutes to go – this is the longest half in history!' It was brilliant!"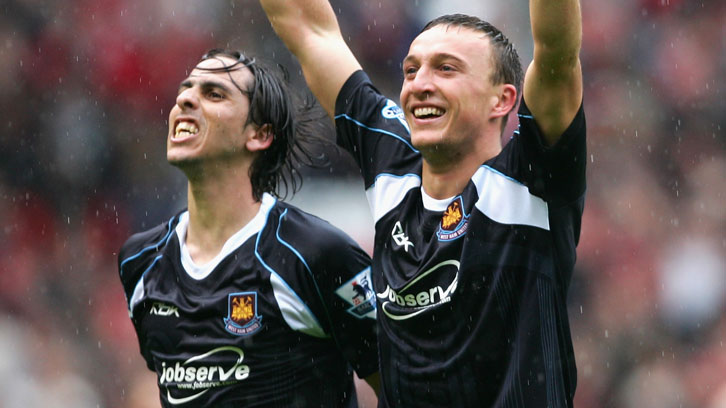 Noble would establish himself as an integral part of the team over the following seasons, featuring regularly under Curbishley, Gianfranco Zola, Avram Grant and Sam Allardyce. After suffering the disappointment of relegation in 2010/11, he scored a career-high eight goals and was crowned Hammer of the Year as West Ham bounced back to win promotion via the Championship Play-Off final in May 2012, when they beat Blackpool 2-1 in the final courtesy of Ricardo Vaz Te's late winner…
"When I picture this shirt it reminds me of Ricardo Vaz Te and the Play-Off final, which was just a real iconic moment for the football Club."
"After the game, I remember getting straight onto a courier bike straight to Heathrow and going straight on my stag do. I remember asking Big Sam a couple of weeks before saying, 'Look, if we win it, I'm getting married a week later, so I need to have a stag do at some point!' You can imagine what it was like getting promoted and winning the Play-Off final, and then going straight onto a stag do.
"It was probably one of the best weeks of my life, that. I had five days away with the boys, then flew home and got married, honeymoon… it was just incredible."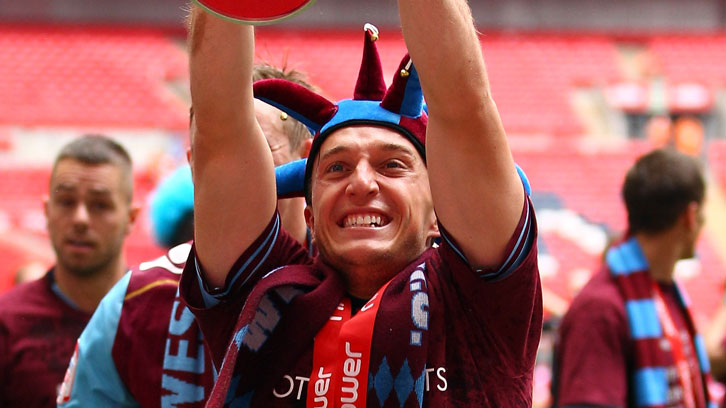 Noble remained central to Sam Allardyce's plans on West Ham's return to the Premier League, signing a new contract in September 2012 and helping the Irons to a top-ten finish. In 2013/14, he was an ever-present for the first time in his career, enjoyed a Premier League 'double' over Tottenham Hotspur and was named Hammer of the Year for the second time…
"When I see this kit I just see Ravel Morrison in it and Joe Cole when he came back. Ravel at Spurs away… I remember he was training with Big Sam, and he went 'We're not going to play a striker, we're going to sort of play a box in midfield', and we didn't have a striker fit at the time. It worked a treat! That goal from Rav… I still speak to him every now and then. I've got a lot of respect for him, I think he's a great kid and is a special footballer, and for that time at West Ham some of the things I saw him do were incredible.
"West Ham fans love someone with that sort of ability and skill. They love that hero, like Paolo was, and Rav will go down in history with West Ham because of that goal he scored against Spurs, for sure."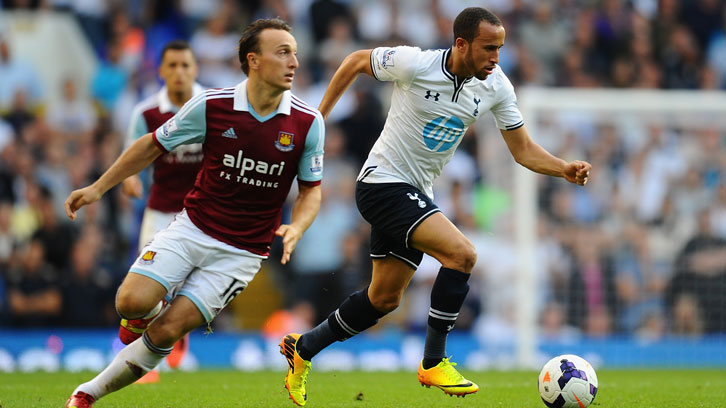 The 2015/16 season is one neither Noble nor anyone associated with West Ham United will ever forget. Under Slaven Bilic's management, Noble was appointed captain and was awarded his Testimonial, the Hammers challenged for UEFA Champions League qualification and achieved record highs in Premier League points and goals scored. It all ended with an unforgettable 3-2 win over Manchester United in the Final Game at the Boleyn Ground…
"This shirt just says Dimitri Payet and the last ever game at the Boleyn, that's how I remember it. Looking back that season we were so good at times, probably two or three results cost us a Champions League spot actually. That was one of the best seasons I've ever had for sure, not just personally, but the way we played, the feeling within the football club at the time…
"We knew it was the last ever season at Upton Park, and what a special place that was. That was one of the best seasons at this club and I think the fans would say that as well. To watch the way we played that year and to watch Dimi come into West Ham as a sort of unknown. Obviously, we knew he was a good player, but I don't think anyone knew quite how good he was at times.
"I was so proud as a captain of the football Club to lead us out at that stadium. As captain, and for the season we had… I think I got seven or eight goals that year – it was just incredible."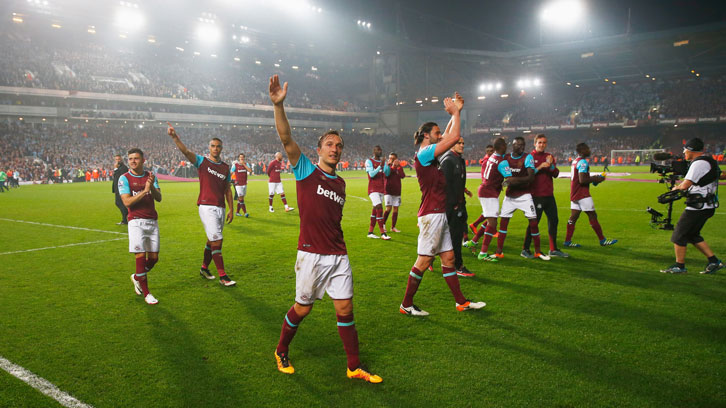 The summer of 2016 saw West Ham United move from our home of 104 years, the Boleyn Ground, to London Stadium in Stratford. There, Noble led out his boyhood club to face Italian giants Juventus in the official opening fixture – another proud moment in a career full of moments he will never forget…
"To lead this Club out at that stadium, out of Upton Park and the Boleyn, and to lead the Club into the new stadium, for me, who was brought up a West Ham fan and live two minutes away, to have that history behind me was pretty special.
"I remember playing against Juventus. I remember pressing straight away, and Dani Alves and Paulo Dybala, I think they played three one-twos with their heads around me! I thought 'Ooh, you can't really do that at this level'!"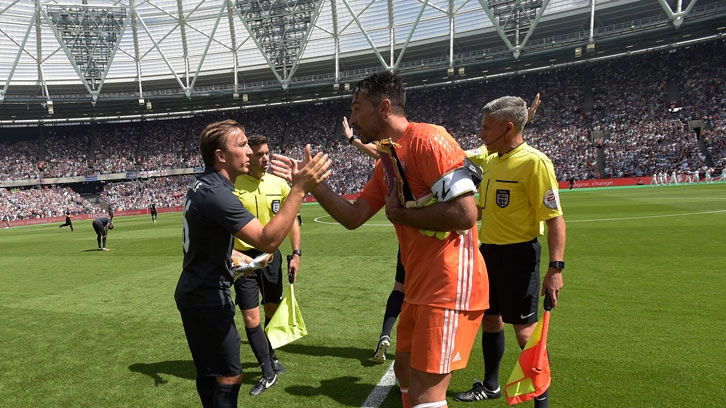 Nearly 16 years on from making his debut, Mark Noble became the tenth player to reach 500 first-team appearances for West Ham United – the Club he has supported all his life…
"My first ever start, we were playing against Norwich at home in the FA Cup in January 2005, and I went home to my house and sat on the end of my Mum and Dad's bed, and I'll never forget my Dad saying to me, 'You're a West Ham player now. No-one can ever take that away from you.' If my career had stopped then, at that moment, I would have said 'thank you very much, I'll go and get a job. I've played for West Ham.' To be nearly 500 games in, stuck with it through thick and thin, sad times and happy times, and seen it through… 
"Every time I pulled on the shirt people could say 'he might not have played well today, but he gave it his all', do you know what I mean? To have the staff here and obviously I know nearly all of them, apart from the new ones over here that I probably haven't met yet, but they can say 'he was good around the place, and he looked after everyone. He was a good servant and good ambassador,' for the fans, really, because that is the Club. The fans are the football club and they're the ones that pay the money and come and watch and buy these kits, and without them there's no football club really, so if people walk in the Stadium in five or six years' time, and I have finished playing – probably quicker than that, actually! – I can walk in with my head held high and say 'I gave everything'."