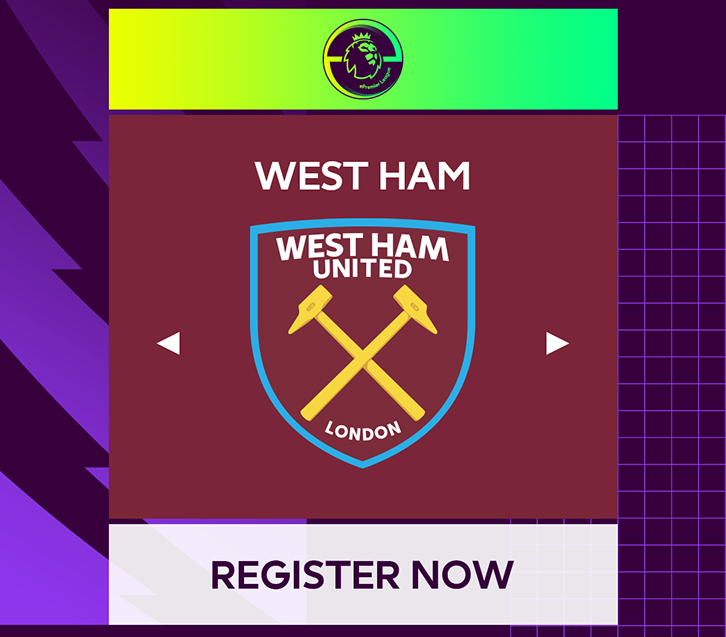 Claret and Blue Army – it's your last chance to take your shirt: registration for the 2020/21 ePremier League closes at 11.59pm on Friday.
And while early qualifiers are underway, there's still time for West Ham United supporters to register for the chance to represent the Club on the biggest domestic Esports stage of them all.
This year's qualification stage offers the same entry platform to each participant: games must be played in 90-rated Online Friendlies mode as West Ham United, so every player has same squad with which to compete initially.
EA SPORTS FIFA 21 players on PlayStation4 and Xbox One, aged 16 and over, can sign up via the ePremier League website.
Online qualifiers opened on 4 January and conclude on Sunday 31 January.
Gamers can play qualifiers and win points between the hours of 5pm and 11pm on weekdays and between 8am and 11pm on weekends. There will be no limit on the number of games they can play during Online Qualification.
Competitors for all 20 Premier League clubs will be battling it out over the next three months through online qualification and club playoffs for the chance to be named one of their team's champions, who will pull on Claret and Blue at the live ePL Finals in Spring 2021 – from where they could bring the trophy home to east London.
Following this month's qualifiers, Online Club playoffs, where players can only use Premier League players in Ultimate Team mode, will take place in February, before West Ham's two console representatives advance to the finals in the Spring.
The main event will once again be broadcast live on Sky Sports, Premier League channels and EA SPORTS FIFA Twitch channel. Over the last two seasons, the finals reached more than 22 million fans.
This season's ePremier League winner will take home the trophy and a share of the £40,000 prize pot, and there will also be seats on offer for top-performing players at the EA SPORTS FIFA 21 Global Series (FGS) European Playoffs - parachuting them into one of the international FIFA scene's most prestigious competitions.
After a remarkable run in the early stages of last season's ePremier League, West Ham United's Jamie 'Jamboo' Rigden went all the way to the live televised Xbox semi-finals of the competition.
There, he mounted a dramatic comeback from 4-1 down in the first leg against defending champion Donovan 'Tekkz' Hunt of Liverpool, pulling the tie level back to 4-4 in the second – only to miss out on a golden goal in extra-time.
Watford FC's Thomas 'Hashtag Tom' Leese went on to win the overall competition in the ePremier League's second season.
ePremier League is operated by esports tournament organisers Gfinity. For more information visit e.premierleague.com.
For more exciting FIFA 21 and gaming content, follow the official @WestHamEsports accounts on Twitter and Instagram.
Want to step up your game with West Ham's Esports players? Watch our pros in action every week - subscribe to Twitch to learn when they go live.