When the ball dropped invitingly towards Aaron Cresswell's left foot after 85 minutes at Goodison Park, Everton and West Ham United players alike inside the box braced themselves for a shot on goal sure to follow. 
Every player, that is, except for Tomáš Souček, who remained on the move and, following a deflection off Yerry Mina, found himself in the right place at the right time to tap in a late winner.
While the deviation of the ball's flight meant Cresswell could not claim a fifth Premier League assist of the season for the strike, the left-back's role in the match-winning moment capped a display of outstanding defensive diligence.
Up against an in-form Everton side who went into the match on New Year's Day with six days' rest behind them, Cresswell and his teammates – showing no sign of a gruelling third Premier League match in six days – were resolute.
Souček's winner, therefore, was a fitting reward for the Hammers' tireless endeavour over their unbeaten festive fixtures – a sentiment echoed by Cresswell after the 1-0 win.
"I didn't shoot, it was a great ball in by me!" he joked to West Ham TV. 
"Tomas has got a knack of being in the right place at the right time, and with five goals in his last ten games…. I've just watched it and how he's anticipated the ball, with a slight deflection, and to have the composure to tap it in, it was a great finish.
"Late on, nothing better. 1-0, clean sheet, happy days!
"Obviously Everton hadn't played since the 26 [December], but we didn't want to dwell on that or look for any sort of excuse.
"I thought at times we could've been better with the ball, but over the 90 minutes we created much better chances than them and fully deserved the win."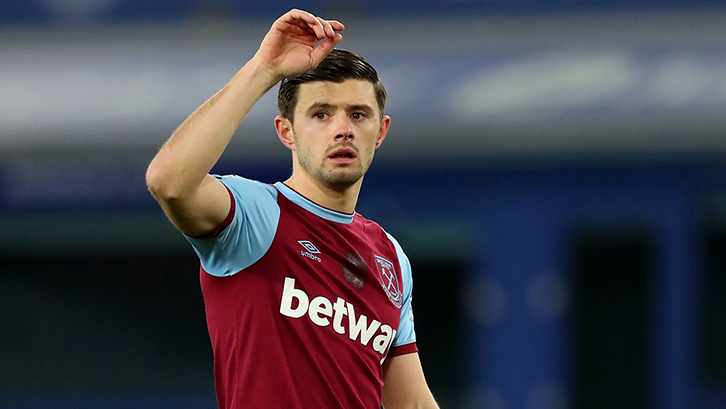 Now almost midway through his seventh season in Claret and Blue, left-back Cresswell has been an integral component in numerous West Ham United sides.
Having helped his side pick up 26 points from 17 games – one more than the Hammers had at this stage of 2015/16, when they finished seventh – the 31-year-old recognises the importance of the collective mentality imbued in the squad this campaign.
 "That's what we've had since the start of the season," he explained. "That's what makes a good team: team spirit, working hard, and as long as the lads give everything they've got, I'm sure we'll do well this season. 
"The fitness levels are credit to [fitness coaches] Dave Billows and Josh Ewens, who work really hard with us. Certainly over the last few weeks, recovery has been massive. 
"To play three games over six days – and not only that, but also travelling down south and up north – is a credit to the lads and we've had some fantastic results looking back.
"We're nearly halfway through the season. If we can go under the radar and keep going about our work the way we have, it'll be good for us, but we know throughout the course of the season we're not going to win every game against every single team, week in, week out.
Friday's match at Goodison Park was originally due to take place in front of up to 2,000 Everton supporters, but a government announcement on Thursday saw the local area moved into Tier 3 and the fixture was played behind-closed-doors accordingly. 
While supporters are currently absent from grounds across the entirety of the Premier League, Cresswell hopes that West Ham's recent performances and results have helped to bring a smile to the face of those of a Claret and Blue persuasion.
He said: "It's not just one team. For fans right across the country it's a hard time, and if we can give something – in respect of the fact football's just a game – if we win games and it gives enjoyment to someone, that's what we like to do.
"Hopefully we can all help each other out, hang in there and all this will blow over and we'll get stadiums full again. That's what we want.
"We want to play. Until we get told we can't play any more, we're going to continue to try to put smiles on faces."