The East End Poet has penned two new poems ahead of Sunday's Premier League derby between his beloved West Ham United and Tottenham Hotspur.
Lifelong Hammer Chris Ross, who was born in Mile End in 1954, raised in Bow, supported West Ham since the FA Cup-winning year of 1964 and has lived in east London all of his life, has been writing and reciting his own unique East End poems for the last seven or eight years.
A proud great-grandfather, grandfather, father and husband, Ross has found fame among his fellow East Enders and supporters alike after posting a video of him reciting one of his poems on Facebook.
Also a keen guitarist and ukulele player, the 66-year-old regularly posts videos of his poems and musical compositions, including many relating to the Hammers, and has received tens of thousands of views.
I love to write about West Ham and to add a touch of realism and humour when I can

Chris Ross
"I started writing poetry when I woke up in the middle of the night with a verse in my head," The East End Poet explained. "I got up, put it on Facebook and it snowballed from there!
"Someone recently called me an 'In the moment Poet' which I quite liked because I write about life and today. I am not a joke writer and some of my stuff can be quite poignant but I'm (Nearly) always the optimist."
Optimism is, of course a characteristic found in almost every East Ender and every West Ham supporter, alongside realism and humour, all of which can be found in abundance in Ross's works.
"I became a West Ham fan in 1964 when the boys came down the Mile End Road in an open topped bus carrying the FA Cup and that's it ... Once you're in, you're in," he smiled. "I used to go over Upton Park a lot as a kid.
"I always tell people that one of my proudest boasts is that Bobby Moore once knew my name. We knew a few of the same people and had a drink together a few times. My hero.
"I love to write about West Ham and to add a touch of realism and humour when I can. I have written a few – 'Bobby's Ghost', 'We can't go Back' and 'West Ham 'til I Die' amongst others."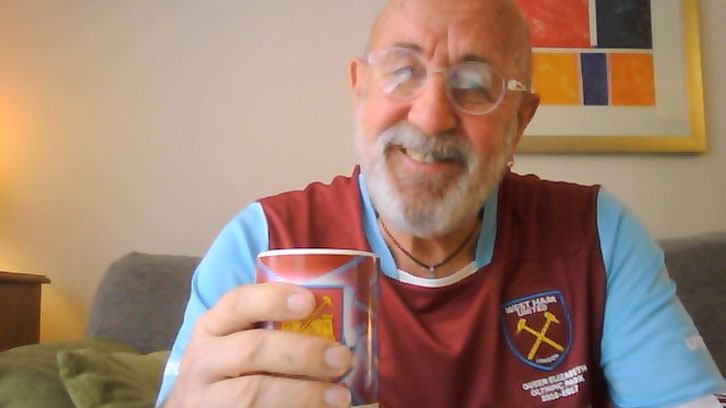 His latest poem, 'As an 'appy 'ammer, I'm a Little bit Confused', sings the praises of David Moyes' side following Monday's 3-0 win over Sheffield United and ahead of Sunday's visit of Spurs to London Stadium.
In it, Ross rhymes: 'If I'm being honest, I'm quite happy where we are. But three points off of Tottenham, I'd be happier by far!'
'Now, of course it isn't over, but we're over halfway through. Of course there's some tough games yet to come and I'm sure a shock or two.
'But I'll ride this magic carpet ride and enjoy these lofty views. But I have to say, as a happy Hammer, I'm a little bit confused!'
Another poem posted this week, entitled 'I'm Not A Tottenham Supporter', recounts an amusing story of Ross going on a date with a girl as a young man in the early 1970s and discovering her father is a Spurs fan. So as not to upset the girl or her father, he goes along with the latter to White Hart Lane to watch West Ham face Tottenham, then cheers when Jimmy Greaves scores an equaliser for the Irons.
His celebration sees him 'sussed as a Hammer' and he 'never saw him nor his daughter again' but, as always, he takes it in good spirits and is happy enough to 'come away with a draw'!
In addition to his Facebook videos, The East End Poet has three books of rhyme available from Amazon – The Ramblings of a Would Be East End Poet, More The Ramblings of a Would Be East End Poet and Ramblings Rhymes and East End Times.
You can follow The East End Poet on Twitter here!