Academy
Dmitri Halajko: U23s' actions will speak louder than words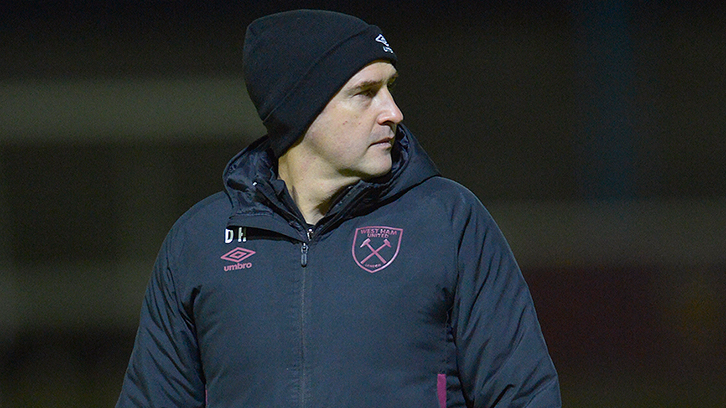 West Ham United U23s lead coach Dmitri Halajko has called on his players to channel their disappointment in the right way, following Friday's defeat at Blackburn Rovers.
For the second Premier League 2 game in succession, the Irons were on the wrong end of a heavy defeat away from home, losing out 4-1 at the Lancashire FA County Ground.
At half-time, such a scoreline would have been unfathomable, with the Hammers having the better of the first 45 minutes despite conceding to Connor McBride's penalty kick.
Opportunities came and went – with Nathan Holland in particular having three good efforts all well-saved by Blackburn 'keeper Antonis Stergiakis.
And Blackburn duly made them pay in the second half, McBride netting from close range three minutes after the restart before two late goals – the first an Emmanuel Longelo own-goal, the second a Luke Brennan tap-in – rendered Keenan Forson's deflected drive without consequence.
"In the first half, we were the better team," Halajko told whufc.com. "We had two or three chances to their penalty. 
"That was our spell. We were dominant and should have capitalised that and come in at half-time in a winning position. We didn't, and in the second half our performance was  unacceptable. 
"We weren't at the right levels. Our technical ability was poor, we didn't pass the ball well and the goals we conceded were not good enough. The second-half performance was really disappointing and really below the levels that we expect of ourselves.
"I think the early goal in the second half was a bit of a sucker punch for us. We wanted to go out in the second half and that first 20 minutes, we felt, should've been our chance to get back into the game. 
"We didn't manage to achieve that and we let that goal knock us a bit too far back. We didn't manage to rediscover our rhythm from there."
Having conceded ten goals in their last two games – albeit a man down against Brighton & Hove Albion U23s a fortnight ago – West Ham's U23s were understandably visibly deflated at the final whistle on Friday.
 
Actions speak louder than words. We'll say the right things, which is great, but after we've had a couple of days training, we'll know what type of mood they're in to turn it around

Dmitri Halajko

But as they endeavour to turn a challenging recent run of results into more positive form on the pitch, Halajko has challenged his players to respond in the right manner.
He explained: "We'll see where they're at on the training pitch – I guess that will tell. 
"They are disappointed now, and rightly so – they should be – but then come the next training session on Sunday we'll see what the motivation is like in the group to turn it around. 
"Actions speak louder than words. We'll all say the right things, which is great, but after we've had a couple of days training, we'll know what type of mood everybody's in to set about turning it around. 
"We're hoping for a positive reaction."
That could come when the Hammers host Derby County U23s at Rush Green Stadium next Friday (26 February) in Premier League 2.